Carolina Hurricanes head coach Bill Peters was on the hot seat for much of the season. He now looks to be in the driver's seat and a top prospect for the head coaching job with the Calgary Flames. An announcement is coming soon that will set Peters' coaching future — in Carolina, in Calgary or in limbo. If Peters can get the job in Calgary, he should bolt as quickly as he can.
The Peters Contract
Peters was signed to a contract extension in July 2016 that married him to the Hurricanes through the 2018-19 season…married in a hockey sort of way. The team could issue a divorce decree at any time, of course, and the contract allows him to annul the marriage with a year remaining on the deal. Ian McLaren wrote at thescore.com this week that Peters has until noon Friday, April 20 to exit out of his contract, which is paying him $1.6 million per year.
McLaren noted, "Peters has held his position for the past four seasons, leading the Hurricanes to a regular-season record of 137-138-53 and zero playoff appearances. He's set to serve as Canada's bench boss at the World Championship in May." No matter how much I have held Peters out to be a good coach, seeing his record written out like that makes it difficult to imagine why the Flames are courting him.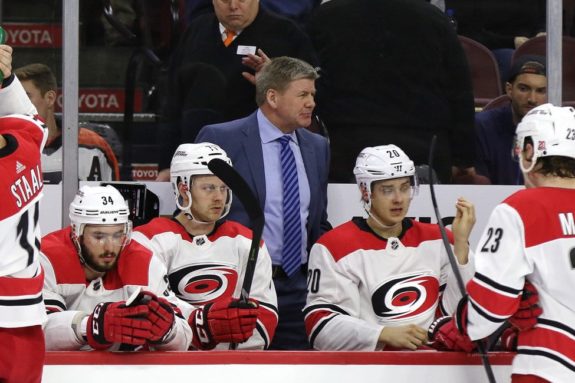 We should know something soon — likely Thursday or Friday of this week. Unless Hurricanes owner Tom Dundon allows him more time to work out a deal somewhere else, we'll know something soon.
Related: Hurricanes & Dundon: Innovation on the Horizon?
Flaming Out in Calgary
Flames former head coach Glen Gulutzan was let go this past Tuesday along with assistant coaches Dave Cameron and Paul Jerrard. As Kirstie Chiappellie wrote in the sportingnews.com, "The Flames ended the 2017-18 regular season with a 37-35 record and missed the playoffs for the second time in two seasons after finishing fifth in the Pacific Division. Calgary went 82-68 in two seasons under Gulutzan."
At one point the Flames were solid playoff hopefuls — then they lost 17 of 24 going down the stretch, as Emily Kaplan wrote at ESPN.com on Tuesday. Kaplan also points out that "Gulutzan, 46, guided the Flames to the playoffs after his first season in 2016-17, though the Flames were swept in the first round by the Anaheim Ducks." And, "Several key Flames dealt with injuries during the season, including goalie Mike Smith, defenseman TJ Brodie and forwards Sean Monahan and Matthew Tkachuk. Meanwhile, the free-agency signing of 45-year-old winger Jaromir Jagr was a bust; Jagr played only 22 games before he was put on waivers in late January."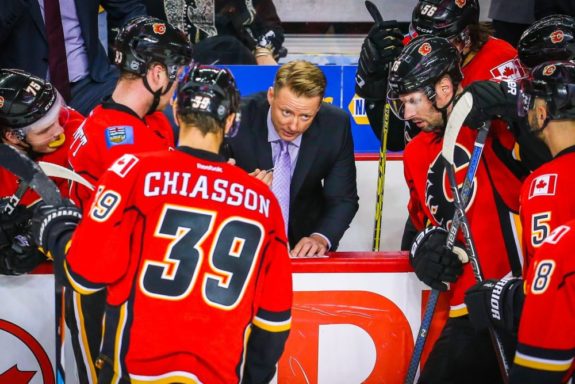 Gulutzan is not the first coach to get axed even in the face of having a team depleted with injuries. But, the Flames pulled the plug on his act in half the time that Peters — who has not made the playoffs — has had at the helm of the Hurricanes. Former general manager Ron Francis was rebuilding the team, and Peters was a key part of that process.
Peters Failing Up to Canada?
Who knows why Gulutzan was canned so quickly. He did get his team to the playoffs. He had done a decent job up until the end. Some might even conspiratorially think that GM Brad Treliving wants Peters, who he selected to coach Team Canada in the 2016 World Championships, and knowing he has an exit clause, fired Gulutzan simply because he wants Peters.
Peters was just announced as the head coach for Team Canada the 2018 IIHF World Championship. Apparently, Peters has the Canada vibe going strong, and that might be part of Treliving's giving him a hard look to take the reins of the Flames.
#NEWS | Bill Peters will lead Canada at the 2018 IIHF World Championship, joined on the bench by Bob Boughner and Mike Yeo. #IIHFWorldshttps://t.co/r6wSydJdRR pic.twitter.com/AlRmTs9CM4

— Hockey Canada (@HockeyCanada) April 9, 2018
This is not intended to diss Peters in any way. I have written at length that I have great respect for Peters and have believed that he could eventually lead the Hurricanes to the playoffs. The truth is that he has failed to take the team to the next level. As is often said, the record speaks for itself. But, with so much upheaval in the Hurricanes' organization, who could blame him if he left for Canadian pastures? He has a good reputation, albeit in spite of a record that has not lived up to it. If he can turn a four-year coaching career with no playoffs and a sub .500 record, into a new start with a good Canadian team, he should.
Related: Hurricanes 'If-Only' Season Concludes
If Treliving makes him an offer, it is very likely he will bounce. Even if he decides to stay in Raleigh, he knows that a new general manager might show him the door. He knows that the reality of hockey is that he could be fired. Peters should take the offer if he gets it, and move on. He's from Alberta and 'going home' might be just what he needs to push his career to the next level.
He gave his all for the Hurricanes, coaching a rebuilding team that was and is full of young, talented players. But, he never got the support he needed in the form of a proven scoring forward to push the team over the playoffs finish line. And, the Scott Darling experiment may have been more than even a coach like Scotty Bowman could have endured. The Peters era in Raleigh may be coming to an end. We'll know very soon.