Bill Peters is locked in. The Carolina Hurricanes announced Wednesday that they have signed their head coach to a contract extension through the 2018-19 season. At a noon press conference, General Manager Ron Francis said, "We're extremely pleased to have that done and to have Bill in the fold moving forward."
For a team that has had a recent history of short-term coaching stints, the signing of Peters to an extension is a welcome sign of stability for the franchise. Although his first season resulted in the team actually accumulating 12 fewer points than they had the year before, year two for Peters saw his team make a run at the playoffs, and their 86 points was their highest total in five years. Francis liked what he saw enough to put together the deal that would keep Peters at the helm for a few more years.
Spotlight on Peters
Peters is a hot commodity and if he stays on his current trajectory, his value as an NHL coach will continue to increase. Both coach and management were comfortable with the time frame of the new contract, but Peters is in the driver's seat as long as his team keeps winning. Making the playoffs sooner rather than later will make him one of the league's most sought-after coaches.
Francis noted that others are noticing his coach, evidenced by his being tapped to coach team Canada in the recent IIHF World Hockey Championship. Peters guided Team Canada to the gold medal and is on coach Mike Babcock's staff as an assistant for Team Canada in the upcoming World Cup of Hockey.
http://gty.im/531736584
Fans in Carolina are most fortunate to have Peters, and to have him signed for three more seasons. Francis said,
We talked at the initial press conference about changing the culture. It's not easy to do, but I think we've taken steps in that direction to where our guys come and play hard each and every night. I would reach out to those fans who kind of left us a couple of years ago to come back and take another peek. They'd be pleasantly surprised at the progress we've made and the direction we're going in…the work effort that's there on the ice every night.
Francis added that they felt Peters has what it takes not only in Xs and Os but also the passion and desire to change the culture.
https://twitter.com/NHLPlus/status/758625720423817216
Smiling Bill Peters?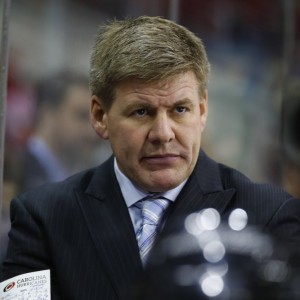 The guy hired two years ago came in with a definitely hard, old-school, tough exterior. But, he was all smiles Wednesday, telling the gathered media, "I like the direction we are headed in." He said his family loves the area and they would have been happy with an even longer deal.
Looking very tanned, sporting shorts and flip-flops, Peters revealed a side that most have never seen. Sitting down with some of us for lunch, Peters was laughing and talking about fishing and traveling… just "one of the guys" for a few minutes.
I asked the coach about the tan and he mentioned doing some recent fishing and said, "When I got back I had to get the mower out." Peters cuts his own grass. I believe it. The coach works hard and asks his players to do the same. I have no problem seeing him out with the mower getting it done. Francis echoed that sentiment saying of Peters, "He's extremely hard-working, doesn't take a day off. If anything it's me trying to pull him back a little bit here and there." 
Headed to the Outer Banks with his family before the rigors of the World Cup kicks in, Peters said he is looking forward to the upcoming season and that the team should be quicker. His team is full of young players, and Peters noted jokingly, "The team's getting younger, but I'm getting older."
I agree with Francis, that the fans should be filling the PNC Arena every home game, watching their Hurricanes continue to develop under the leadership of one of the leagues up and coming coaches. Peters is the real deal, and his team is becoming that, too. If the fans wait too long to get behind their Hurricanes, they might miss what Peters is doing and the chance to watch a team change before their eyes.
Mark lives in the Raleigh, NC area and covers the Carolina Hurricanes.