TheHockeyWriters.com chats with New York Islanders statistician Eric Hornick, who shares his thoughts on a busy offseason as well as their future. Hornick, who has been in the Islanders TV booth for over three decades, shares his thoughts on the obsession with advanced stats and delves into some Islanders history.
For more on Hornick, check out his blog at NYISkinny.com.
The Offseason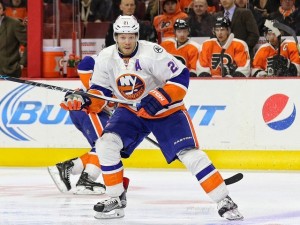 Patrick Hickey Jr.: What do you think of the Islanders offseason moves?
Eric Hornick: Out with the old… I was not surprised at all that Kyle Okposo and Brian Strait were let go, was mildly surprised that Matt Martin was not re-signed, and like most people very surprised that Frans Nielsen is now a Detroit Red Wing.
Nielsen did so many different things for them, including of course the shootout (his 42 shootout goals are an NHL record, and his 17 game deciding goals shares the mark with Patrick Kane and TJ Oshie).  He'll certainly be missed.
Matt Martin was one of the most popular players and they could have renamed the Bob Nystrom Award for Matt.  He'll be a very popular Maple Leaf too.  Obviously, Matt brought lots of hitting and lots of energy and it will be interesting to see who fills those roles this season.
The Buffalo Sabres made Kyle a very wealthy man and in fact gave him a deal very similar to what I thought someone would give him.  It remains to be seen how successful he will be without John Tavares but I certainly wish him well.
Brian Strait took a pay-cut but got a one-year one-way deal with Winnipeg.
In with the new…. Andrew Ladd was obviously the guy the Isles targeted; they had him on Long Island during the courting period and a deal with him was confirmed just after the signing period started.  Ladd got a 7-year deal, just like Okposo did in Buffalo.  Like Kyle's deal, Ladd's deal is both lockout-proof and buyout-proof (almost all of Ladd's money is structured as a bonus, not a salary).  Ladd will be 31 just before Christmas; I'm sure there are some that are concerned what this deal will look like on the back end.   Ladd's won the Stanley Cup twice (with Carolina and with Chicago) so I'm sure his leadership will be valued come springtime.  He has never scored 30 goals, but he has scored 23+ in each of the last 5 full seasons.
Jason Chimera was an interesting signing.  Yes, he's 37, but he did score 20 goals last season for the second time in his career.  Only eight players from his 1997 draft class have played in 1,000 NHL games; Jason is 49 games shy.
And then there's Pierre-Alexandre Parenteau, although you can call him PA.  Garth Snow got him for a great price ($1.25 million); ironically the same salary he had in his last season of his first stint with the Isles (2011-12).  He went 18-49-67 playing mainly with Tavares that season and parlayed that into a big free-agent deal; the Isles (and PA) are certainly hopeful that they can recapture some of that magic.
Advanced Stats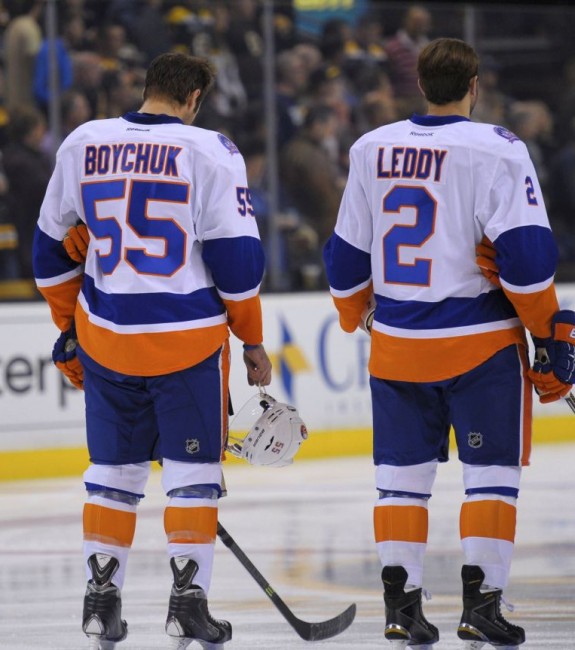 Hickey Jr.: In this era of advanced stats, how important do you think they are in assessing a player's worth?
Hornick: I think it's evolving.  To some teams, they are more important than others.  The Montreal-Nashville trade (PK Subban for Shea Weber) may become a bellwether for how this goes over the next few years. Matt Pfeffer, the Canadiens analytics guy, reportedly made an impassioned argument against the deal; Montreal made the deal and then parted ways with Pfeffer. If Pfeffer turns out to be right, this could lead to analytics guys being taken more seriously.
Hickey Jr.: Who's the best advanced-stat player on the Isles right now?
Hornick: This is a hard question, and it differs from year-to-year.  I'll note that Nick Leddy and Johnny Boychuk were both dominant Corsi players in 2014-15 (about 55% each) and they were nowhere near that level last season (Leddy was a slight positive and Boychuk was negative).
(Corsi is the same as "Shot Attempts" that you'll see referred to on Islander telecasts.  It includes shots on goal, shots that missed the net, and shots blocked by the opponent.  It's the closest the NHL gets to a possession time metric.)
Hickey Jr.: Statistically speaking, are the Islanders a better team with Thomas Greiss or Jaroslav Halak?
Hornick: I am not as down on Halak as others.  He is 56-30-8 in his two seasons as an Islander.   Greiss, of course, took the puck and ran with it after Halak got hurt last March (and was the better of the two through much of the first half as well).  Greiss finished with an Islander record .925 save percentage on the season and was solid in the playoffs as well.   Assuming that they are both healthy and on the roster, it will be interesting to see If they are 1-2 or 1a-1b.
Expectations
Hickey Jr.: If you could predict Ryan Strome's potential stat line this season, what would it be?
Hornick: How's this for a bounceback year: 22-30-52.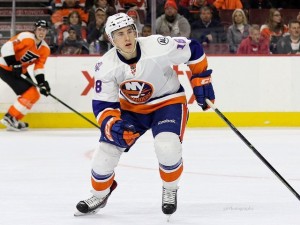 Hickey Jr.: What do you think the Islanders are still missing?
Hornick: The Isles are certainly a contending team with 100+ points in the last two seasons. That said, for them to be an elite team they need to find the right wingers for #91.  Ladd and Parenteau will likely get the first shot.
I thought that some of the "kids" didn't progress as far as I would have expected last year.  I'll be looking at that.  One thing I'd like to see is for Brock Nelson to have a 2nd half equal to his first half.  In his career, he is 48-37-85 in 165 games before the All-Star break but is only 12-11-23 in 70 games after the break.
Of course, it would help if Matthew Barzal, Michael dal Colle or Josh Ho-Sang stepped in and became an NHL star; time will tell if any of that happens this season.
Hickey Jr.: What are your expectations for the team this year?
Hornick: I liked Mr. Ledecky's expectations.  Like him, I was happy to see the team finally win a playoff round but it left me wanting more.  Tavares is clearly a top-10, maybe even top-5 player in the NHL.  Let's see if he can lead them to the NHL's "Frozen Four" this season.
History
Hickey Jr.: Favorite all-time Islander? Why?
Hornick: When I did the "It Happened at the Coliseum" series (which you can still find on my blog, nyiskinny.com), I used to tweet each edition at 7:40am and 5:22pm.  7:40am was my salute to Al Arbour's wins; 5:22 was my salute to my two favorite players of the Cup era (Potvin and Bossy).
Hickey Jr.: What's the best Islanders team that never won a Cup?
Hornick: The 1978-79 team probably should have won the Cup, but they ran into that very hot Rangers team who just plain beat them.  Other than those teams near the Cup era, really the only team that was close was the 1992-93 squad.  I'm not sure that they were even a great team, but I wonder whether a totally healthy Pierre Turgeon would have led to a different result vs. Montreal.
That team had great chemistry, which I think was underestimated when they let Glenn Healy go in the expansion draft. (Fun fact: Healy was claimed in both phases of that expansion draft, first by Anaheim, and then by Tampa Bay before the Lightning traded him to the Rangers)
Hickey Jr.: Worst trade the Isles have ever made?
Hornick: There are two.
The Isles were a poor team in 1995, the year of the first NHL lockout so at the trade deadline, Don Maloney traded Pierre Turgeon and Vladimir Malakhov to Montreal in exchange for Kirk Muller, Mathieu Schneider and Craig Darby.  This trade turned out to be a disaster for the Isles because Muller never wanted to play for the Isles; Turgeon didn't have huge success in Montreal but he went on to play another decade in the NHL. Arguably that deal cost Maloney his job as GM (By the way, not making a deal at the 1993 deadline was one of Maloney's best "moves").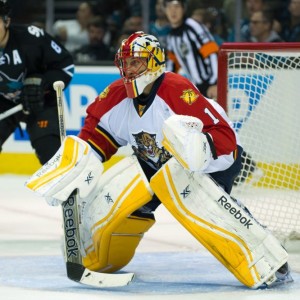 Also, before the 2000 Entry Draft Mike Milbury traded a young Roberto Luongo to Florida with Olli Jokinen in exchange for Oleg Kvasha and Mark Parrish. Of course, he traded Luongo because he was drafting Rick DiPietro first overall.  The Isles could have had either Dany Heatley (who went 2nd to Atlanta) or Marian Gaborik (who went 3rd to Minnesota) and Luongo.  Instead, they had none of them.  By the way, this isn't to slight Ricky in any manner—it's a matter of having a star forward to go along with a young Luongo.
I give Milbury a pass, by the way, on the Ziggy Palffy deal – by all reports that were dictated by management (Olli Jokinen was dealt away in that deal) as well as the Alexei Yashin deal (for Zdeno Chara and the pick that became Jason Spezza).  At the time that Yashin deal was a risk worth taking, and it did help get the Isles into the playoffs for the next three years.
Anything else you'd like to say?
Hornick: I have been fortunate enough to be the statistician on Islander television for nearly 35 years.  Remarkably in all that time I have worked regularly with only two play-by-play announcers (Jiggs and Howie) and four color commentators (Ed Westfall, Joe Micheletti, Billy Jaffe and Butch).  It will certainly be strange not being at Howie's side this fall.
As I wrote when Howie's departure was announced in May:
I always felt that Howie was under-appreciated by a certain segment of the team's fanbase.  Part of it had to do with his previous experience with the Rangers, part of it was because he replaced Jiggs McDonald, but perhaps the bigger part had nothing to do with Howie at all – he broadcast a team that for many of those years just wasn't very good.
The Islanders played over 1,650 regular season and post-season games in the years that Howie called their games; he called three remarkable Islander overtime wins in his last eight days on the job.  They were the only Islander playoff overtime goals he ever called (Doc Emrick called John Tavares' OT winner last season).  When Tavares' goal in game six ended the Islanders 23-year playoff series drought, other than my kids, I was happiest for Howie finally getting the chance to call it.
Among the things I'll remember most were some of his great on-the-fly commentaries, from "housebound agoraphobe" to "Nassau County aspiring to be minor league."  They were direct, and right on point.