Could this be the year?
The Edmonton Oilers have long been mired in a state of perpetual irrelevance, struggling each and every year for over a decade to regain prominence in the NHL. Looking back, it is truly incredible just how futile Edmonton's play has been.
The Oilers, as we know, have not clinched a post-season berth since their last trip to the Stanley Cup Finals, one which came in 2005-06 under the direction of then Head Coach Craig MacTavish. Over the ten League seasons since the Oilers have generated a combined record of 339-426-103 across 868 games played.
Over that time, the Oilers' 781 points as a team are the fewest in the entire League!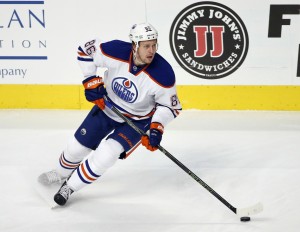 However, despite their past decade of ineptitude, each new NHL season witnesses an incredible, if not excessive, amount of excitement and anticipation generated around the team. This is because, despite their lack of success, Edmonton's franchise has ceaselessly attempted to improve each and every season.
Whether it be possessing four first overall picks in the annual Draft, signing a wealth of free agents or making a monumental trade, the Oilers have continued to provide reason for optimism despite receiving the same result on a consistent basis.
As the 2016-17 NHL season approaches, there is once again incredible reason for optimism. Not only is Rogers Place set to open come opening night, but the Oilers have once again made a number of major changes in hopes of improving their team. The team signed Milan Lucic, arguably the most valuable free agent available, to a massive seven-year, $42 Million contract. Further, General Manger Peter Chiarelli made a splash by trading fan favourite Taylor Hall in exchange for a much-needed defenseman in Adam Larsson.
So, with hopes of ending a now decade long playoff drought well in mind, and a number of changes made in order to ensure said drought comes to a definitive end, will this finally be the year the Oilers reach the Stanley Cup Playoffs, or has the franchise yet to build a legitimate Western Conference contender?
Who's In?
Milan Lucic (Left-Wing, 6'3″ – 230 lbs)
Lucic's game has become well-known throughout the NHL. Over his nine League seasons to date, Lucic has intimidated his opponents through his unique combination of size and skill. As a prototypical power forward, Lucic uses his size to drive the net and has the willingness to go to the dirty areas of the ice to not only retrieve the puck but to also score goals.
Related: Was Signing Lucic Too Risky?
A career-long member of the Boston Bruins before being traded to the Los Angeles Kings last season, Lucic's presence in Edmonton will bring an immediate level of accountability to a team which over the past decade often found itself lacking a killer instinct. Sure, the contract is substantial, and it could create problems for the Oilers down the road, but at the end of the day, his presence will be much welcome on Edmonton's roster.
Adam Larsson (Defenseman, 6'3″, 205 lbs)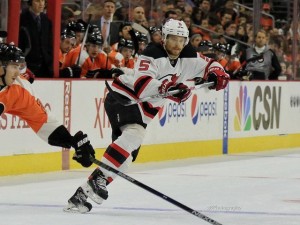 Arguably one of the most controversial Oilers without having ever played a game in an Edmonton uniform, Larsson will have to endure a whirlwind of criticism as well as heightened expectations in his first season with the club.
When the Oilers traded Hall in exchange for Larsson, there was an immediate outcry. However, this trade simply had to happen, as Edmonton's defence had been porous at best throughout the past decade and an offense first rebuild was clearly not working.
Related: Landing Larsson a Blessing in Disguise
In Larsson, the Oilers finally add a legitimate top-pairing defender who can play against an opposing team's top line. Best defined as a minute-munching defender with size, Larsson possesses an incredibly sound all-around game that focuses primarily on defense. While Larsson's arrival signals a major shift in thinking on the part of the Oilers' franchise, he will need to be the first arrival of many competent defenders if Edmonton truly wishes to compete for a Stanley Cup.
Jonas Gustavsson (Goaltender, 6'4″, 200 lbs)
When the Oilers traded both Ben Scrivens and Anders Nilsson during the 2015-16 season, there became an immediate need for a legitimate NHL backup goaltender. While top goaltending prospect Laurent Brossoit had shown incredible promise at both the AHL and NHL level previously, he struggled in his first substantial stint in the League.
Oilers Ink Jonas Gustavsson https://t.co/iHZ8tKus9a #THW

— The Hockey Writers (@TheHockeyWriter) July 2, 2016
In Gustavsson, a former member of the Toronto Maple Leafs, Detroit Red Wings and Boston Bruins, the Oilers receive a proven NHL backup who at times has challenged his teammates for the starting role. Carrying a career 2.87 GAA and 902% SVP, Gustavsson will provide Edmonton with a solid option in goal behind Cam Talbot, who was simply sensational for the Oilers in his first season behind the League's worst defense.
Drake Caggiula (Forward, 5'10", 185 lbs)
One of the most highly sought after College free agents since Justin Schultz, the Oilers signed highly touted North Dakota forward Drake Caggiula to a two-year contract, one which will see him become an RFA in 2018-19.
Related: Get to Know Drake Caggiula
An incredibly skilled forward whose performance at the 2016 NCAA National Championship only heightened his value, Caggiula will likely spend the majority of the 2016-17 season in the AHL, however, given his skill set he could certainly make his NHL debut with the Oilers this season.
Mark Fraser (Defenseman, 6'4″, 220 lbs)
A veteran of three NHL teams and 219 career games played, Fraser, 29, returns to Edmonton following a 23-game showing with the team in 2013-14. He will be used primarily in a depth role, likely as a seventh defenseman or AHL top-4.
Taylor Beck (Right-wing, 6'2″, 205 lbs)
A native of Edmonton, Alberta, Taylor Beck is a 25-year-old forward with good size and skill. He has been a major AHL point producer throughout his young career yet has thus far been unable to translate said success to the NHL level. He will likely begin his one-year contract in the AHL.
Patrick Russell (Right-wing, 6'1″, 205 lbs)
A 23-year-old right-winger who recently most recently played for St. Cloud State in the NCHC, Russell is a forward of solid size who brings great skill to the ice. He notched 41 points over 41 games last season and was signed to a two-year contract by the Oilers. The Birkerod, Denmark native will begin the season with the Bakersfield Condors.
Who's Out?
Taylor Hall (Left-wing, 6'1″, 200 lbs)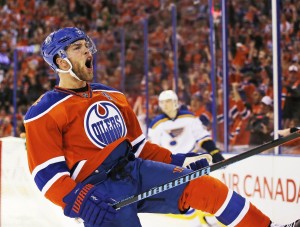 As the first overall selection in the 2010 NHL Draft, Hall was looked upon to play a major role in leading the Oilers back to the post-season. Yet, as it turns out, Hall could still play this role for Edmonton, as his trade to the New Jersey Devils helped set in motion major change within his former organization, and one which now recognizes the importance of team defense.
In all, Hall played six seasons with the Oilers, netting 132 goals and 328 points over 381 games played. A long-time fan favourite in Edmonton, Hall was determined to win with the Oilers and often claimed more than his fair share of the blame for his team's struggles.
A lightning quick winger with a nose for the net in combination with an excellent shot and release, Hall will surely be missed in Edmonton, however, the Oilers possess a wealth of firepower that, over time, will surely make up for Hall's absence.
Luke Gazdic (Left-wing, 6'4″, 225 lbs)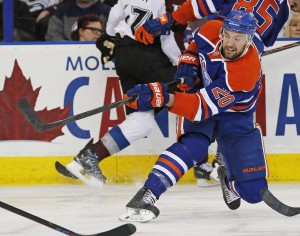 An excellent physical specimen who brought tremendous work ethic and determination to the Oilers' roster, Gazdic's role in Edmonton will essentially be replaced by Lucic, who has the ability to step up physically while bringing a considerably greater offensive edge.
Perhaps it was his offense which limited Gazdic in his time with the Oilers. He was well aware that the role of an enforcer was on the decline in the NHL, and as such made every attempt to adapt his game. However, with a career high point total of just four, it was only a matter of time before Gazdic moved on from Edmonton. Joining him roommate Hall in New Jersey, Gazdic will look for more playing time in order to prove his worth.
Rob Klinkhammer (Left-wing, 6'3″, 215 lbs)
Originally acquired in a trade with the Pittsburgh Penguins, Rob Klinkhammer played a physical depth role with the Oilers, one which saw him split time between Edmonton and their AHL affiliate in Bakersfield. Injuries also hampered Klinkhammer's time with the Oilers in 2015-16, as he played in just 14 games in Edmonton.
Adam Clendening (Defenseman, 6′, 190 lbs)
Adam Clendening joined his sixth team of the 2015-16 NHL season when the Oilers claimed him off of waivers in January. A former second round selection of the Chicago Blackhawks, Clendening is a solid depth defender who brings a level of offense to his game, as seen by his six points over just 20 games played in his time in Edmonton.
Recently signed to a one-year contract by the New York Rangers, Clendening will have a greater opportunity to succeed in a new setting, especially so considering the Oilers are loaded with average defensive prospects.
Brad Hunt (Defenseman, 5'9″, 190 lbs)
Brad Hunt has long been an excellent AHL defender, totaling incredible offensive totals on a yearly basis. Most recently, Hunt recorded 41 points from the blue-line for the Bakersfield Condors in just 57 games played. However, it has long been Hunt's size and defensive abilities which have prevented him from becoming an established NHL defender.
#Blues sign D Brad #Hunt to a one-year, two-way contract. pic.twitter.com/aPW8cvieFz

— CoastToCoastHockey (@coastocoasthky) July 2, 2016
This past season, Hunt played in seven games with the Oilers, yet failed to record a point. He recently signed a one-year contract with the St. Louis Blues, where he will get a fresh start and an opportunity to reach the NHL level to stay.
Andrew Miller (Right-wing, 5'10", 185 lbs)
In 2014-15, Miller burst onto the scene in yet another lost Oilers season, scoring his first career goal and recording six points over his first nine NHL games played. However, in 2015-16, when provided with another opportunity to show his first stint in the League was no fluke, Miller failed to make a notable impression, failing to record a point over six games.
A long-time standout for Yale University, 2015-16 marked just the third professional hockey season of Miller's career, and it is safe to say that he is progressing well. He once again recorded nearly a point per game at the AHL level and will now take his talents to Carolina on a one-year deal.
Adam Cracknell (Right-wing, 6'2″, 210 lbs)
Claimed off of waivers from the Vancouver Canucks in February, Adam Cracknell played just eight games for the Oilers in 2015-16 and is best defined as a depth forward who excels in special teams play. A stunt penalty killer, Cracknell heads to Dallas on a one-year deal.
With the Oilers suddenly flush with bottom-six forwards, Cracknell, despite his value, simply had no room to play, let alone earn considerable playing time.
Has Chiarelli Done Enough?
Whether you like it or not, the Oilers of 2016-17 are poised to be a much better team than in years passed.
In terms of the team's newest additions, Chiarelli has done a tremendous job of targeting the Oilers' major areas of weakness and making resulting moves in order to address them.
Lucic will add an immediately higher level of accountability, an aspect which has long been lacking in Edmonton both on and off of the ice. Acquiring Larsson, despite the move's controversy, was a step in the right direction which has been a long-time coming. With one of the NHL's worst defensive cores on a yearly basis and an over-abundance of offense, one of the Oilers' young forwards simply had to be dealt in order to create a more stable and sustainable roster.
In addition, smaller moves, such as the signing of Gustavsson to fill the Oilers' backup void, will pay off as the season runs its course, as, despite his talent, prospect Laurent Brossoit simply is not ready to jump into the NHL full-time. Possessing Gustavsson will provide Edmonton with a steady, experienced option in hand if Talbot falls to injury.
Playoffs!?
Given the additions make by Chiarelli prior to the 2016-17 season, this begs the question of whether the Oilers can actually reach the playoffs for the first time in over a decade.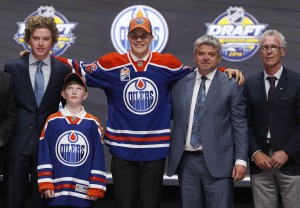 While they lost Hall, Edmonton's offense looks to remain as dangerous as ever. Lucic will effectively replace the speedster as the team's first-line left-winger, while fourth overall selection Jesse Puljujarvi will surely begin the season in an Oilers uniform, given he fully heals from injury – if so, Puljujarvi should slot into a top-6 right-wing role.
On defense, the long-time Achilles heel of the Oilers, the addition of Larsson will provide an immediate upgrade to the blue-line. Slated to play on the first pairing with one of Andrej Sekera or Oscar Klefbom, Larsson will eat a ton of minutes while focusing on a defense-first style of play. On the other hand, however, Edmonton will need the likes of Darnell Nurse and Griffin Reinhart to begin taking steps forward in their development. Successful seasons from these two defenders could be the difference between a contender and a pretender.
In goal, the Oilers will need another terrific season from Talbot, who was simply sensational in his first season in Edmonton, if they hope to contend for a playoff spot. If Talbot can maintain a high level of play in combination with support from Gustavsson, Edmonton could win a substantially greater number of games in 2016-17.
Brett Slawson is a four-year veteran of The Hockey Writers who covers the Toronto Maple Leafs, NHL prospects, and the OHL's Mississauga Steelheads.
Contact Brett on Twitter @brettslawson92, or by email at brett_slawson@hotmail.com.