On Tuesday afternoon, just 10 days following the completion of a disappointing season, the Calgary Flames parted ways with head coach Glen Gulutzan and his two assistant coaches. The change in coaching directions come on the heels of a disappointing season where Flames management, ownership and fans had sky-high expectations that were not met.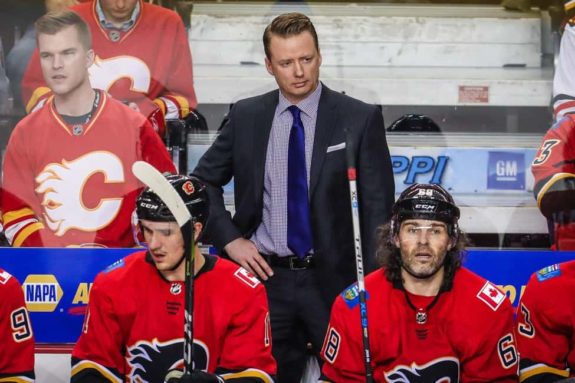 If this sounds familiar, it's because this precise scenario has played out before. Just over a decade ago, following the lost 2004-05 lockout season, a rising Flames squad was undone by a series of strange hockey operations decisions – including a very reactive coaching change. The decisions that Brad Treliving makes this off-season could save this incarnation of the franchise from the same fate.
Diminishing Returns Out of a Rebuild
Darryl Sutter was coming off his second full season (and third full year, including the lockout) as Flames head coach and general manager. In the pre-cap world, it wasn't unheard of for one person to be coach and GM – they just wouldn't sleep very much. But the new complexities of the cap world, combined with the challenges of a changing NHL landscape, made Sutter's plate a little bit too full. He led the Flames to a division title, their first since 1994-95, only to have them drop their first round series to Anaheim in seven games.
Don't know how to feel about the Gulutzan firing. Given injuries to Smith, Monahan, Tkachuk, Brodie… is it fair to pin this season on coaching? Felt more like rotten luck to me.

— Matt Larkin (@THNMattLarkin) April 17, 2018
Sutter's Flames were in an interesting position in their development. Sutter inherited a weird hodge-podge of players from his predecessor, Craig Button, and immediately went about revamping the team while holding on to a few key core pieces – primarily a budding superstar named Jarome Iginla. Behind the bench Sutter was lauded as a taskmaster, impressing upon his new club the importance of playing a particularly structured style of game. His attention-to-detail got the Flames within a single game of a Stanley Cup in 2004. But following the lockout Sutter began to see diminishing returns behind the bench – players can only be pushed so far by a single voice before they tune it out – and he needed a new coach to get them to the next level.
Calling Upon a Protege
Looking for a fresh tactical perspective, Sutter went to trusted lieutenant Jim Playfair to get the team over the hump. Playfair was considered an up-and-comer, a progressive thinker with an old school facade with an impressive resume of experience from the ECHL, IHL, AHL and as an NHL assistant under Sutter. Playfair knew the team, knew the group's tendencies and systems, and the marriage of a talented, veteran team with a progressive, energetic coach made a ton of sense.
Unfortunately, the veteran group never really clicked with Playfair – his "good cop" approach was too much of a departure from Sutter's "bad cop" – and the group stalled out in the playoffs and lost to Detroit in six games. With the clock ticking on the team's core between the group's age and contract statuses, Sutter made a reactive move. Trying to get the most out of his group while he still could, he demoted Playfair after one season and doubled down on old ideas by hiring another taskmaster in Mike Keenan. The group didn't respond to the abrupt change in tone and never quite got back to the same level of performance as they did under Sutter and Playfair.
History Repeats Itself
Like Sutter, Treliving inherited a hodge-podge group from his predecessor Jay Feaster. However, Feaster's focus on drafting gave Treliving several impressive youngsters who have matured over the past several seasons. They matured and learned work ethic under taskmaster Bob Hartley, but plateaued when his message began to fall flat. Treliving turned to Gulutzan, considered a progressive mind and an up-and-comer with an impressive resume from the ECHL, AHL and NHL, to get his team over the hump.
Related: Potential Replacements For Glen Gulutzan
Like Playfair, Gulutzan just never quite clicked with the maturing Flames group to the extent that was hoped and the team's underachievement under his watch necessitated a change. History has definitely repeated itself in that respect, but the Flames don't necessarily need to fall into a similar downward slope. Those who fail to learn from the past are destined to repeat it and hopefully Treliving and his management group can avoid the pratfalls of wildly swinging back and forth from taskmaster to "player's coach" – and can instead hire a bench boss that can maximize the accumulated talent on the Flames roster rather than fitting a particular archetype.
Sutter's misguided coaching hire set the clock ticking on his time in Calgary. Treliving cannot afford a similar misfire.