When the Calgary Flames ended their season, president of hockey operations Brian Burke indicated that the team was comfortable waiting until after the 2014 NHL Draft to hire their new general manager. The logic was some teams might not give them permission to talk to or hire away a key staffer during the season or even in the run-up to the draft, and the team would be fine with waiting until July to get the right person for the job.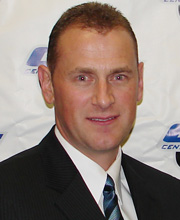 On April 28 – two full months prior to the Draft – the Flames named former Phoenix Coyotes assistant general manager Brad Treliving as the franchise's seventh general manager. Burke was quick to note that Treliving was the only person that he interviewed for the job, as well as praising the Phoenix organization for making him available. He noted that during his search process, Treliving's name kept appearing on his radar.
"From the period where I relieved Jay [Feaster] of his duties to today, we've had a lot of time to focus on this, and it has been a focus," said Burke. "Canvassing GMs, 'Who would you hire if you were hiring a young guy?' It all kept coming back to Brad."
Under the terms of Treliving's hiring, there are no restrictions on his involvement in the Flames' drafting, so he'll dive right into draft preparation and take the reins of the club's drafting list. Calgary's scouts meet in mid-May – likely following Treliving's trip to Belarus to fulfill his management duties with Team Canada's World Championship entry. The Flames have five draft picks in the first three rounds of the 2014 Draft – a first rounder, two second rounders and two third rounders – and Treliving acknowledged the crucial importance of building through the draft.
Throughout his introductory press conference, Treliving praised the team's prospect base ("We want to put more cans in the cupboard, but it's not bare right now"), the coaching staff and the club's work ethic over the last few months of the season. He did, however, note that the team's rebuilding process will take some time and hard work.
"I think there's some building blocks here. I think there's been some foundational things put in place, but the reality is in June we're going to be picking fourth at the draft. We have work to do. We have to get better. We have to improve," said Treliving.
In addition to kicking off draft preparation, Treliving jumps straight into filling the assistant general manager vacancy left by John Weisbrod's departure in December. Following the press conference, Treliving indicated that he has an idea of the type of qualities his assistant will need, but declined to elaborate, citing the ongoing hiring processes underway by other NHL clubs.
Most of all, the British Columbia native emphasized how excited he was at the opportunity to step into a general manager's role.
"I'm ready for this," said Treliving. "I know the challenges that we have here ahead of us as a team, and we do have challenges. I know the expectations of this market. I know the expectations of this fan-base. I want you to know I'm prepared for this and I'm ready for this challenge."