Kristian Reichel
2017-18 Team: Red Deer Rebels (#21)
Date of Birth: June 11, 1998
Place of Birth: Litvinov, Czech Republic
Ht: 6'0″ Wt: 168 lbs
Shoots: Right
Position: Center
NHL Draft Eligibility: 2018 third-year eligible

Rankings
Players get overlooked in the National Hockey League's annual entry draft for a slew of good reasons. One of the challenges, particularly with European players, is that they jump through so many different levels of hockey in a single season that it's tough to get a handle on what type of player they can become. Case in point: Kristian Reichel, formerly of various levels of the HC Litvinov organization and more recently of the Western Hockey League's Red Deer Rebels. Not only has he bounced around many levels of hockey, but he's also had a limited sample size in North America.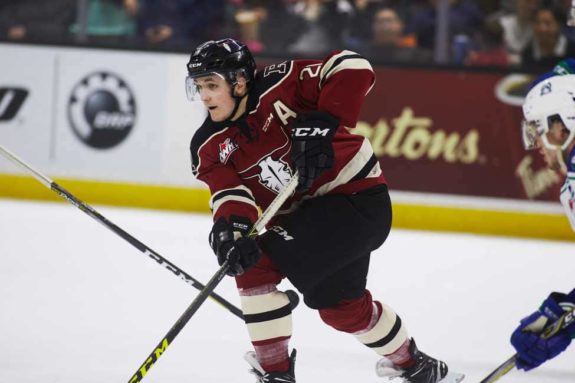 The son of long-time NHLer Robert Reichel, the younger Reichel's first season of NHL draft eligibility was 2015-16. He turned 18 two weeks before the 2016 NHL Draft and spent his season jumping between Litvinov's under-16 and under-18 clubs as well as their pro team in the Czech Extraliga. He performed admirably as a 17-year-old in a tough pro league, but wasn't there long enough to do much more than proven he had the talent to play there.
At 18, in his second year of draft eligibility, he spent the whole season in the Extraliga and posted solid if unspectacular numbers. NHL teams overlooked him again, prompting his decision to head to North America to chase his dreams. In 2017-18, his first season of North American hockey, he had 57 points in 63 games for the Rebels and was named team MVP. His numbers and play were rock solid, but he spent the whole season as a 19-year-old and a single year of solid WHL play is difficult to extrapolate to higher levels.
That said, Reichel is an easy player to like. He's good at everything but not great at anything, and arguably his best attribute is his consistency. He's a smart player with solid positioning, and even in games when he's not quite on top of his game the worst thing you can say about him is he's invisible. Most of the time he earns attention from scouts with smart passes and strong on-ice awareness.
Related: THW's 2018 NHL Draft Guide
Reichel attended Winnipeg Jets prospect camp in 2017, so there's definitely some interest in him among NHL teams. Given his first North American season went rather well, it's unlikely that he'll go through his third NHL draft without being claimed. The big X-factor with him is that as an older prospect there's less of a developmental runway for him; he's closer to what he's going to be than a 2000-born player would be, so there's arguably both less of a gamble and less of a reward with his selection in the 2018 NHL Draft.
Kristian Reichel – NHL Draft Projection
Reichel projects as a fourth or fifth round selection in this year's draft. His numbers nudge him into the fourth round conversation, but his status as an older draft eligible player push him towards the later rounds due to his shorter developmental runway.
Quotables
"He's a different type of player than what Michael Spacek was here for two years… He's got a really good skill set and stuff, but he's just a different personality. He's more North Americanized, speaks very good English. Obviously with his dad playing in the National Hockey League for a long time and his mom being from here, he understands the lifestyle here. We've been extremely happy with him." – Brent Sutter, Red Deer Rebels head coach and general manager
"There's going to be nights where maybe he's not on the score sheet but he's shut down the other team's top player, just being a really good 200-foot player… With him playing pro hockey for the last year and a half, he knows how to do everything. It's very nice for the coaches to have." – Shaun Sutter, Red Deer Rebels assistant general manager
Strengths
Accurate passer
Strong situational awareness
Good mobility and positioning on the ice
Under Construction (Improvements to Make)
Could stand to shoot the puck more often
Play away from the puck could be tightened up a bit
Needs to bulk up a bit to survive pro-level physical battles
Other 2018 NHL Draft Profiles
NHL Potential
Reichel projects as a third or fourth line center at the NHL level.
Risk-Reward Analysis
Risk – 1/5, Reward – 3/5
Fantasy Hockey Potential
Offense 8/10, Defense 7/10
Awards/Achievements
Reichel has represented the Czech Republic extensively. He's suited up for his country at the Under-18 World Championship, two World Junior-A Championship, the Ivan Hlinka Memorial Tournament and two World Juniors.
Interview/Profile Links
Videos
Ryan Pike has covered the Calgary Flames and the NHL Draft extensively since 2010 as a Senior Writer for The Hockey Writers and Senior Contributing Editor of FlamesNation.ca. A member of the Professional Hockey Writers Association, he lives in Calgary.