In our continued look at the potential offseason targets for the Edmonton Oilers, this edition will take a look at an area that has been deemed a "must-fill" for the Oilers. Going into this coming season with only Jesse Puljujarvi, Zack Kassian, and Ty Rattie as right-wingers that have NHL experience and under contract, there is a hole the Oilers are going to need to fill.
The question is, would Michael Grabner fill that hole effectively?
Why Is Grabner Available?
This summer, Grabner is an unrestricted free agent. He was moved to the New Jersey Devils at the trade deadline during the 2017-18 season and while the Devils had a great regular season, the team couldn't duplicate that success in the postseason. Grabner didn't help much in the two games he played, posting zero points and getting benched.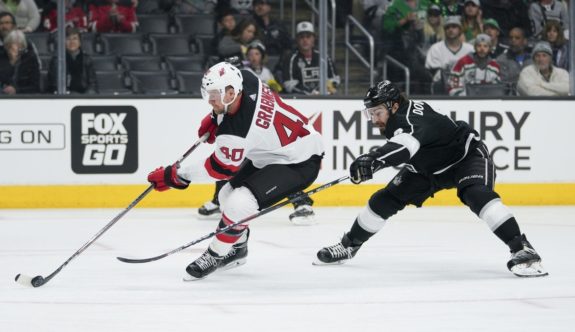 A depth winger with skill, he's likely to get overpaid in free agency and that means the chances of him staying with the Devils exists, but might not be all that likely. The Grabner trade was one of the few gambles Devils GM Ray Shero made that didn't pay off and they may wash their hands of him.
In 21 games with the team, he only scored two goals. It's not that his chances weren't there, he just couldn't capitalize on them with a shooting percentage that dropped from 19.1% (likely not realistic over the long-term) to 5.6%. He was the worst forward on the team in that regard and most of that has been attributed to him overthinking the game after his trade from New York. Basically, he was gripping the stick too tight.
Related: Should Oilers Go for Justin Faulk?
How Grabner Would Help the Oilers
If we exclude his poor showing in New Jersey, Grabner could make for an ideal target for Edmonton Oilers. He's fast, he plays the penalty kill and — like we said if we ignore if his time in New Jersey — is a natural goal scorer who could keep up to Connor McDavid, potentially fitting well in a top-nine role.
He also ranked third for the Rangers in time-on-ice for the penalty kill and was quite effective at it. The Oilers need some help in that regard, having tanked their specialty team numbers in 2017-18 and having lost players like Iiro Pakarinen to the KHL. It's too much to ask a guy like Ryan Nugent-Hopkins to play that much when down a man. Grabner could help soften the load.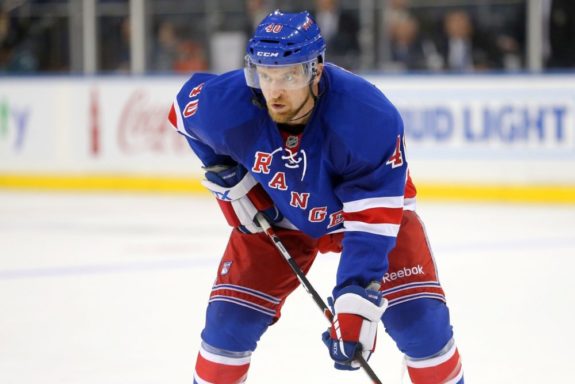 Specialty teams will be an area the Oilers look to improve this season and if the team can grab a goal scorer and a penalty-killer in one move, why not do both? This is especially true if he comes in at an affordable price tag, which it looks like he might.
What's he's not is a power play guy. In both New Jersey and with the Rangers, he saw little time up a man. The Oilers shouldn't count on him there and would need to address those needs in another way. Still, Grabner can be viewed in one of two ways: you either see him as quite an effective five-on-five scorer or you see him as awful on the power play. It all depends on what you're looking for and how you see things.
Related: Should Oilers Go for James van Riemsdyk?
What Would A Deal Look Like?
While someone will likely pay too much for him on the open market, he's going to hover around the $2.5-$3 million range and that's an affordable option for the team. The question becomes the term. When you think about the fact that he had two seasons with the Rangers where he potted 27 and 25 goals respectively, that's a good number for a player who can score and play other useful roles but you might not want to go longer than a three-year deal. He has the potential to disappoint if not placed in the proper system.
If the rumors are true that he was interested in going back to the Rangers where he was most successful, none of this may matter as he might be willing to leave money on the table for that organization. That said, he was mostly successful under Alain Vigneault.
Grabner's opinion may have changed when the Rangers went another direction and if it has, it might be wise for the Oilers to give his agent a call.