Some players become victims of their organizations — one of them is Nic Petan.
The Winnipeg Jets are profoundly deep at forward and have a proliferation of top-six options. Mark Scheifele, Blake Wheeler, Kyle Connor, Nikolaj Ehlers, and Patrik Laine are firmly entrenched on the first two lines, and other players such as Mathieu Perreault and Bryan Little have played on top lines with aplomb in their careers.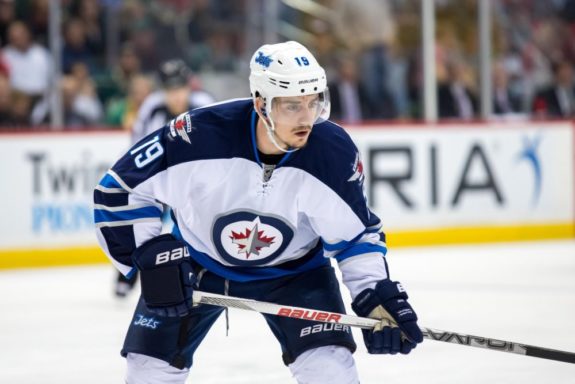 There's also Paul Statsny, who will be a top-six mainstay if the Jets can find a way to afford him, Jack Roslovic, who's eclipsed Petan in the Jets' long-term plans, and high-profile prospects such as the AHL's Outstanding Rookie award winner Mason Appleton and high-flying Finn Kristian Vesalainen in the pipeline.
All these players have pushed Petan, who's now 23 years old and a restricted free-agent, way down on the depth chart. He's played in 95 NHL contests but hasn't made much of an impact, producing just 21 points in a mostly bottom-six role, something for which the undersized forward — at just 5-foot-9 and 180 pounds — isn't well suited.
Petan is not without value or upside. He's a skilled player with great playmaking ability — check out this slick pass as an example — creativity to burn (he can even score from his stomach), and plenty of offensive intelligence. He was a point-per-game player in 52 games with the AHL's Manitoba Moose in 2017-18.
Here we go again… Nic Petan doing Nic Petan things, and we're left speechless again. #GoMooseGo pic.twitter.com/fJiHHuvmKA

— Manitoba Moose (@ManitobaMoose) January 27, 2018
Given top-six minutes and an extended opportunity, Petan could very well be a successful NHL player. It's looking less and less likely with each passing season that the opportunity to get that chance will come with Winnipeg.
The Jets — and Petan — might mutually benefit from a trade. There are teams not as rich at forward and centre that have space up front to offer him more minutes and that could thus benefit from his services. Here are a few possible trade partners who could potentially be interested in Petan this summer.
Montreal Canadiens
If there's any team that could use a centre, it's the hapless Habs.
The Canadiens are razor-thin at down the middle. Their holes at centre are big enough to drive a whole fleet of Zamboni through. General manager Marc Bergevin's inability to acquire one at the trade deadline was a big reason for their 29-40-13 record.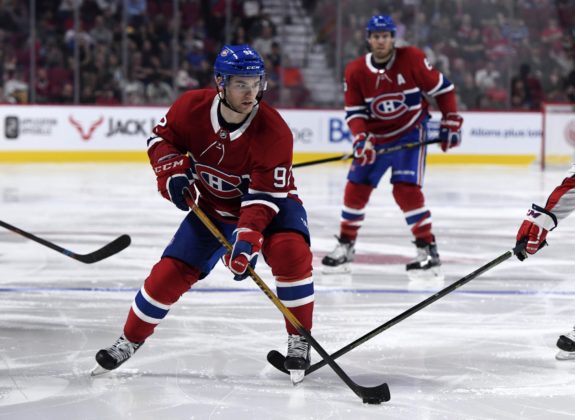 In 2017-18, their middle was comprised of a motley crew with the likes Torey Mitchell, Logan Shaw, Byron Froese, Tomas Plekanec, and Philip Danault doing their best — but failing miserably — to keep the Canadiens competitive in the Atlantic Division. Jonathan Drouin's transition to centre was rough — he struggled mightily in his first go-around at his new position, winning just 42.5 per cent of his draws and going minus-28.
If Bergevin wants to be employed for more than a few months, he needs to get to acquiring some players lickety-split and bolster his corps of forwards. Petan could be someone they rebuild around. They've already shown an appetite for acquiring young talent, shipping Alex Galchenyuk to Arizona for Max Domi.
Reportedly, the Habs have already inquired about him. We'll see if anything comes of those rumours in the next few weeks.
#Habs and #Jets discussing a deal that would send C Nic Petan to Montreal. A draft pick would be heading the other way.

— Randy Timmins (@The_Creasy) June 12, 2018
Dallas Stars
Like the Canadiens, the Stars also need to add depth down the middle. Obviously, they have Tyler Seguin, who's produced 70-plus points in five straight seasons, as their go-to guy, but don't have much in the way of centres after him.
Jason Spezza is entering the twilight of his career and is no longer capable of being a top-six guy — he only produced 26 points in 2017-18, his worst full-season point total ever. Martin Hanzal is a defensively-minded centre, not top-six material either.
The Stars could bring in Petan to compete with or push Radek Faksa, who produced 33 points in each of the past two seasons. A little competition never hurt anybody.
Calgary Flames
The Flames don't necessarily need a centre, but they could use some more scoring depth up front. They were a bit of a one-trick pony last season, with Johnny Gaudreau and Sean Monahan providing the majority of the offence.
Only eight players on the Flames eclipsed the 30-point mark in 2017-18, and three of them were defensemen. Given a chance to succeed, Petan's creativity could help the Flames attain more scoring balance.
Los Angeles Kings
The Kings were a good team in 2017-18, going 45-29-8 and making the playoffs. However, their core players — especially their centres — are getting old. Anze Kopitar, Torey Mitchell, Jeff Carter, Trevor Lewis, and Jeff Carter are all 30 or older.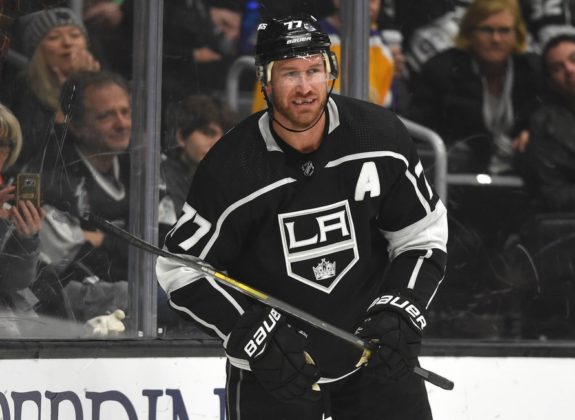 Age is perhaps catching up with a few of them and impacting the team's overall durability. Their forwards missed a total of 140 man-games to injury, one of the higher numbers league-wide.
While the Kings are still a competitive squad, they should be looking to add some more youthful faces, such as Petan, sooner than later. They'll want to ensure they've got younger guys to seamlessly transition into the starring roles that will be vacated by some of the older guys over the next few seasons.
Petan Wants to Stay Put
The Jets aren't going to deal Petan just to get rid of him. He's not a disgruntled player poisoning the locker room or anything like that. He's handled the situation like a professional thus far, and the relationship between Petan and the organization actually seems alright given the circumstances. In fact, he wants to stay in Winnipeg.
"Nic loves it there," his agent, Joe Oliver, recently told the Winnipeg Free Press. "He loves the city, he loves the team. The environment is great. I think he would want to be part of the Jets for the long term, 100 per cent. The only underlying thing there would be, is there an opportunity for him to play there? And right now, I can tell you I'm not sure that there is."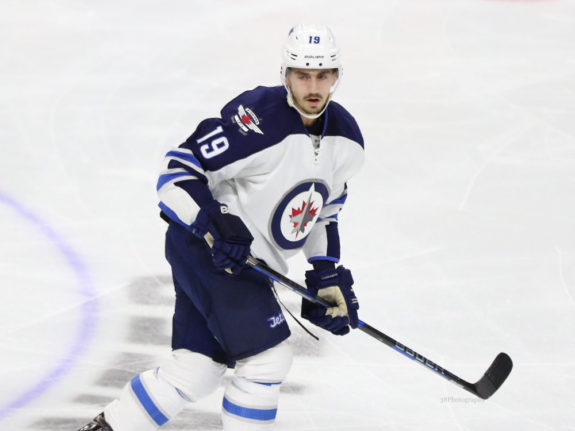 However, he also admitted doubt that his client is going to get a shot to contribute and that he is open to going elsewhere for a better opportunity.
"If somehow, some way, this roster that they have in Winnipeg opens up where there's a chance, well, then that would be his first choice. But if that doesn't change, then everybody, including I would say Winnipeg and us would have to look at what those other opportunities are."
The Jets are in the enviable position of not actually needing anyone, hence can negotiate from a position of strength. There's no urgency to trade him immediately and you can bet they won't take less than what they think he's worth from teams who come to kick his tires. They'll likely seek future assets — perhaps a second-round draft pick — in exchange.
While Petan may never get a shot in Winnipeg because of the Jets' depth, he's still a young player with plenty of positive traits. He may be worth more to other teams, but for the Jets, that means he has value as trade bait this summer.