Montreal Canadiens general manager Marc Bergevin's job is on the line in part because of his failure to secure a No. 1 center… for good reason.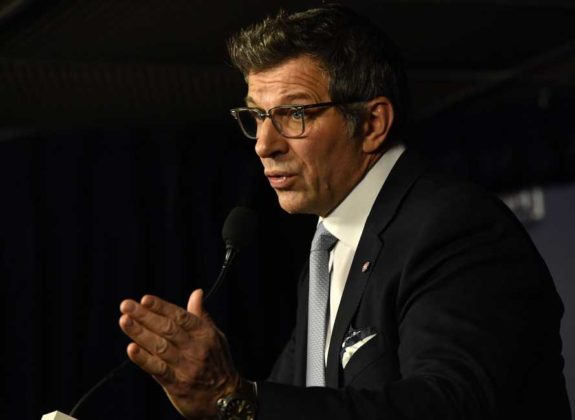 In addition to generally citing the difficulty of making trades in the NHL, Bergevin infamously argued the only way to get a top pivot was to deal his franchise cornerstone, saying: "Do you want me to trade Carey Price? That's what it costs to get a big center."
Apparently, not so much.
Bergevin may be good for a quote, but he does tend to play fast and loose with the truth. Maybe he truly believed dealing Price was the only way to acquire a "big center", back in 2015 when he made the assertion. The facts say otherwise, though.
Here is a list of the top centers that have switched hands during Bergevin's tenure as GM, ranked in terms of how they theoretically would have fit as Habs.
Not one was traded for Price, if that wasn't clear (based on how not a single's one rights were able to be secured by Bergevin). In fact, generally speaking, the price tags (pardon the pun) were relatively affordable in retrospect.
11) Tyler Seguin
Tyler Seguin has been a fixture atop the league leaderboard for five years, ever since being acquired by the Dallas Stars with the return translating into peanuts. He was essentially traded for Reilly Smith, depth-defenseman Joe Morrow, ex-NHLer Matt Fraser, and the overpaid and in-decline Loui Eriksson.
He finds himself at No. 11 on this list of best fits for the Habs for a number of reasons, namely the fact he was traded by the division-rival Boston Bruins. It's unlikely they would have so much as entertained a trade to the Habs, regardless of who was involved. Secondly, Reilly Smith has turned out to be a decent get and Eriksson had a decent season or two for the Bruins (that still doesn't forgive losing a No. 1 center entering his most productive years).
Finally, there were a lot of rumors floating around regarding Seguin's attitude at the time and whether or not he was going to pan out. Seeing as Bergevin is all about character, it's hard not to give him some slack here.
All this trade does prove is No. 1 centers do get traded in the NHL and for a lot less than Bergevin would have you believe.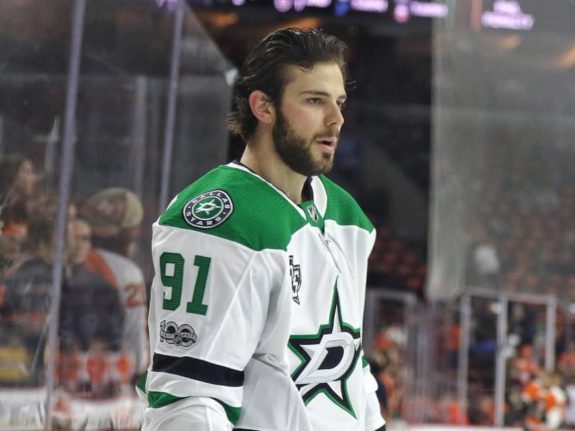 The lesson: Look slightly past how young stars handle themselves (Seguin was 21 at the time of the deal) and more on their potential. Maybe Bergevin wouldn't have realistically been in on Seguin anyway, but it's something he could have learned for the future.
10) Jordan Staal
Bergevin gets some slack here, because Jordan Staal got traded just a month into his tenure. Coincidentally, it was also at the time of the 2012 NHL Entry Draft, when the Habs thought they were acquiring their No. 1 center of the future in Alex Galchenyuk. In other words, Bergevin wasn't necessarily in the market.
It's a shame, because Staal was only turning 24 at the time of the deal. He's also the archetypal big center (6'4", 220 lbs) with defensive prowess that Bergevin seems to covet. From a production perspective, he's been a disappointment, but the $6 million per year he ended up re-signing for has turned into fair market value for a perennial 50-point threat.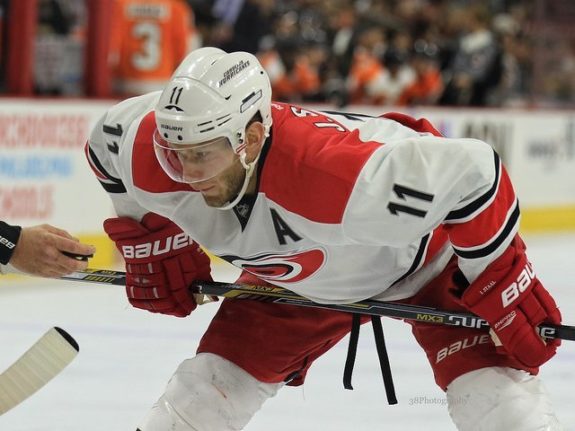 The lesson: Don't be afraid of making a splash. This trade went down only a month after Bergevin had been hired and he could be excused for not getting his feet wet right away. But, up until the P.K. Subban trade four years later, he had developed a reputation as being unwilling or incapable of pulling the trigger on a big trade. If he had had more practice, maybe he wouldn't have screwed that one up.
9) Eric Staal
From one Staal brother to another, Eric has impressively rebounded from his last few down years with the Carolina Hurricanes to become a force down the middle once again. Signed by the Minnesota Wild in the summer of 2016, the 6'4", 209-pound center is on pace for his second consecutive 60-point season there.
While there were concerns he was no longer a top-end player due to his diminishing production at the time of the signing, the 3-year, $10.5 million contract was an incredibly reasonable offer on the part of Wild GM Chuck Fletcher.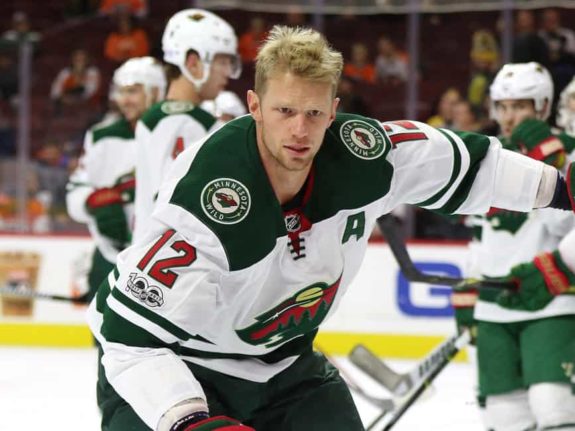 The lesson: Pick your spots better. You don't always have to gamble with the long-term future of your team to try to improve it. The Wild essentially acquired a No. 1 center for as close to nothing as you can get.
Prior to the Subban trade (which went down just a few days before this signing), Bergevin's lasting legacy seemed to be his ability to find serviceable depth players at bargains. He missed the boat on this one.
Not only has he consistently been caught with his pants down over the last few years with the moves he's made since, but he's still looking for a No. 1 center, seemingly convinced they have more in common with a unicorns than Galchenyuk.
8) Ryan Kesler
Bergevin gets somewhat of a pass here, because Anaheim Duck Ryan Kesler had a no-trade clause at the time he was traded. He was also thought to be on his last legs and certainly not worth the 6-year, $41.25 million contract he signed a year after the deal was made as a 31-year-old.
Kesler has proven everyone wrong, by enjoying his fourth consecutive 20-goal season last year, before undergoing hip surgery last summer.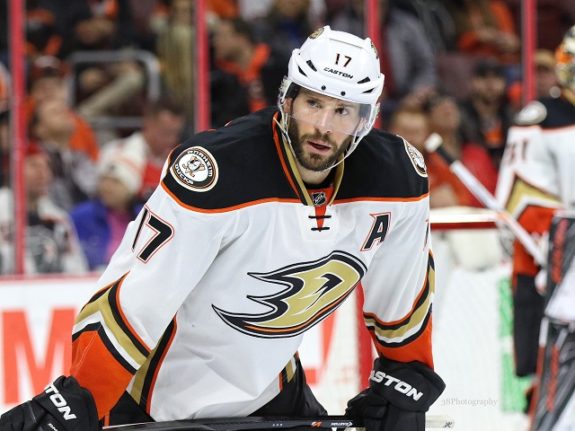 The lesson: Nothing really. Bergevin even seemed to acknowledge Kesler had been available, but that he had a no-trade clause. Sometimes you just have limited options, and even when you do it makes little long-term sense to make a deal.
Just don't claim Joe Thornton was the last one to be traded back in 2005. That's equivalent to telling everyone the sky is red… or that you have no idea what's going on around you in the league. Maybe that last one is more accurate.
7) Ryan O'Reilly
Ryan O'Reilly is another underrated center. While his $7.5 million cap hit may scare some teams off, he's been incredibly consistent from a performance standpoint over his career, regularly scoring over 20 goals and 55 points.
He's also another example of a guy who was traded for 50 cents on the dollar in hindsight. In June 2015, the Colorado Avalanche dealt him and Jamie McGinn for J.T. Compher, Mikhail Grigorenko, Nikita Zadorov and a second-round pick.
Maybe Compher and that pick, defenseman Jeremy Roy, pan out, but neither Grigorenko nor Zadorov have lived up to their billing as former first-round picks. Grigorenko's no longer even in the NHL. If the Sabres, an Atlantic Division rival, were able to put together a package to acquire O'Reilly, the Habs could have too.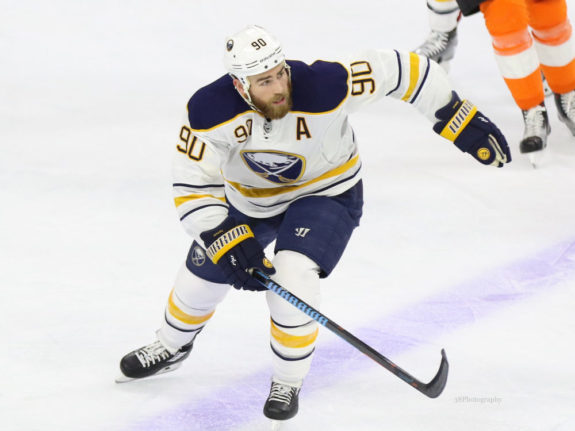 The lesson: Properly assess the value of your assets. Bergevin has consistently argued his plan was to build through the draft and development. It's unfortunately not working out.
Just 6 of his 32 draft picks (up to 2016) have turned into legitimate NHL players. Two of those six are with other teams, including arguably the most successful pick of them all: Mikhail Sergachev (Sven Andrighetto).
It shouldn't be a matter of Bergevin being afraid to trade prospects, but knowing which ones to trade and when. Dealing a projected No. 2 defenseman your organization so badly needs for a winger just to try him out at center is mismanagement epitomized.
6) Ryan Johansen
In a one-for-one deal, the Nashville Predators acquired Ryan Johansen from the Columbus Blue Jackets for defenseman Seth Jones. Many assumed Jones would become a top defenseman (and he has), but the Predators were in dire need of a No. 1 center.
They got a 23-year-old one (at the time) in Johansen, who, despite his struggles this season, has put together two straight 60-point seasons and was critical to the Predators' run to the Stanley Cup Final last spring.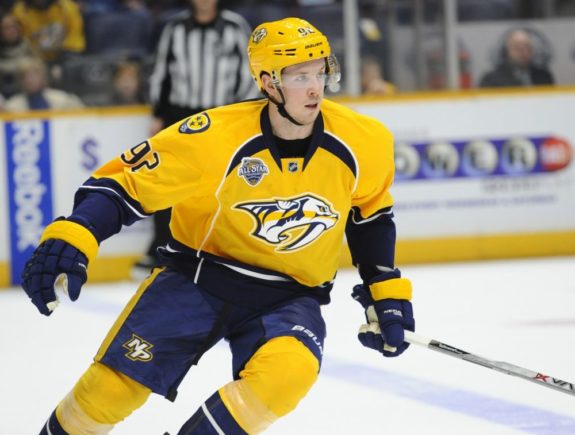 The lesson: Aside from how "Ryans" are clearly awesome, with Johansen being the third-straight one to make this list? That, even though you do sometimes have to give something up to get what you need, you have determine which piece you'll need more.
Sergachev filled more of critical hole for the Habs than Drouin does as a winger while Subban's mobility made him move valuable in this current NHL era than Shea Weber. Maybe giving up Price makes sense (especially now), as well-built teams traditionally only need an above-average goaltender to win it all, not the best one in the world surrounded by spare parts and mediocrity.
5) Kyle Turris
Maybe the man Kyle Turris was essentially traded for, in Matt Duchene, belongs on this list instead. After all, Duchene had been more closely linked to the Habs before being dealt.
However, the trade scenarios swirling around (mainly with Galchenyuk going to the Avalanche) made little sense. It might not have been worth it, especially with Duchene not performing up to expectations with the Ottawa Senators (16 points in 35 games). In contrast, Turris has scored 21 in 34 for the Predators and looks to have provided the secondary offense they had been looking for in spades.
Turris places as low as he does, because he may not fit most definitions of a prototypical No. 1 center, listed at 190 pounds. He's essentially not the "big center" for whom Bergevin was looking.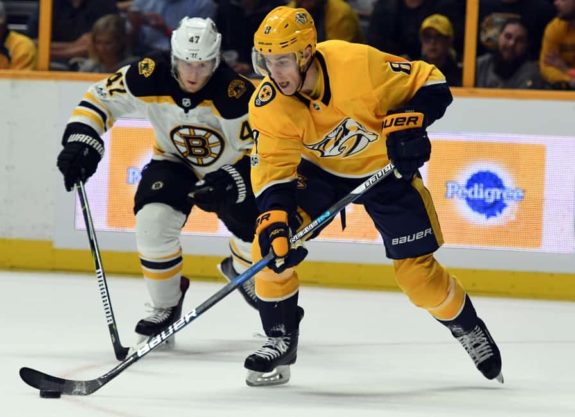 The lesson: Maybe Predators GM David Poile knows what he's doing? Despite reports extension talks weren't working out between Turris and the Senators, he promptly re-signed at an affordable rate of $6 million per season with the Predators after the trade.
In addition, maybe it's about time Bergevin moved away from his idea of what a center supposedly looks like. Drouin isn't one, while Galchenyuk, who was drafted as one, continues to be exiled to the wing, despite the team needing more bodies down the middle.
4) Mika Zibanejad
Ex-Ottawa Senator Mika Zibanejad has fit in as the top pivot on the New York Rangers quite well. He's still just 24 years old and projects as a perennial 50-plus-point, 20-goal guy. His ceiling may not be as high as that of some others on this list, but that plays into the narrative that maybe the Habs could have gotten him.
Even if the Senators were hesitant to trade him within the same division, that the ask was reasonable (Derick Brassard and a seventh-round pick for Zibanejad and a second) is an argument to the contrary. For the right price, he theoretically could have been acquired.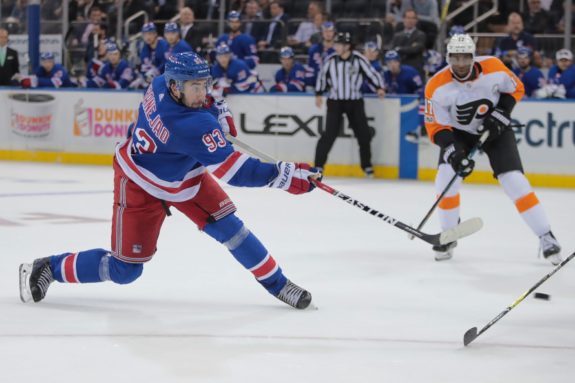 The lesson: Again, you don't necessarily have to give up the moon to get what you need: a center who plays in all situations, is still young and has a relatively team-friendly contract. Why is this so hard?
3) Derick Brassard
You can probably argue that Brassard would have been a better fit, and not just because of his home province. He was significantly older than Zibanejad at the time of the deal (29, now 30) and maybe should have been seen as less valuable, despite the Rangers getting more in the deal. Bergevin could have conceivably paid less for his services than the Senators did.
Furthermore, any argument that Zibanejad would have been unavailable to the Habs doesn't apply in this case. Brassard played in the Metropolitan Division. He theoretically wouldn't have been off limits.
Of course, his production has dropped since joining the Senators, indicating that maybe he's exiting his prime and not all he's cracked up to be.
Wow, he really would have been a good fit in a Habs jersey.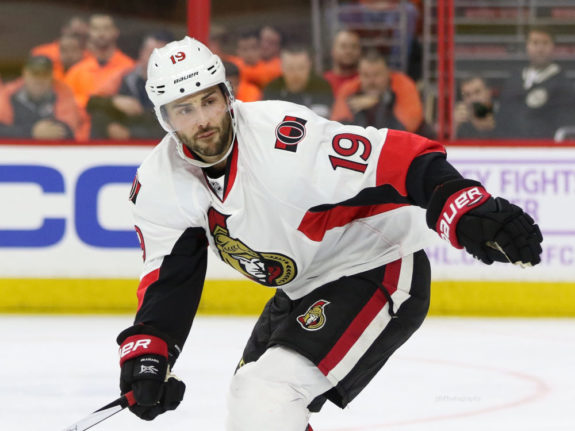 The lesson: Buyer beware. There's a lot more than a name to look at when shopping for centers. Bergevin probably should have taken note before he acquired Drouin, or, you know, looked at the position he plays.
Really, all Brassard being traded proves is there are more available names out there than Bergevin leads on. He obviously shouldn't be trying to acquire all of them, but trades can be made. From the Rangers' point of view with regard to this particular one, good ones too… steals even.
2) Derek Stepan
Derek Stepan must be living up to expectations with the Arizona Coyotes as their No. 1 center. The team may be in the league basement, but both he and goalie Antti Raanta (who was traded with him for prospect Anthony DeAngelo and a 2017 first-round pick) have been pulling their weight.
Raanta has an above-average save percentage on the dreadful Desert Dogs, while Stepan's totals are where you would expect based on his year-to-year performance up to this point in his career.
He's essentially a lower-tier No. 1 center, but one out of whom the Habs could have hypothetically gotten good value. That's due to his age (27), how he has three years left on his deal and the fact the Coyotes didn't give up too much to get both him and their new No.1 goalie.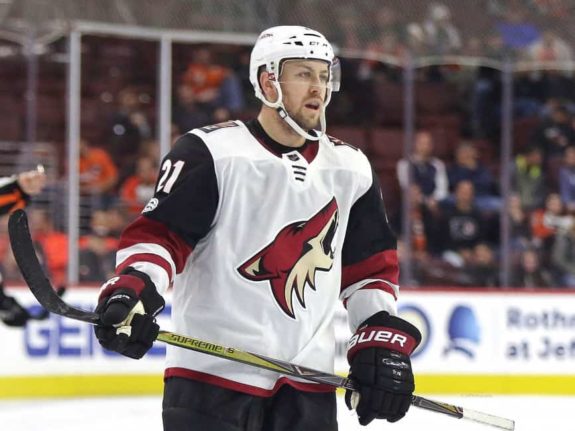 The lesson: Maybe the top-10 first-round draft pick (Lias Andersson) going to the Rangers was an exorbitant ask, but remember: Bergevin traded away Sergachev, a former top-10 pick, for Drouin, who wasn't even the center he required. Trading away prized assets is only justifiable if you're getting pieces you need.
1) Brayden Schenn
There's only one way to justify Brayden Schenn potentially slipping past Bergevin as a potential acquisition without him noticing. Maybe the Philadelphia Flyers were intent on keeping him outside the Eastern Conference, when they dealt him to the St. Louis Blues for Jori Lehtera and a late first-round pick.
Of course, for that assumption to hold any water, you would have to believe the Flyers were satisfied with what they got in return. Considering, as a player projected to replace Schenn in their line-up, Lehtera's production had dropped dramatically in each of the two previous years, they shouldn't have been back then.
The Flyers sure as hell aren't now. Lehtera has just 3 assists in 33 games. Schenn is doing slightly better with 21 goals and 30 assists in 53 games. He's also 26 with two more years on his contract at an average of just $5.125 million per.
The lesson: Don't count your chickens before they're hatched. It's no justification, but one way to explain why Bergevin may not have tried to acquire Schenn (assuming he knew he was available) is he believed that he had no need to trade for a center, after just acquiring Drouin, who, again, had never played center at the NHL level over a prolonged period with any kind of success.
Even if you have reservations about some aspect of Schenn's game, defensively or otherwise, it's hard to ignore a few key facts. Firstly, Drouin has always had defensive issues as well. Secondly, Schenn can play all three forward positions.
Even if you're not looking to play him at center, he's worth acquiring based on his two straight 55-point seasons leading up to the trade. He's now on pace to shatter his career-high 59 points.
Even if you wanted to keep your own late first-round selection (two picks earlier than the one the Blues gave up) in a notoriously weak draft to take two-way center Ryan Poehling, one question: Why? You would give up the chance to acquire a center known to be productive who's entering his prime and would fill a huge hole in your line-up to draft an uncertainty?
All due respect to Poehling, that makes no sense. None of this does. Habs fans deserve an explanation as to why this team is still without a No. 1 center. It's (clearly) not about making hard trades, but asking the hard questions instead. Bergevin owes everyone answers.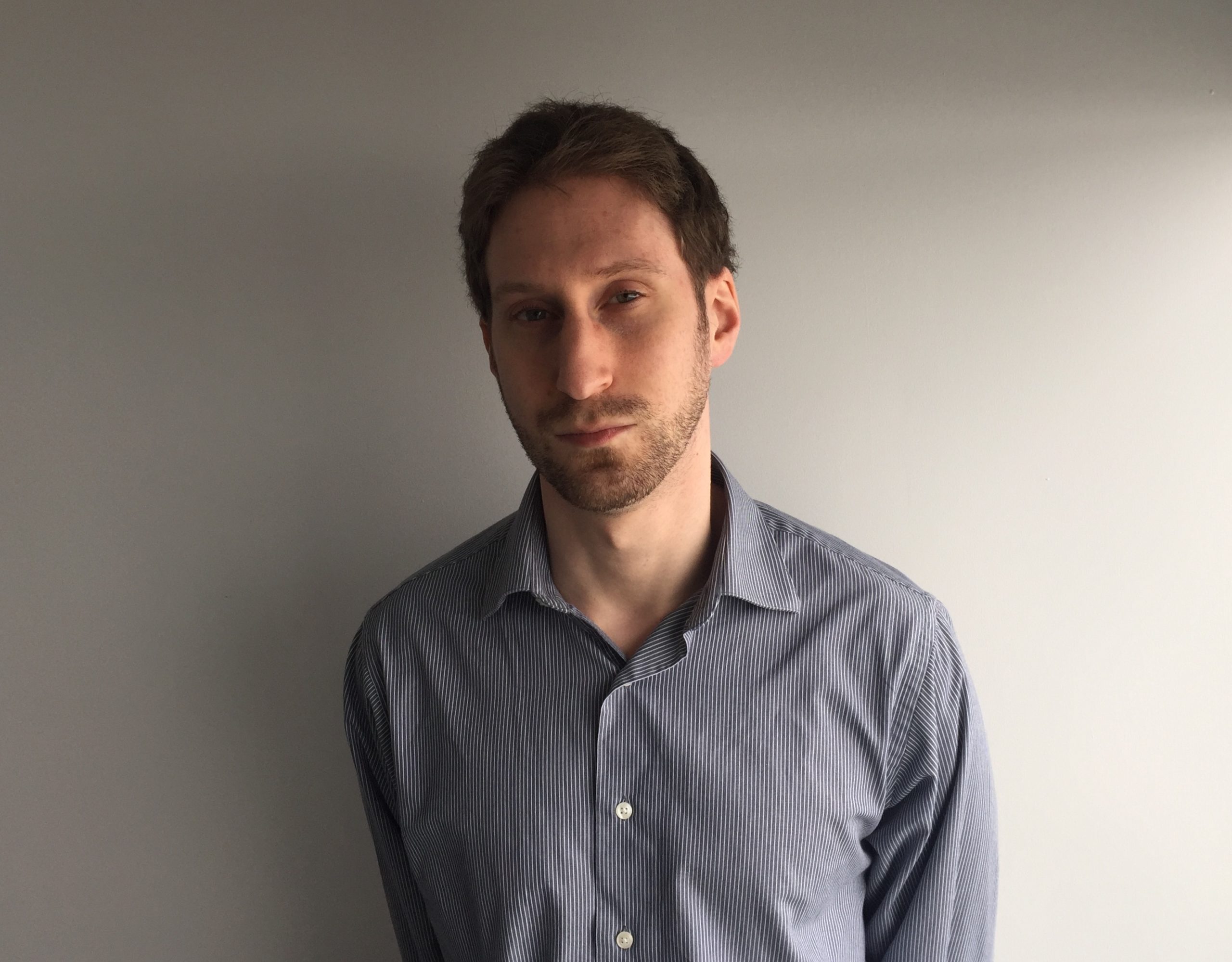 After 10 years of writing hockey, Ryan decided it was as good a time as any to actually join The Hockey Writers for the 2014-15 season. Having appeared as a guest on such programs as CBC Radio One's Daybreak, Ryan has also written for the Montreal Gazette and Bleacher Report and worked for the NHL itself and his hometown Montreal Canadiens. He currently writes about all things Habs for THW, with it being a career highlight for him to have covered the 2021 Stanley Cup Final as a credentialed member of the press.