Montreal Canadiens GM Marc Bergevin may be hard-pressed to deliver a great trade. However, he's always good for a great sound bite. Even as his time at the helm of the Habs hangs in the balance, as it does currently, he's delivered.
Case in point, his press conference that helped to usher in the Habs' bye week. He made sure to give fans plenty of material to get through it, like the following quote.
"Have I made mistakes? Yes. Have I done some good things? Yes. But that's the reality for a general manager. But I'm proud of what we've done." -Marc Bergevin#GoHabsGo

— Canadiens Montréal (@CanadiensMTL) January 7, 2018
He seems to admit his contribution to the team's downfall and declare he's proud of the team's current predicament, all in one fell swoop. Impressed? It's okay to be. Being confused and impressed don't have to be mutually exclusive.
You're in for a treat then, because that one quote didn't even rank. Inspired by that latest presser, here are his top 10 greatest hits:
10) Jonathan Drouin's a Winger
The best quote from that presser came when Bergevin was at his most candid and said what was obvious to a whole bunch of people when Jonathan Drouin was first acquired: He should be a winger.
"In the perfect world, if we had this No. 1 center, this guy that could make plays, a high-end center – no, he'd probably be on the wing. But he still does the best for now for what we have."
Consider what Bergevin is saying here. Sure, the admission that Drouin should not be a center is the highlight and brings into question the rationale behind trading away blue-chip defensive prospect Mikhail Sergachev for another winger.
However, Bergevin craftily, but subtly gave Drouin a backhand compliment all the while, saying he's the team's best option right now. What has gotten lost in the shuffle is the indirect declaration Drouin's the best option the team has, because Bergevin hasn't given the team better ones than a natural winger.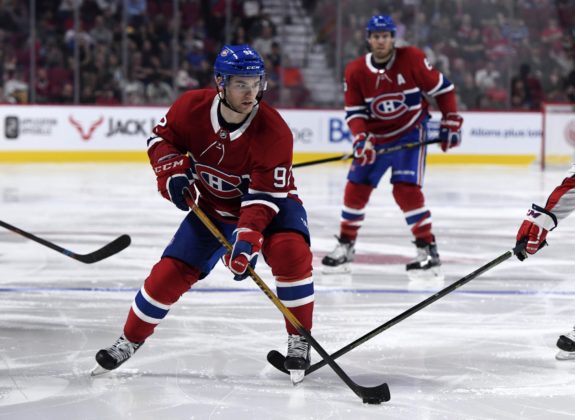 Maybe it was his intention. Maybe it wasn't, but, by implying Drouin is doing the best he can, he's essentially throwing his prized acquisition under the bus.
It's not exactly uncharted territory for Bergevin.
9) Galchenyuk Can't Play Center
Bergevin arguably isn't giving himself enough credit, though. The team has other options, even options Bergevin himself has acquired, like Alex Galchenyuk, who was drafted at No. 3 in 2012 to fill the role of that ever-elusive No. 1 center. It's maybe his own fault the Habs aren't currently exploring that alternative, though.
Drouin was acquired this past summer, with Bergevin saying at the team's annual golf tournament that it was decided once the trade was made to experiment with him at center. As a result, the Galchenyuk-at-center experiment was, as officially as possible, brought to an end:
"I've been here for six years. I've seen Alex everyday, and at this time center is a tough position. It's demanding. I'm sure as we speak today Alex is not able to play that position everyday and I don't need 10 more tries to know he's not."
Remember, Drouin only regularly played center in major junior after being drafted, with the Tampa Bay Lightning sending him back down so he could learn the position. It never took once he eventually made it to the NHL. In fact, he developed the same reputation as being defensively lax as Galchenyuk.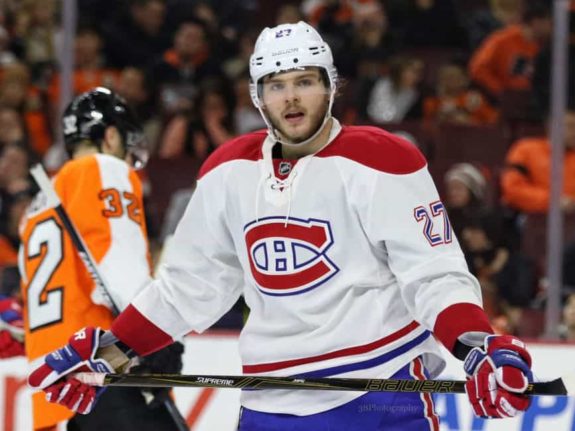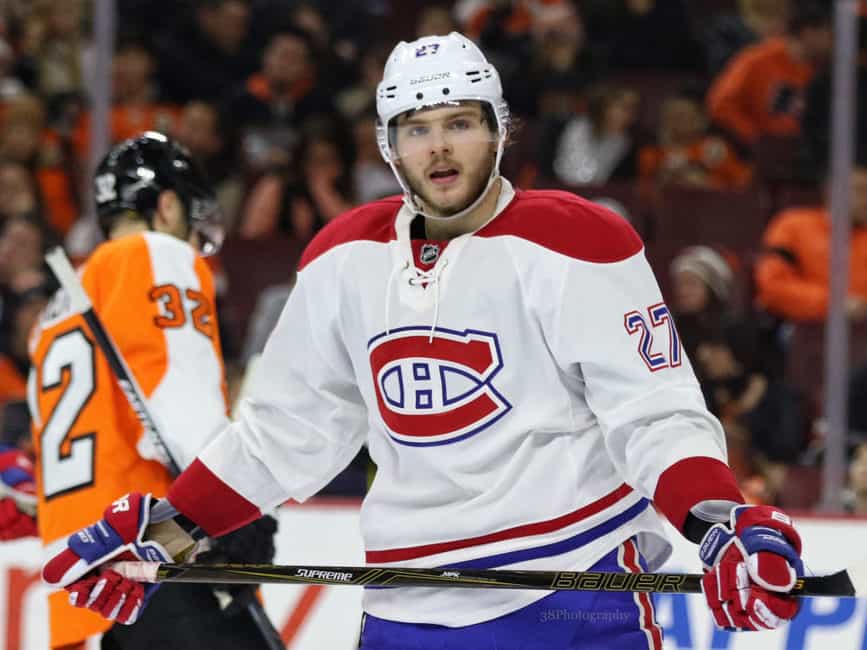 The only difference between the two is Galchenyuk was drafted as a center and has actually found success at the position. In 2016-17, Galchenyuk started the season as the team's No. 1 center and put up 23 points in his first 24 games before getting injured.
It was a continuation of the success he found to end the previous season at the same position, at which point now-ex-head coach Michel Therrien seemed to take credit. The argument then was bringing him along slowly had been the right move, because of how he was producing.
In other words, no one seemed to take issue with any defensive issues Galchenyuk was or was not having as long as he was producing. Yet, once he returned from injury he had lost that No. 1 spot to Phillip Danault and was suddenly too much of a liability to play at his natural position.
Now that Drouin is having similar defensive issues, but not producing?
Right.
8) Shea Weber's a Diamond in the Rough
Defenseman Shea Weber is a lot of things. He's a 6"4', 230-pound behemoth. He's a three-time Norris Memorial Trophy finalist. He's a six-time all-star. What he isn't is a "diamond in the rough." In fact, you get the sense he crushes diamonds with his teeth for breakfast.
Nevertheless, Bergevin made that assessment, implying Weber had more in common with a seventh-round draft pick than the player he had just sent to the Nashville Predators in P.K. Subban.
To his credit, Bergevin did precede that one line by calling Weber an "elite defenseman." So he just misspoke when he inadvertently described Weber as anything but the superstar he was and still is. He'd probably still like to have that one back though.
The quote or the trade, you may ask.
Yes.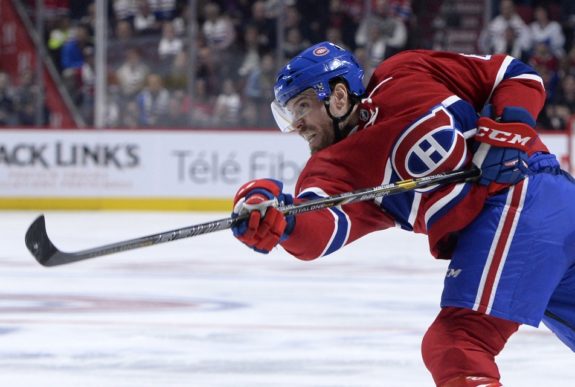 7) "Not Shopping" P.K.
In the lead-up to the blockbuster, Bergevin was adamant that he wasn't specifically looking to trade his Norris-winning defenseman.
"It's not even listening to offers is I'm taking calls. When a GM calls me I don't know who he's calling me about so I answer the phone. Yes, I've received calls on P.K., but I'm not shopping P.K. Subban."
The official party line is Predators GM David Poile is the one who approached Bergevin about a potential one-for-one deal. So, maybe Bergevin didn't actively shop Subban. If he didn't, considering the return and four-year age difference, maybe he should have.
At the time, analytics experts were saying the Habs got fleeced. One Predators Stanley Cup Final appearance and one nagging lower-body injury for Weber later, little tangible evidence exists to dispel that theory.
Subban will always have his detractors and Weber his proponents. Whether it's a direct result of this trade or not, the number of people squarely in Bergevin's camp has grown drastically smaller, though.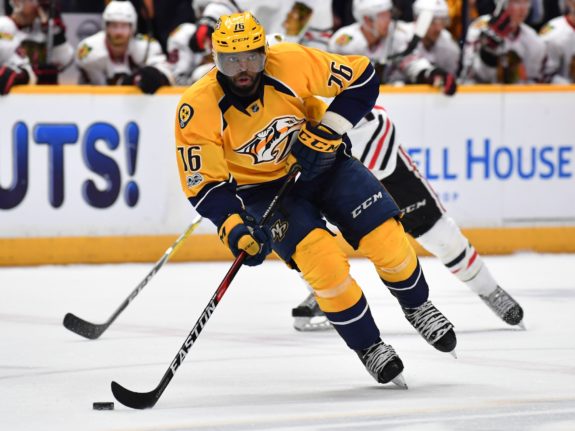 6) Therrien Didn't Know Anything
Subban has always been a polarizing figure. You always got the sense Therrien was one of the ones who didn't like the guy, despite what he brought to the table.
The flash, the larger-than-life personality, it always seemed to run counter to the system Therrien tried to instill in his players. If your name isn't Carey Price, you're arguably just another cog in the machine. Despite his perceived best efforts to stay within that system, Subban had an obvious tendency to freelance and give up the puck (as is the case with every puck-moving defenseman, by the way).
As such, it seems odd that Bergevin didn't bring Therrien in on the decision to trade Subban. Yet, talking to Dave Stubbs, Bergevin went on record saying:
"And those who insist the trade was made to please Michel Therrien? That's nonsense. Mike didn't know anything – anything- about the trade until after it was made."
Okay, fine. Therrien didn't know anything. Interestingly though, according to the interview transcript on NHL.com, Bergevin is the one who brought up Therrien. What's more interesting though is Bergevin's rundown of how the trade went down.
Earlier in the same interview:
"There was a lot of thought going into this [trade] prior to that day, a lot of discussion internally. I had talked to my hockey people. At the end of the day, I make the decision…"
So, was the head coach of Bergevin's hockey team not considered one of his "hockey people?" Was the idea not even floated his way?
One way, it speaks to internal dysfunction on an unparalleled scale not to bring him in on the discussion. The other way? It seems as though Subban was traded to appease an easily disposable head coach. Spoiler alert.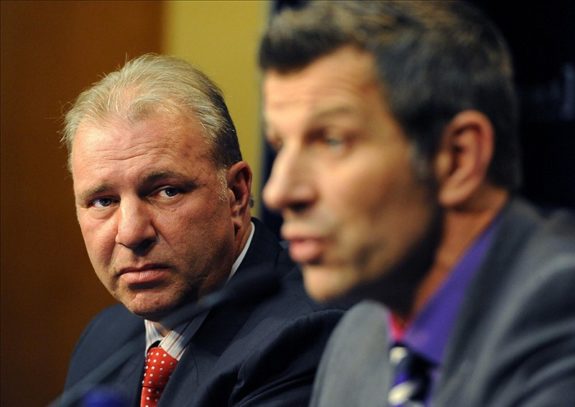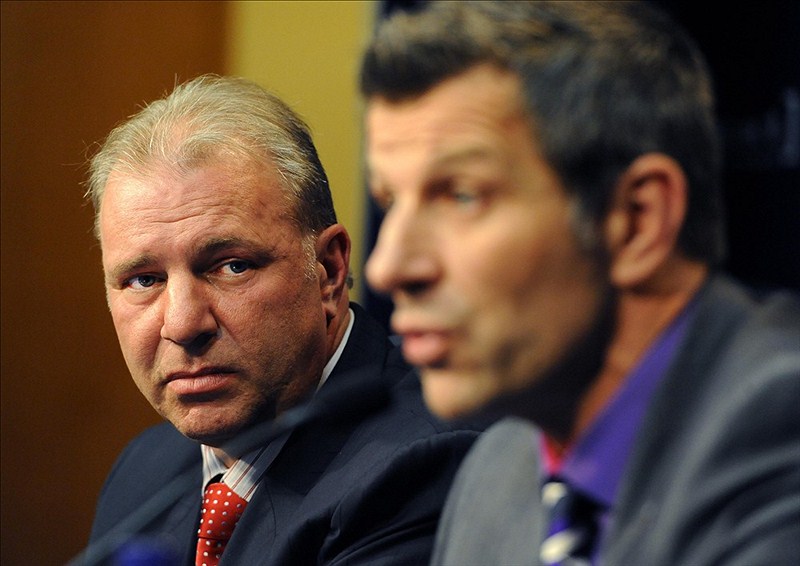 5) Bergevin's Summer Goes to the Dogs
Bergevin's quote with regard to Alexander Radulov and his chances at re-signing with the Canadiens was timeless: "If you want loyalty, buy a dog."
This quote places as low on the list as it does, because it's often misrepresented as an insult. I mean, it's worded as one, and no one likes being compared to a dog, and, come to think of it, he did a horrible job expressing himself, but Bergevin was nevertheless defending Radulov's right to go wherever he wanted.
That's admirable, right?
4) First Come, First Served
Considering Radulov officially signed with the Dallas Stars the day after that quote circulated, Bergevin failed to capitalize on any goodwill he may have been trying to generate. That or he was trying to brace an entire fanbase for Radulov's departure.
It certainly didn't work. And Bergevin certainly didn't help matters when he made his position clear with regard to both Radulov and defenseman Andrei Markov, the latter of whom was also an unrestricted free agent this past summer. Addressing both, he said: "First come, first served."
The end result? Both players walked and the Canadiens have approximately $8 million in cap space collecting dust. That's right above the expansion Las Vegas Golden Knights, for the record.
Speaking of records, the Knights own the best record in the Western Conference at 29-10-2. The Habs have the fifth-worst record in the league at 18-20-4. I guess it's not the size of the bank account, but what you do with it.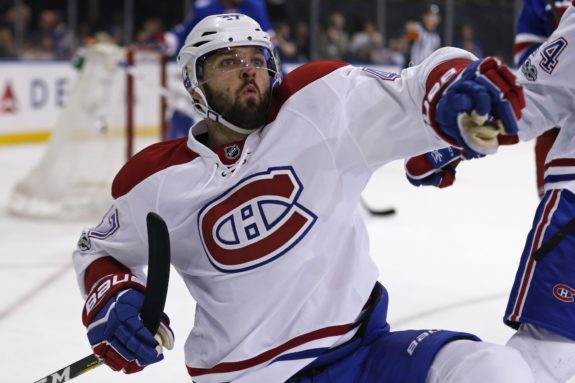 3) Bergevin Blames an Unhealthy Carey Price
After the unsuccessful 2015-16 season, Bergevin and company held a post-mortem press conference. Considering his Vezina and Hart Memorial Trophy-winning goalie had just missed five months of a six-month season, the would-be narrative heading in was clear. Bergevin didn't disappoint (at least not morally speaking):
"I believe with a healthy Carey Price, we're not sitting here today."
Bergevin did have a point in that a healthy Price was the team's trump card. Without your main difference-maker, you'll have a hard time making the playoffs. But to miss them after starting the season 9-0? That's a hard pill to swallow.
With Price injured in November of that season, Bergevin and Therrien had ample opportunity to come up with a back-up plan. Bergevin's answer was Ben Scrivens, a goalie who had been relegated to American Hockey League action, a goalie who, playing for the Bakersfield Condors, had managed just an .893 save percentage.
It wasn't so much that Bergevin used Price as an excuse. It was that he used an excuse at all, with a "No Excuses" sign hanging up (at the time) in the dressing room to represent each and every team member's accountability. Fittingly, it's since been taken down.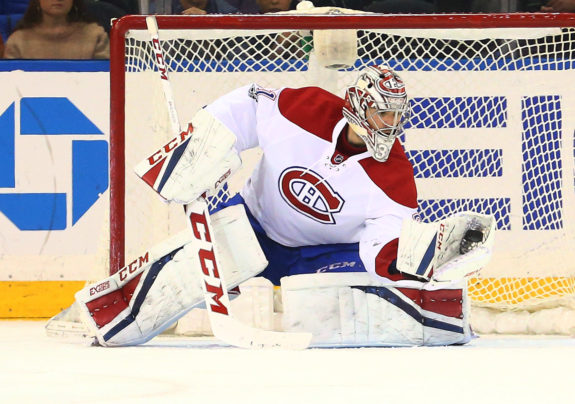 2) Foxhole Buddies for Life
With Price injured that season, the Canadiens obviously sputtered. In spite of the 9-0 start, the team found itself on the fringes of the playoff race come January. At that point, people were calling for Therrien's head. Bergevin came to his defense with what is now arguably Bergevin's signature quote:
"If you're ever in a foxhole and you want [someone] next you, that's what Michel Therrien is."
He fired Therrien just over a year later, proving Therrien only served as an easier target… for the time being.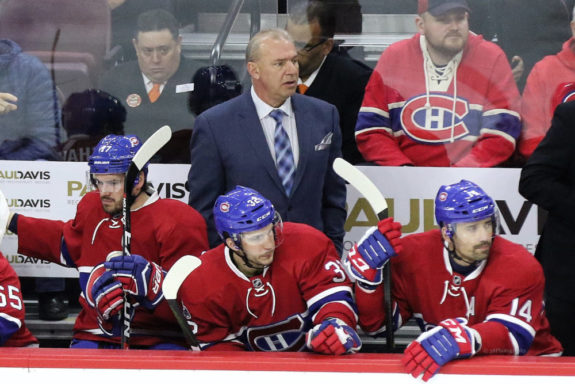 1) "It's On Me"
This winner, literally in this case, came at the same press conference.
#Habs Bergevin: "All the critiques should be directed to me… It's on me, only." Michel Therrien and the players "are not going anywhere."

— John Lu (@JohnLuTSNMtl) January 21, 2016
It's notable, but not just because Bergevin ended up firing Therrien. Barring a huge reversal of fortune for the team under new-hire Claude Julien, the logic at that point had been that Bergevin was ultimately just delaying the inevitable.
Now that he's the one taking the brunt of the blame and not his coach, his position has softened somewhat. At his press conference last week, Bergevin said: "I think it starts with me, to the coaches, to the players. I think we're all in this together and we all have to take responsibility."
Seeing as it will be a long road back to respectability for the (at-times-too) proud organization, it likely won't end with Bergevin either. That's the good news.
So, it may start with him, but his time as GM should at least be coming to a close, as he's out of excuses and just about out of chances. Thankfully, he's never out of quotes. Stay tuned for his next press conference. It's primed to be incredibly significant one way or another.