The Montreal Canadiens have had a significant point decline since the beginning of the year and it's starting to bring back nightmares of last season. What's even worse is that they've managed to let it happen with Carey Price in net, unlike last season. Of course, the Canadiens have had a ton of injuries this year but the poor record since the 13-1-1 start can't just be attributed to that.
It's time for Marc Bergevin to admit that his team just isn't good enough. He also has to come to terms with the fact he's going to have to dip into his prospect pool to improve a Habs team that is supposedly all-in for the Stanley Cup this season.
Now Bergevin's philosophy is to draft and develop through the draft and the minor leagues. That's obviously what he's used to coming from Chicago during their rise to a modern National Hockey League dynasty that built its foundation through the NHL Entry Draft.
Unfortunately for him, the Canadiens aren't in the same position the Blackhawks were. They don't have a chance to draft or develop a Patrick Kane or Jonathan Toews in the top-five of the draft. They're in the exact opposite position where picking anywhere from 24-31 nets an organization a mere hope that they will select an everyday NHLer, not to mention an impact player.
More from that point, the Habs not only don't have the chance at drafting high-caliber prospects, they don't have more than two in their entire system. Other than defense prospects Mikhail Sergachev and Noah Juulsen, Bergevin has bottom-six forwards and low-end defensive prospects at best. It's time for him and the rest of his staff to stop overrating their prospects to provide immediate help for the 2016-17 version of the Canadiens.
Current Assets
As I noted above, the only Canadiens' prospects that have the potential to be high impact players are Sergachev and Juulsen. Now some would say; what about Michael McCarron or Charles Hudon? Are you forgetting about Nikita Scherbak? No, I'm not because they aren't going to be top-six forwards for the Canadiens between now and the 2020-21 season. Many look at the Canadiens and say they have a "window of opportunity" to win a Cup. This is based on many things such as the age of the players and their contract terms. On that alone, these players should all be expendable.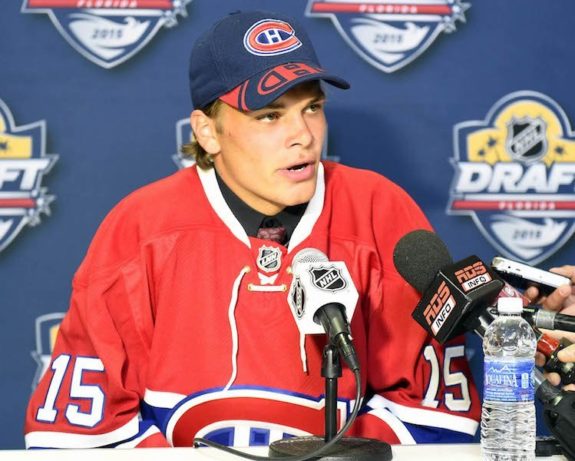 In their limited time in the NHL, McCarron, Hudon and Scherbak have shown promise. I'll admit, they haven't been given enough time to show their stuff or to show they have what it takes to be a full-time player in the big leagues. However, that's one thing the Canadiens don't have — time. If you're taking into account the window or opportunity, none of these players will be top-end contributing factors in a Stanley Cup Final, nor would the Canadiens get there with these players in the top-six.
The simple fact is, the NHL Draft is a lottery. Every single player that is taken, including the first overall selection, has a chance to be a bust or a full-time player. So, based on that simple fact, is Bergevin really going to let a draft pick or a prospect stand in the way of supplying his team with impact players for a true run at the Cup? It's possible and here's why I don't agree with that suggestion.
Past Experiences
I understand the value of prospects and the importance of drafting and development but let's face it, the Canadiens aren't good enough. Martin Hanzal and Alexandre Burrows aren't going to fix things and if that's the route Bergevin chooses to go because he wants to keep his prospects then they're in trouble. His famous words are; "You have to give to get," well Marc, it's time go give.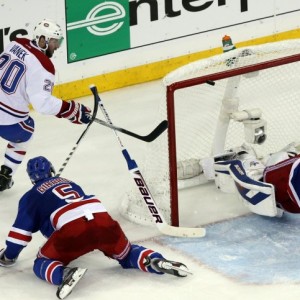 Do we remember when Tomas Vanek was traded to Montreal from the New York Islanders? The excitement of a high-end player coming in to help the Habs make a Cup push. Does anyone recall who the Canadiens traded for him? Don't hurt yourself, it was a guy named Sebastian Collberg. As a fan, do you miss him? Do you insist that if the Habs had kept him he'd be in the top-six or even on the roster as we speak? No, because he never ended up being a player of value despite being a highly touted prospect when he was drafted.
So what's the difference this time around? The Canadiens are in an even better position to win than when they traded for Vanek and fans are up in arms and management is balking at trading prospects for a high-end talent to make a push. Of course, I'm not saying I would trade Sergachev for Hanzal, but if the Avalanche wanted him to complete a deal for Matt Duchene then I wouldn't think twice about sending him away.
The Bottom Line
Maybe I'm just tired of watching/reporting on the Canadiens continued mediocrity. Maybe I'm the one that's overreacting and the simple fact is a team with Paul Byron and Andrew Shaw in their top-six can win a Stanley Cup. If that's the case, and the Canadiens do win with their current roster composition, then shame on me.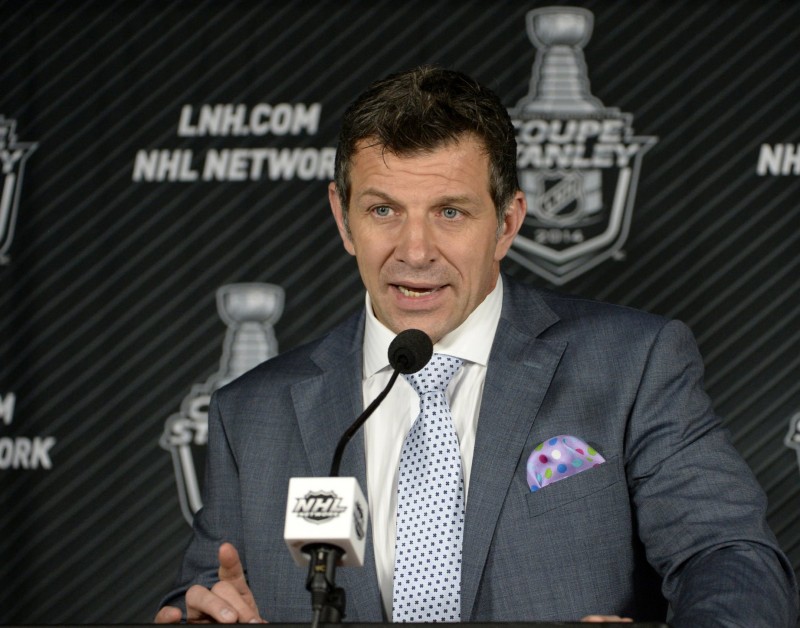 However, I feel pretty confident that it won't happen so I'm just going to summarize what I stated above. It's time for Bergevin and company to stop overrating their prospects. It's time for the general manager of the Canadiens to take after the Stan Bowmans and Dean Lombardis of the world and empty out the cabinet to win now.
If it works out and you do win, then eventually when you have to rebuild or retool like every team has to do, regardless if they win or lose, then it will be much more palatable knowing that you raised Stanley Cup banner No. 25 a few years before. If it doesn't work out and you don't win, then hey, you tried. It would be a shame to waste the talents of Shea Weber, Price and so on for the "future" of the Canadiens.
I'll be blunt: no one can't honestly say he's been doing everything he can to really push the Canadiens over the top. So Marc, if you say the time is now, then let's see what you can do; the deadline is approaching.