Milos Roman
2017-18 Team: Vancouver Giants (#40)
Date of Birth: November 6, 1999
Place of Birth: Kysucke Nove Mesto, Slovakia
Ht: 5'11" Wt: 187 lbs
Shoots: Left
Position: Center
NHL Draft Eligibility: 2018 first-year eligible

Rankings
There's something to be appreciated about a player's ability to move up to a new level of hockey, adapt, and continue to do the thing that's made them successful at previous levels of the game. Vancouver Giants center Milos Roman is a player that has continually shown the ability to make adjustments so that he can continue to use his prodigious offensive talents at a higher level.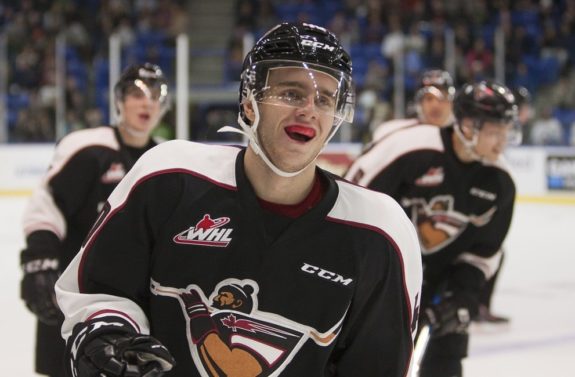 Originally from Slovakia, Roman has shown some strong offensive ability that's often gone above and beyond what you would expect from his age group in a given league. At 14, Roman was over a point-per-game in the Czech under-16 league and just under a point-per-game in the under-18 league. At 15, he was a point-per-game in the U-18 league. At 16, he was a point-per-game in the under-20 league. At 17, he was a full-time pro in the Czech secondary league. After being selected by the Giants in the Canadian Hockey League's import draft, at he was slightly under a point-per-game as a Western Hockey League rookie.
Roman's history in high-level hockey to date informs two basic conclusions: he's shown the ability to constantly adapt to a more challenging level of hockey, and he's a really smart offensive player. He excels as a puck distributor and when he's paired with skilled teammates that can bury chances he seems like a safe bet for a lot of primary assists. His play away from the puck isn't amazing, but he's not a liability, and he's a smart positional players in all three zones. He took a lot of face-offs for the Giants last season and won 48% of the time, so that part of his game is a work in progress. Roman was a consistent contributor in his first North American season, but played just one WHL game between mid-December and early March between a trip to the World Juniors and a nagging ankle injury – he has a smaller sample size in North America than many other promising forwards as a result.
Related: THW's 2018 NHL Draft Guide
Roman has shown the ability to adapt to challenges as he's progressed through the hockey ranks dating back to his early teens. He's a gifted offensive player with strong situational awareness and the ability to create scoring opportunities for his linemates. His defensive game isn't anything to write home about, but that's not the reason to grab him in the NHL Draft. The only real risk involved with selecting him is trying to project his professional ceiling based off one injury-shortened North American season. Regardless, he stands as one of the most exciting puck distributors in the entire 2018 draft class.
Milos Roman – NHL Draft Projection
Roman projects as a second or third rounder. His offensive upside will be tantalizing for teams, but they may be a bit hesitant to select him too early due to the time he missed this season and the difficulty in projecting his developmental floor and ceiling.
Quotables
"Scouts already are aware of Roman's playmaking talents as one of the better puck distributors as a WHL rookie in Vancouver, so there was little concern that he failed to register an assist at the WJC as he wasn't playing with overly skilled linemates on the underdog Slovakian team. He did manage a couple of goals and that won't hurt his draft stock." – Grant McCagg, Recrutes
"Roman was brought into Vancouver to see time as a second line centre and add scoring depth but has proved to be much more than that early this season. Roman is slotted in between WHL veterans Brad Morrison and Ty Ronning and has excelled feeding them the puck on a team starved for scoring. He shows up every shift and is a dynamic two-way player that is aggressive on the forecheck causing turnovers. Sees time on both special teams units and is a pass first centreman. When he shoots, he does so with accuracy. Not a speedster but a balanced skater and is capable of playing well in all three zones. A little timid in the corners but can makes things happen with the puck on his stick." – Marshall MacKinder, Hockey Now
Strengths
Great forechecker
Strong puck distributor
Strong hockey IQ and on-ice vision
Under Construction (Improvements to Make)
Could stand to shoot more
Doesn't play particularly physical or mean
His attention-to-detail away from the puck could use some work
Other 2018 NHL Draft Profiles
NHL Potential
Roman projects as a second or third line center at the NHL level.
Risk-Reward Analysis
Risk – 1.5/5, Reward – 4/5
Fantasy Hockey Potential
Offense 8/10, Defense 7/10
Awards/Achievements
Roman has been a frequent presence on Slovakia's international teams for years. He hasn't captured any international medals, but he's represented his country at the Under-17 Hockey Challenge, the Under-18 World Championship (twice), the Ivan Hlinka Memorial Tournament (twice) and the World Juniors.
Interview/Profile Links
Videos