The Toronto Maple Leafs have done several things right over the course of the last few hockey seasons. They have drafted phenomenally, brought in the right hockey people to the front office and made some key trades at critical positions such as goaltending.
The trade for Frederik Andersen is the main reason the Leafs have been able to get to the playoffs ahead of their rebuilding schedule. One area the team has not made a priority is defense. The team passed on Noah Hanifin for Mitchell Marner in the 2015 draft class. While Marner has been a star player, could Hanifin have addressed a very important need for the club right now? The Leafs were burned by the Boston Bruins in their first-round series because of poor defensive play and uncalled for pinches in the offensive zone which led to odd-man rushes.
Related: Gardiner & Maple Leafs Implode in Game 7
This offseason, the team must address the blue line and the Leafs should look to Drew Doughty of the Los Angeles Kings to be the leader of their defense for the next several years. Doughty has one season left on his contract, and teams around the NHL will certainly be contacting the Kings regarding his services. In the past, Doughty has said that his main focus in the NHL is winning championships.
The Kings have some tough decisions to make this off-season and Drew Doughty will be at the centre of those plans. (Via @imacSportsnet)https://t.co/Zr65iASq6K

— Sportsnet (@Sportsnet) April 18, 2018
Doughty Is Exactly What the Leafs Need
Doughty carries an incredible hockey resume. He is a two-time Stanley Cup Champion, a two-time Olympic Gold Medal recipient with Team Canada and a former Norris Trophy winner. He is a leader who can play in any situation and always elevates his game in the playoffs. He had a superb season in 2017-2018. He led all skaters in time on ice averaging 26:50 per game. He also registered a career-high 60 points (10G, 50A) and was a plus-23.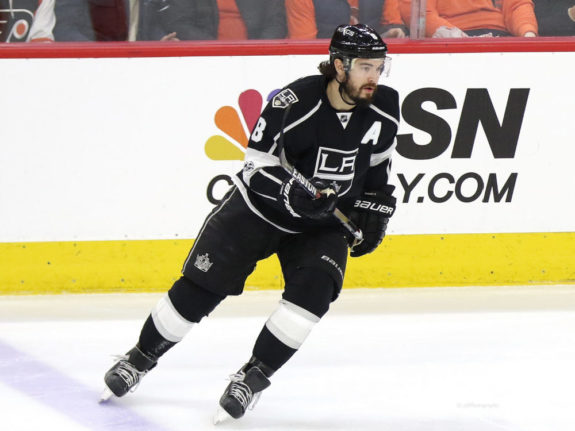 A top-pairing, right-handed defenseman is the key missing ingredient for the Leafs' young group and would add tremendous value come playoff time next year. Doughty has played 10 seasons in Los Angeles; his play has only improved over the years and he is only 28 years old. Kings goalie, Jonathan Quick, had very high praise for Doughty during his exit interview this year.
   "I mean, he's the best at what he does. I think the way he thinks the game is his biggest strength and the ability to make plays under pressure, you know it helps us get out of the zone."
Who Would the Leafs Trade?
Trading for Doughty this summer is a risk unless the team can sign him to a contract extension past 2019.  I predict that he would embrace the pressure of Toronto and would not mind playing for his Team Canada coach, Mike Babcock. He would be giving up the LA lifestyle and anonymity outside of the rink but would be taking on a challenge that could make him a legend if he is able to help the Leafs win a Stanley Cup. He is a special hockey player that is very fun to watch and he has a very positive personality.
The Leafs are in dire need of a player who can quarterback their power play and shut down the opposition's top forwards. Doughty also is a great body checker who can set the tone during a game and make a great breakout pass. He does everything at a high level. The Kings will want a lot in return for their franchise defenseman. However, it appears they are heading for some major changes as their heavy brand of hockey does not fit in 2018 as teams play such a fast style today.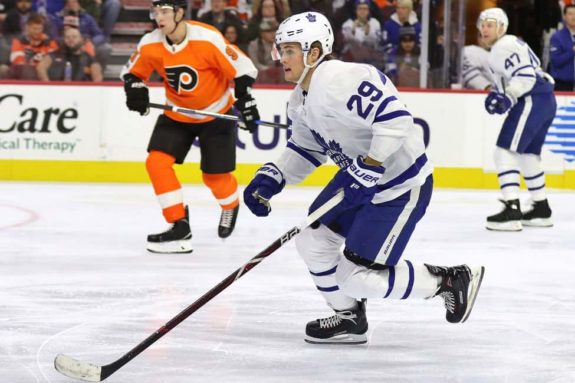 The Leafs obviously want to hold onto their young core, but a deal would have to include either Marner or William Nylander. Nylander has developed tremendous chemistry on the Leafs' top line with Auston Matthews while Marner had a superb second half of 2018.
Related: Defining Maple Leafs Early Playoff Exit
A reasonable asking price would be Nylander, Travis Dermott and a first-round selection in the 2019 NHL Entry Draft because Doughty is a player that can help win Stanley Cup championships, which has been the goal in Toronto for far too long.