Anyone who's ever read or watched "Peanuts" knows that Charlie Brown has tried to kick a football countless times since 1952, only to have Lucy van Pelt cruelly yank it away at the last second. Charlie Brown races up to the football, kicks at the vacant space where the football once was and launches himself, nose to the sky, somersaulting in the air. In mid-catastrophe, he cries out in anguish "A-A-U-U-G-G-H-H!" His dreams of success then come crashing down. As does his body.
https://youtu.be/055wFyO6gag
In many ways, Alex Ovechkin of the Washington Capitals is a lot like Charlie Brown while Sidney Crosby of the Pittsburgh Penguins is playing the part of Lucy van Pelt.
Oh Woe, Charlie Brown
Ever since that first by 'now-you-see-it, now-you-don't' moment by Lucy, Charlie Brown has fell victim to her shenanigans. Each time he's fallen short of his goal. He hasn't found a way to make it happen. He simply hasn't learned how to outsmart her.
In fact, Charlie Brown can't help but be reluctant to trust her every time she holds the football for him. He knows in his heart she will let him down again. It's only after Lucy says something to persuade Charlie Brown, to lure him back, that he even attempts to give it another shot. Then afterward, to add insult to injury, she also has the gall to point out that Charlie Brown should've never trusted her in the first place.
In the same respect, Caps fans can identify with having their football–their heart–callously yanked away by Sid and the Penguins year after year. Even when they've knowingly lined up to kick it.
The Origin of Lucy's Revenge
As the story goes, back in 1953, in the days leading up to Lucy's second football gag comic strip, Charlie Brown had been shown trying to kick a football on his own and failing. Charlie then saw Lucy trying to kick a football and abrasively mocked her, telling her to just give up and go home. This premise serves as the origin to Lucy's decades-old trick of yanking away the football. She does it out of pure revenge and bitterness.
Oh Woe, Caps Fans
Like death and taxes and Lucy pulling the football from Charlie Brown, the Caps losing early in the playoffs has become a predictable, miserable outcome for Caps fans. Especially at the hands of the shifty Penguins.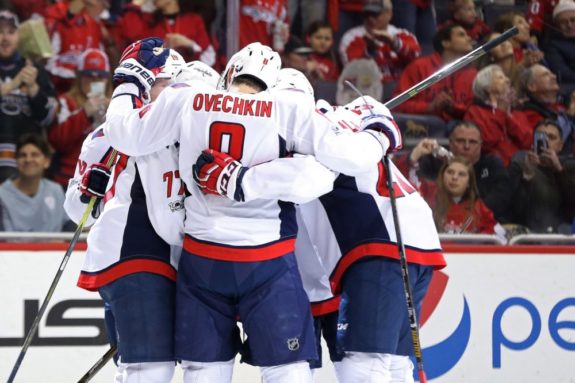 Over the past decade, the Caps have found an uncanny ability to crush the spirit of both themselves and their fans. Before Lars Eller scored his overtime goal in Game 3 in their first-round series against the Columbus Blue Jackets this year, they were headed to unprecedented territory. Had the Caps lost that game, they would have become the first team in NHL postseason history to lose the first three games of a series in overtime.
Caps and Pens Head-to-Head History
Much like Lucy owns Charlie Brown, the Pens simply toy with the Caps. Through the years, the teams have met in the playoffs ten times. It's the second-most between NHL expansion teams (Dallas Stars and St. Louis Blues have met twelve times). The Penguins have won nine of ten showdowns–every series except for the 1994 Eastern Conference Quarterfinal series. That's nine times Ovi and the Caps have gone belly up, whiffing while Sid and the Pens snicker to themselves and march on to the next round. The Penguins hold a 38-24 edge in postseason play.
This marks the third consecutive year these teams will meet in the second round of the playoffs. The previous two playoff meetings between these two teams resulted in the Penguins being victorious en route to back-to-back Stanley Cup championships.
1991 Patrick Division Finals: Penguins won, 4–1
1992 Patrick Division Semifinals: Penguins won, 4–3
1994 Eastern Conference Quarterfinals: Capitals won, 4–2
1995 Eastern Conference Quarterfinals: Penguins won, 4–3
1996 Eastern Conference Quarterfinals: Penguins won, 4–2
2000 Eastern Conference Quarterfinals: Penguins won, 4–1
2001 Eastern Conference Quarterfinals: Penguins won, 4–2
2009 Eastern Conference Semifinals: Penguins won, 4–3
2016 Eastern Conference Second Round: Penguins won, 4–2
2017 Eastern Conference Second Round: Penguins won, 4–3
2018 Eastern Conference Second Round: TBD.
*Crosby and Ovechkin both broke into the NHL in 2005-06.
The Caps are looking for their first Stanley Cup in 42 seasons. In their 27 postseason appearances, they've won two series only twice. In 1990, they won two rounds and in 1998, they blazed a trail to the Stanley Cup Final, losing to the Detroit Red Wings. It's the closest they've ever come to winning a championship.
Diehard Caps Fans
This year, once again, fans can't help but get caught up in the euphoria and excitement of their team's regular season success. It's human nature. The Capitals just ripped off four straight wins against the Columbus Blue Jackets; no small feat. They're back at it, showing a resolve and determination that their fans can't help but love. Cap-faithful fans desperately want a winner; for their team to make solid contact with Lucy's football.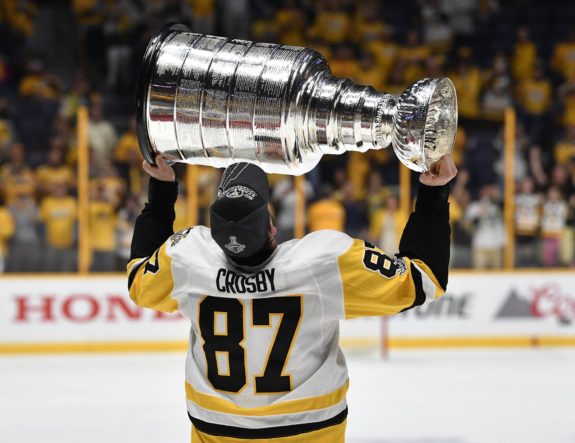 However, to ride or even drive the fan-wagon and fall short every year can't help but feel deeply frustrating and disappointing for the Caps faithful. The Penguins, like Lucy, continuously torment and tease them.
Lucy spent more than 50 years set in her ways, preying on Charlie Brown while constantly bamboozling him. Over time, she's yanked the ball away from him not only out of malice, but with a sly, almost loving intention. Each whiffed kick may break down Charlie's spirit, but it also serves to recalibrate his focus.
There will come a day­–a glorious day–when Charlie Brown connects his foot to the ball, sending it high into the air. The hysteria and exhilaration that he'll scream will most likely mirror that of the Caps and their fans when they hoist Lord Stanley's Cup. For Caps fans, they can only hope they get by the Pens with a chorus of celebration instead of the familiar cry of "A-A-U-U-G-G-H-H!"