Heading into Tuesday's Game 3 matchup with Columbus, Washington Capitals captain Alex Ovechkin made a promise: the Capitals would tie the series and head back to D.C. for Game 5. It was a necessity for Washington, who needed both wins to keep the series alive and shift the momentum in their favor.
Ultimately, they got the job done.
The Capitals have won three straight games against the Blue Jackets, taking Game 3 and 4 with dominant hockey in Columbus. They returned to home ice Saturday for Game 5, and despite a back-and-forth and being outplayed in the third period, which sent the game to overtime, Nicklas Backstrom scored the overtime winner to put the Capitals up in the series 3-2.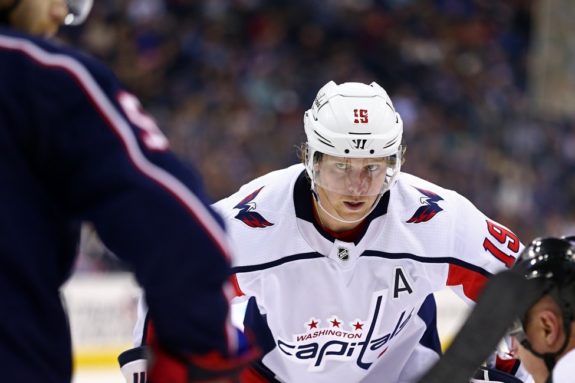 "Third period, that's not the way we want to play, but sometimes, that's how it is," Backstrom said. "They were forechecking better and made it harder for us."
As Washington heads back to Columbus for Game 6, the team will not only look to eliminate the Blue Jackets and advance to the second round, but also improve in some areas in order to dominate come Monday.
Capitals Look to be Sharper
While the Capitals were able to find their way past Sergei Bobrovsky, they did acknowledge some flaws in their play: the team dropped off in the third period, especially after Columbus tied it, and it seemed to take some energy out of the game.
"Once they scored, it was a little bit of a letdown, and I mean, we let that kind of infiltrate us for a little bit too long," defenseman John Carlson said.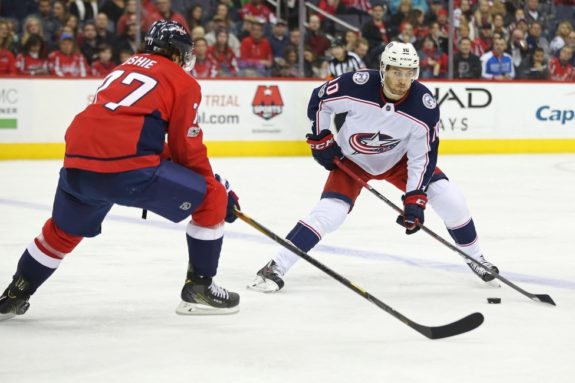 Washington has also taken an influx of penalties they took throughout the series; they gave Columbus five power play opportunities Saturday, but have killed off 13 straight penalties since Game 2.
"Our penalty kill is doing a very good job right now," Holtby said.
Capitals Look to Close Out Series
The Capitals have won three straight games since being down 2-0 early in the series. Their turnaround can be attributed to a number of players making improvements in their game.
Washington's gotten a strong performance from Braden Holtby since he took over in Game 3. He made 39 saves on 42 shots Saturday, and his presence between the pipes has been vital for the Capitals in their past three matchups.
"He's one of the best goalies… I feel like this series it's all about goaltender," Kuznetsov said. "They play unbelievable."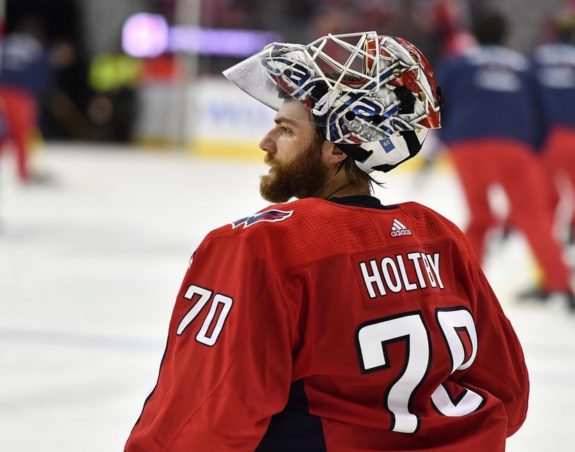 The emotion of the series has been prominent as the Capitals came back from a 2-0 series deficit, and now, they will look to keep fighting and push forward as they hope to advance to the second round and keep their aspirations for a deep playoff run alive.
"We were down 0-2 there, but the whole team felt like we played better than the results, and that's the way it is in playoffs. It's gonna go up and down, and it's best out of seven so you just got to keep grinding," Backstrom said. "The last three games, we've been doing that, we've been playing some good hockey and hopefully we can bring our confidence to Columbus.
Ultimately, though, the playoff series has been an intense one, and despite shifts in momentum and overtime woes, Kuznetsov said the team hasn't faltered in the face of adversity, because this is the moment they've been playing for; the playoffs go unparalleled.
"I mean, that's why we practice all summer, prepare all year, play those games for these types of games," Kuznetsov said. "That's best part of our life. That's why we play."