Jack McBain
2017-18 Team: Toronto Jr. Canadiens (#19)
Date of Birth: January 6, 2000
Place of Birth: Toronto, ON
Ht: 6'3" Wt: 196 lbs
Shoots: Left
Position: C
NHL Draft Eligibility: 2018 first-year eligible
Rankings
The Barrie Colts took a gamble in the 2016 OHL Priority Selection. They owned two first-round picks. This would have been a perfect opportunity to make a dramatic impact for future seasons. With their first pick at 14th overall, the Colts selected defenseman Tyler Tucker. They then picked a high-upside center at 20th overall. His name is Jack McBain.
Why was this a risky pick for the Colts? It's because McBain had aspirations of eventually playing in the NCAA's. Had McBain reported to Barrie, his NCAA eligibility would have been gone because they consider OHL players "professionals." So as a result, he had a choice to make. He could either go to the USHL or return home and play in the OJHL. His USHL rights were owned by the Lincoln Stars. He chose to stay in Toronto and he joined the Jr. Canadiens. After committing to Boston College for the 2018-19 season, the USHL/OJHL choice came up again. Just like the first time, he stayed home.
RELATED: THW's 2018 Draft Guide
Was it the right choice? Well McBain certainly played well enough for the Jr. Canadiens especially in his draft season. Before the season, many outlets had him pegged as one of the top prospects available for this draft given everything he brings to the table. He put up a line of 21-37-58 in 48 games but then exploded in the playoffs with 6-3-9 in just four games. He was clearly the best player in that league and now is ready for a bigger challenge.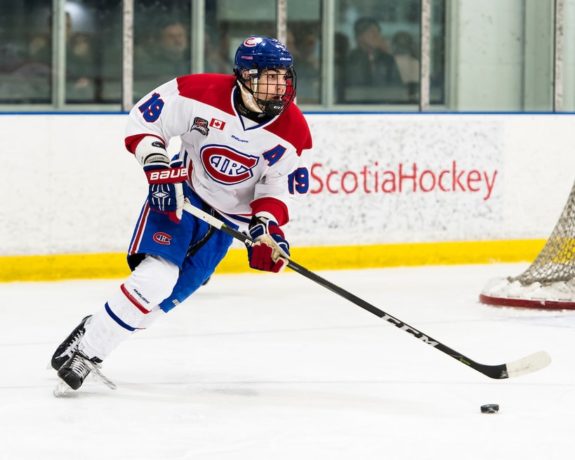 So what do we have in McBain? We have someone who already has NHL size and is not done growing. He's 6-foot-3 and almost 200 pounds. Once he's at full speed, he's a load to handle at both ends of the ice. He uses his long reach and size to force turnovers. He then uses good vision and puck skills to start counterattacks. His three points in the gold medal game at the Ivan Hlinka is a glimpse of the type of player he can be.
As for questions about McBain, it starts with the level of competition he played against. He clearly demonstrated how good he was in the OJHL. How will he do against better competition? We'll find out soon enough when he dawns an Eagles' sweater at BC. I'd also like to see him improve his first couple of skating strides. Faster skaters have a clear advantage in races to pucks. I'd imagine this will be his top priority this summer. The tools are there. Can he maximize them going the NCAA route?
Other THW Draft Profiles:
Jack McBain – NHL Draft Projection
Most of the industry considers McBain somewhere in the second round and I'm right there with them. I love a lot of what he brings. He has a combination of size and skill that teams would love to have. A team who really values those assets could grab him late in the first. More realistically he's a solid second rounder who could provide excellent value. He fits in just inside my top-50 at 50th overall.
Quotables
"McBain is a power forward who plays with a lot of bite and can perform as either a center or on the flank. He was guilty of trying to do a lot with very little, but the one thing you can never question is the overall effort and team-first mentality. McBain is at his best when he's using anticipation and speed to force turnovers — then throws in size and strength as a coup de grâce." –Steve Kournianos/The Draft Analyst
"McBain is a sizeable and strong two-way pivot…he stands out for his vision on the ice, skill with the puck and strong work ethic, an excellent combination of attributes…skating stride is slightly upright and rigid, but he utilizes long strides to generate above average straight-line speed…ability with the puck is far beyond his years…patient enough to wait for a play to develop before distributing the puck but is comfortable finding the soft spots in defensive coverage…uses his quick release to create a scoring chance as well…his shot is very good…has the ability to receive a pass in stride and fire a shot with good power and accuracy quickly…takes care of his responsibilities in the defensive zone and positions himself well to make a play on loose pucks…he could stand to be more physical, but his ability to close his opponents off along the boards and use his long reach to block passing lanes is still an asset…a very committed and tireless worker, he makes a consistent effort to be an impact player on the ice…he could become a tremendous two-way player at the NHL level." –Future Considerations
"McBain has got size and he has strength. Just imagine how much stronger he can be once he fills out his 6'3" frame. He's already tough to play against and even harder to control. Speed is not an asset he possesses, or more accurately, explosiveness on his first steps. Improving on his first few strides can be crucial to him and by all accounts, he knows this and continues to work on it. Once he gets going however, his speed is more than adequate." –Dominic Tiano/OHL Writers
Strengths
NHL size and stength
Effective two-way center
Excellent vision
Good hands
Tireless worker
Under Construction (Improvements to Make)
Skating/acceleration
Play against higher competition
NHL Potential
McBain has the tools you like to see in a top-line center. The question of course is if he can get there. You have to like the 6-foot-3 frame and improving strength. He's good with the puck and is effective on the defensive end. I'm just not sure I see him as a true number one center. Although he had good numbers in the OJHL and a noticeable six goals in four playoff games this season, I would have expected more lofty numbers. While there is a chance he develops into a top center in time, my more realistic expectation is a solid 2-3 who can do a lot of things.
Risk-Reward Analysis
Risk – 4/5, Reward – 4/5
Fantasy Hockey Potential
Offence – 7.5/10, Defence – 7.5/10
Awards/Achievements
McBain won the OJHL Top Prospect Award in 2017-18. He also won a gold medal with Team Canada at last season's Ivan Hlinka.
Interview/Profile Links
Videos