Cam Hillis
2017-18 Team: Guelph Storm (#8)
Date of Birth: June 24, 2000
Place of Birth: Oshawa, ON
Ht: 5'11" Wt: 165 lbs
Shoots: Right
Position: C
NHL Draft Eligibility: 2018 first-year eligible
Rankings
NHL Central Scouting Mid-Term: 59th
Future Considerations: 48th
The Guelph Storm got a huge boost thanks to a commitment from one of their early draft picks from the 2016 OHL Draft. With the 28th overall pick, the Storm took Cam Hillis. Some thought he'd go the school route as he was enrolled at St. Andrews College. After winning a championship with them, Hillis decided to commit to Guelph.
That decision has worked out for both Hillis and the Storm. All of the rookie attention in the OHL has gone to expected top-two pick Andrei Svechnikov and rightly so. But did you know Hillis finished second in the entire OHL in rookie scoring? He finished with an impressive line of 20-39-59 in 60 games. At almost a point per game, Hillis made a huge statement about his draft stock.
RELATED: THW's 2018 Draft Guide
When watching Guelph, you think of players like Ryan Merkley, Isaac Ratcliffe and others. So in my first viewing of them of the season, I had my eyes on Merkley, until Hillis decided to go off. On Oct 28 in Erie, Hillis went off for four points including his first multi-goal game of his OHL career. He wasn't even on my radar. I walked out of the building that night wondering if he could go in the first round? He was the best player on the ice by a mile that night.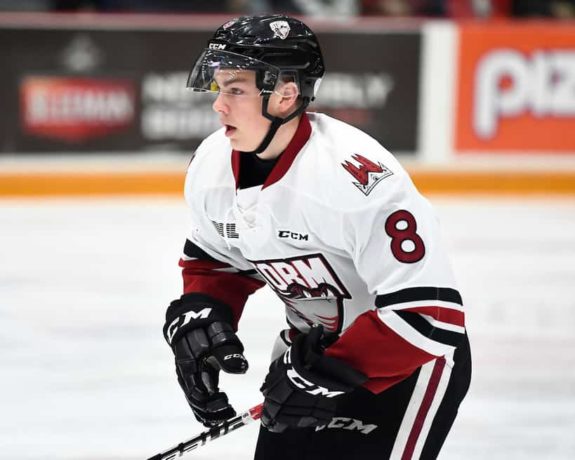 So what do we have in Hillis? We have an offensive dynamo who can drive the play in the opponent's zone. We have a player who can make pinpoint passes. If his opponents play pass, he can also shoot. Although his skill isn't to the level of a Clayton Keller, I see some remnants of him in Hillis.
While the offense is excellent, his defense is still a work in progress. He can get worked off pucks easily and loses a lot of his battles in his own end. He knows he needs to fill out and get stronger for the next level. I'd also like to see some more consistency in his game. While there were nights he dominated, there were other nights I didn't see him.
Hillis is your classic slightly undersized high offensive upside guy who is a work in progress on defense. The question teams must ask is will he become at least adequate defensively to play at the next level? And is his offense good enough to overlook the defensive flaws?
Other THW Draft Profiles:
Cam Hillis – NHL Draft Projection
Most of the industry lists Hillis as a second or third round pick. With questions about his defense and size going around, this seems like a reasonable spot for him to go, though he could turn into a steal if he reaches his full offensive potential. He cracks my top-40 at 40th overall. I can't ignore how dominant he was when I saw him live.
Quotables
"Cameron Hillis is a skilled forward with soft hands and excellent hockey sense. He is an offensive catalyst every time he is on the ice. Crisp accurate passer who always finds a seam to thread the puck through.  Although Hillis is a top notch playmaker he also uses his shot with regularity making him a double threat and hard to read on what he might do, shoot or pass. Utilizes great vision, shrewd awareness and outstanding anticipation to read the opposition and exploit their weakness. Propels to top speed smoothly using a wide, lowered skating base where he generates power through use of total leg range of motion. Defensive zone play is inconsistent and will need seasoning but shows a healthy compete tracking back to provide valuable back pressure. As a smaller skilled forward, Hillis recognizes that adding strength to his overall game will help him compete in smaller areas of the ice." –thescout.ca
Hasn't been quite as good for me the last few times I've seen Guelph, but I still really like this kid's potential. It's important to remember that this is his first year playing in the OHL after coming over from the Prep scene. He's going to go through stretches where he's a non factor, but there are other nights where he's the best player on the ice. Really excited to see where his play is at next year when he's spent a year getting stronger and faster. Prime time playmaker who has a great hockey IQ. Best candidate of any player on this list who two years from now we say, "man, how did this guy go in the 2nd/3rd round."  –Brock Otten/OHL Prospects
"Offensively, Hillis has an ability to gain the zone, and when he does he is able to keep possession. He can slow the play down and be patient, waiting for the play to develop. He uses those assets wisely and when paired with his very good vision and passing abilities, makes him a dangerous playmaker. Those skills come to the forefront on the powerplay." –Dominic Tiano/OHL Writers
Strengths
Possession monster
Excellent playmaker
Smooth skater
Elite anticipation
Under Construction (Improvements to Make)
Defensive play
Size and strength
NHL Potential
Hillis in my mind projects as a middle-six winger although he shined as a center in his rookie OHL season. He has upside if he fills out. He will be a mainstay on someone's power play at the next level.
Risk-Reward Analysis
Risk – 4/5, Reward – 4/5
Fantasy Hockey Potential
Offence – 8/10, Defence – 5/10
Awards/Achievements
Hillis won the OHL Cup in 2015-16. He also won a championship in the CISAA (Conference of Independent Schools of Ontario) Athletic Association in 2016-17 for St. Andrew's College.
Interview/Profile Links
Videos