Filip Kral
2017-18 Team: Spokane Chiefs (#18)
Date of Birth: October 20, 1999
Place of Birth: Blansko, Czech Republic
Ht: 6'0″ Wt: 168 lbs
Shoots: Left
Position: Defenseman
NHL Draft Eligibility: 2018 first-year eligible

Rankings
Projecting how players will adapt and progress is a big challenge for scouts – when you see how many players don't pan out, you get a sense of how rough it can be. The challenge is compounded when a player is a North American import adapting to a different style of hockey, and further so when their time in North America has been limited. Therein lies the challenge of projecting Spokane Chiefs defenseman Filip Kral, a talented, mobile defender with limited experience on this side of the Atlantic Ocean.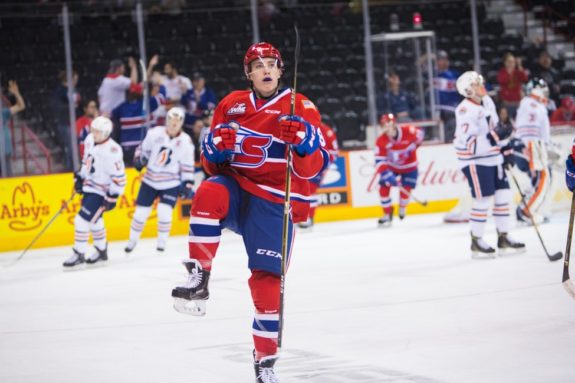 Kral has progressed quite a bit over the past few seasons. A product of the Czech Republic, he was a point-per-game player in the Czech under-18 league as a 16-year-old and played a full year of pro hockey (split between the Czech Extraliga and secondary league) as a 17-year-old. He was selected by the Chiefs in the CHL Import Draft and played 54 games in the Dub as a rookie, amassing 9 goals and 35 points. Between his ability to adapt to pro hockey at such a young age and his ability to adapt to the smaller ice in North America quickly, Kral has upside.
Kral's biggest asset is his skating. He's got great mobility and uses his acceleration (and awareness) to open up opportunities on the ice. It's probably unfair to characterize his playing style as "European," but he skews heavily towards the puck-moving, finesse game. He has strong awareness in the offensive and neutral zones and distributes the pucks well, particularly transitioning through the neutral zone.
The challenge for Kral is that his defensive game is arguably his weakness, and the physical aspect of that in particular – he can get nudged off the puck in the corners. His defensive zone awareness isn't quite where his offensive awareness is – at times, he seems a bit impatient with the puck in his own end, as if he's trying to generate some offense before he even leaves his zone. It's an aspect of his game he might eventually grow out of, but it's a gap he'll need to fix. His consistency is also a work in progress, as his offensive production came in fits and starts.
Related: THW's 2018 NHL Draft Guide
Kral led all WHL rookie defensemen in scoring. The hope is that he'll keep progressing and move into the upper echelon of defensive scorers with a bit of seasoning. He's a smart, mobile offensive blueliner, but the challenge is projecting him due to his limited North American sample size. There's value in his selection in the 2018 NHL Draft, but there are risks involved due to his unclear ceiling.
Filip Kral – NHL Draft Projection
Kral could be selected anytime between the third and fifth rounds of the draft. Talent-wise he's potentially worth a third round pick, but the unknown factor pushes him down towards the fifth round.
Quotables
Filip Kral has left me wanting a bit more. Agile skater who shows flashes of skill but he can be really soft on the puck. Plays small.

— Donesh Mazloum (@DMaz16) October 23, 2017
"An underrated defender with very good speed who plays for Spokane in the Western Hockey League, Kral scored a key goal while manning the top pairing and leading Czech defenders with 21:48 of ice time. Kral is a mobile two-way defender who emphasizes puck management in all three zones. He's more than willing to take a hit to complete a play, plus he's strong enough to ward off more than one opponent in order to protect the puck while moving up ice. He absorbs hits extremely well and is tough to knock down, especially during puck retrievals, and he wins the significant majority of his puck battles. Kral played the top of the umbrella on the Czech Republic's loaded power play, and he kept it simple knowing full well that it's his job to augment playmakers like Zadina and Necas, not the other way around. Kral revealed a hard, accurate shot just inside the post with his blast from near the blue line that turned out to the game winner." – Steve Kournianos, The Draft Analyst (notes on first day of 2018 World Juniors)
Strengths
Accurate passer
Good situational awareness
Good mobility and positioning on the ice
Under Construction (Improvements to Make)
Could stand to shoot the puck more often
Play away from the puck could be tightened up a bit
Needs to bulk up a bit to survive pro-level physical battles
Other 2018 NHL Draft Profiles
NHL Potential
Kral projects as a second pairing defender at the NHL level, potentially with some upside as a power play specialist.
Risk-Reward Analysis
Risk – 1/5, Reward – 3/5
Fantasy Hockey Potential
Offense 8/10, Defense 7/10
Awards/Achievements
Kral has represented the Czech Republic at the World Under-17 Challenge, the Under-18 Worlds, the Ivan Hlinka Memorial Tournament and the World Juniors. He won gold at the Hlinkas. He was also part of a HC Kometa Brno club that won the Czech Extraliga championship in 2016-17.
Interview/Profile Links
Videos