On May 13, The Fourth Period's Dave Pagnotta commented on Montreal radio station TSN 690 that there is a possibility the Nashville Predators deal P.K. Subban this summer. The next day, GM David Poile and head coach Peter Laviolette both squashed the rumors and confirmed that Subban remains a part of Nashville's future.
With how quickly the Predators were ousted from the postseason despite Stanley Cup aspirations, rumors started swirling about potential roster changes. And with how much attention Subban garners, it's no surprise he is at the center of such rumors.
But, despite how quickly the rumors were put to bed, is there a possibility Nashville could part with a member of its vaunted defense? Especially the Norris Trophy finalist in Subban? Let's look at the merits of the rumors.
Outlandish Rumor or Real Possibility?
Of course, even though Poile indicated that Subban is staying, until he takes the ice at training camp in the fall, rumors will remain. Plus, given Poile's history with making blockbuster deals, including one to land Subban in 2016, any player without trade protection is a trade candidate.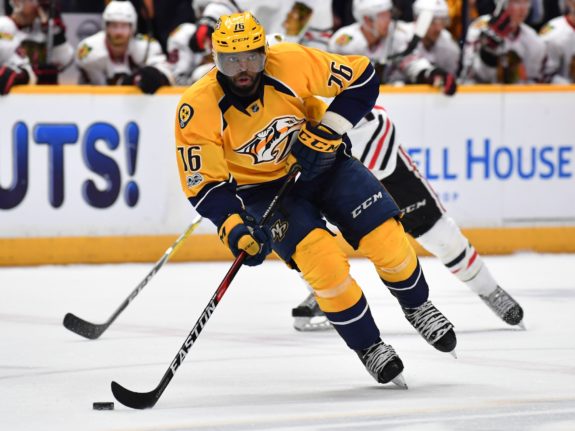 So for now, it remains a shot-down rumor, but there is still a chance it takes place and in some ways, there are reasons for the Predators to deal their number-one defenseman.
Why it Makes Sense
Previously Linked in a Trade
This isn't the first time Subban has been a part of trade rumors since arriving in Nashville. After the Winnipeg Jets eliminated the Predators from this year's playoffs, Elliotte Friedman appeared on Sportsnet 960 in Calgary to discuss what the team was willing to give up in an attempt to acquire Matt Duchene from the Colorado Avalanche during the 2016-17 season.
"I do believe that two years ago when Colorado was trying to trade Matt Duchene to Nashville and Nashville was trying to get him, I do believe Subban was part of that deal for awhile. I think Colorado asked for all of those D, but I think Subban was a name that they considered. But that was two years ago." – Elliotte Friedman in an interview on Sportsnet 960
If Poile and the Predators were willing to deal Subban in his first season with the club, including him in another potential deal isn't hard to believe.
Best Season of Career
Subban is coming off one of his best seasons, setting a career-high with 16 goals while putting up 59 points, one behind his career-best. He scored 11 of his goals at even strength, four more than his previous best.
At 5-on-5, Subban was the Predators' most trusted defenseman and when on a pair with Alexei Emelin, the pair started in the offensive zone just 40.4 percent of the time, the fourth-lowest rate among pairs with at least 700 minutes together.
Related: Subban's No Scapegoat for Defensive Woes
In spite of a tough zone start split, the pair succeeded, with the team controlling 54.7 percent of goals when together. This is largely due to Subban, as the team controlled 63.3 percent of goals when he was with a different partner. Subban has generally been viewed as an offensive defenseman and while he is good offensively, this season proved he is more than that.
Help on the Way?
Over the past six seasons, the Predators have had the luxury to move on from talented defensemen because they have more in the pipeline. They were able to let Ryan Suter depart via free agency in 2012, yielding no return. They also dealt Seth Jones and Samuel Girard to bring in Ryan Johansen and Kyle Turris to address their need for center depth.
This time around, the Predators still have defense depth in their system that could allow them to part with some of their current blue line talent. With prospects like Frederic Allard, Alex Carrier, and Dante Fabbro in the minors, Nashville has more help on the way. Allard and Carrier are in the AHL already and could be ready to contribute next season.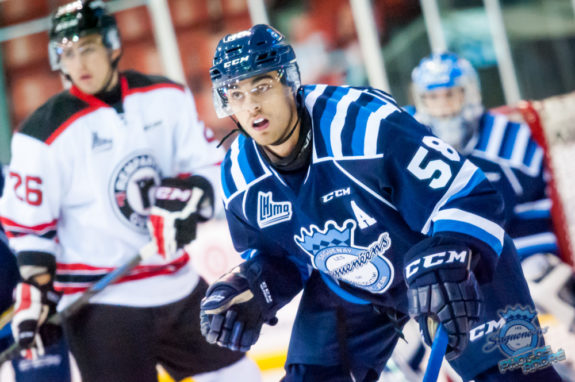 Meanwhile, Fabbro is the prospect to pay attention to. He recently finished his sophomore season at Boston University but is likely to play a third college season and unavailable until the 2019-20 season.
A Potentially Franchise-Altering Return
It's not too often that a number-one defenseman is traded. Of course, Nashville traded previous number-one Shea Weber but received Subban in return. If the Predators were to trade Subban this offseason after a career year, his return would be more than what the Ottawa Senators can expect for Erik Karlsson given the four years Subban has remaining on his deal.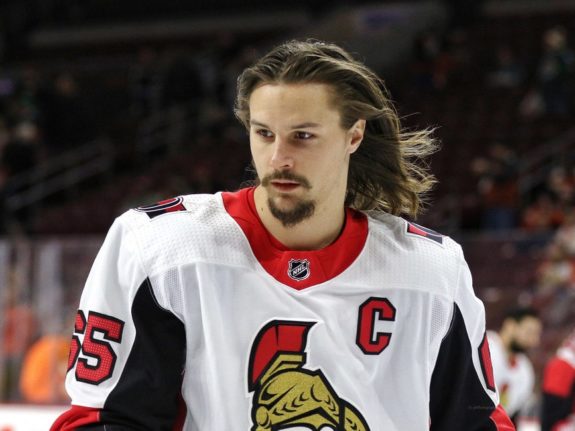 Given that Subban is 29 and still in his prime, we're talking a return of a consistent goalscorer for either of Nashville's top two lines plus a prospect or high pick. It's the kind of deal that could help them in next year's postseason as well as the distant future.
But for as many reasons as there are to trade Subban, there are at least that many to keep him.
Why it Doesn't Make Sense
Subban Was Not the Problem in the Postseason
Subban proved to be Nashville's best defenseman this season, leading the group offensively and was the one most relied-upon in the toughest matchups. He was also good in the 2018 playoffs with four goals and nine points in 13 games to lead the position. All four goals and six of his points occurred in the second round, and he was one of two Predators blueliners to score in the series.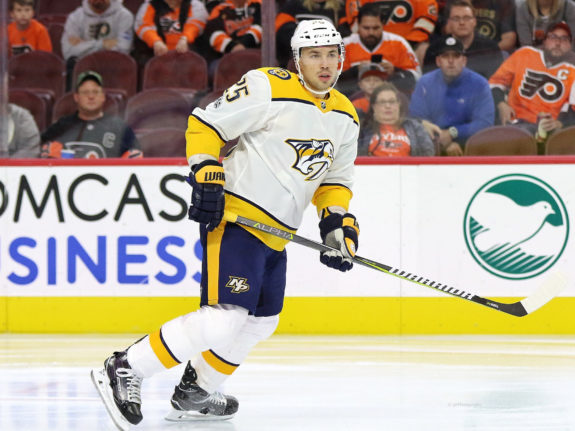 He accomplished that all while leading the team with 28 minutes and 12 seconds of ice time per game, nearly three minutes more than Roman Josi in second. Subban also led Nashville's defense with a 54.4-percent Corsi at 5-on-5 during the series, one of three Predators defensemen with a positive score.
Nashville's problem in the postseason was not the Subban and Mattias Ekholm pair. It was mainly the third pair. Yannick Weber, Matt Irwin, and Alexei Emelin struggled the entire series, especially Emelin, who had a position-worst 41.0 percent Corsi in four second-round games. Neither of the other two had Corsi scores above 43.0 percent for the series.
Even the pair of Ryan Ellis and Josi struggled. Ellis was below 50.0 percent Corsi in the series, and the Predators controlled less than half of the scoring chances at 5-on-5 when either was on the ice. That includes controlling a team-worst 45.4 percent with Ellis deployed. So perhaps if any Predators defenseman is dealt, it shouldn't be Subban, who, along with Ekholm, kept Nashville in the series.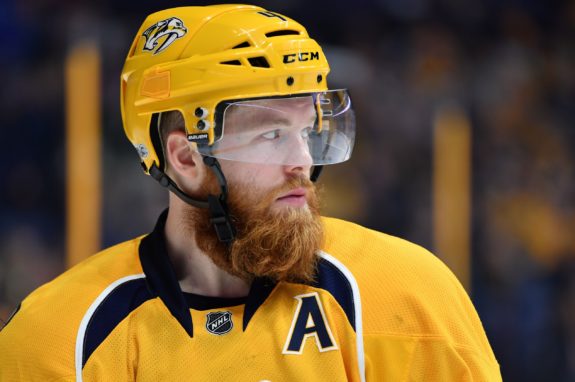 They Aren't Going to Get Equal Value in Return
The problem with trading a player of Subban's caliber is that the team is unlikely to get equal value in return. Such a trade typically requires taking gambles on prospects to approach receiving fair value.
The Edmonton Oilers failed to get equal value when they dealt Jordan Eberle or Taylor Hall. The Boston Bruins lost both the Tyler Seguin and Dougie Hamilton trades.
The Predators wouldn't get equal value in a trade involving Subban. He is simply too good and the league is aware of how much he has developed his game.
How Would Nashville Replace His Production?
If Poile and the Predators were to deal Subban, they would have to find a way to replace him on the blue line. With Fabbro likely another year away and their other defense prospects not having the upside that Fabbro does, Nashville would either have to land a top-four defenseman in a package for Subban or sign one in free agency.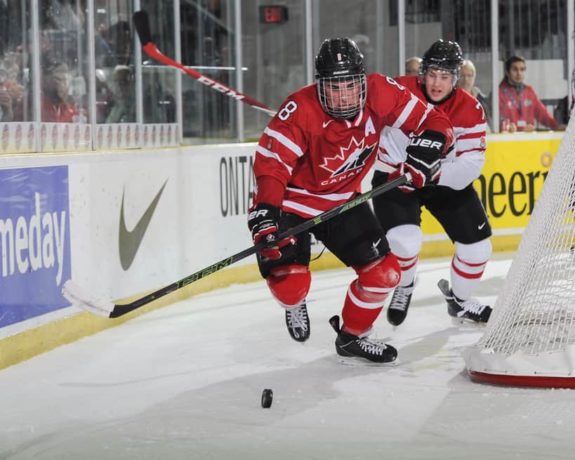 But even then, that player is all but guaranteed to be a step down from what Subban brings. No other Nashville defenseman is as much a scoring threat as Subban, and his game cannot be replaced internally. Trading Subban would make them worse in 2018-19.
Landing Spots if Subban is Traded
If the Predators trade Subban this offseason, which teams could be in play for him? For starters, although every team would want Subban, not all have the cap space or the need for him. One team I could see having interest is the Vegas Golden Knights. They were in on Erik Karlsson at the trade deadline but were unable to complete it in time. They have the cap space and assets needed to trade for either Subban or Karlsson.
Related: Golden Knights Can Skip Next Expansion Draft
Another team is the New Jersey Devils. The Devils were at least one year ahead of schedule in 2017-18. A lackluster defense capped their potential, in the playoffs and Subban could slot in nicely on their top pair. However, the Devils may not have the depth of scoring forwards Nashville could be looking for to make the deal possible.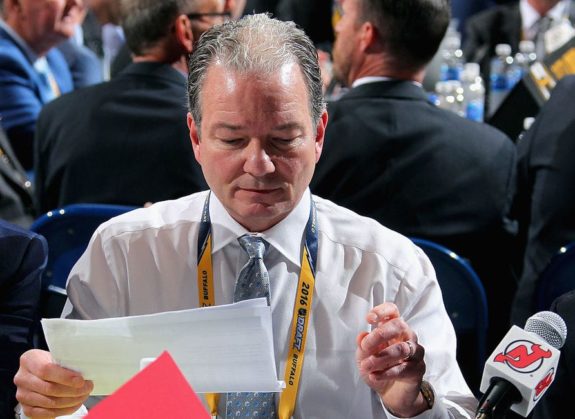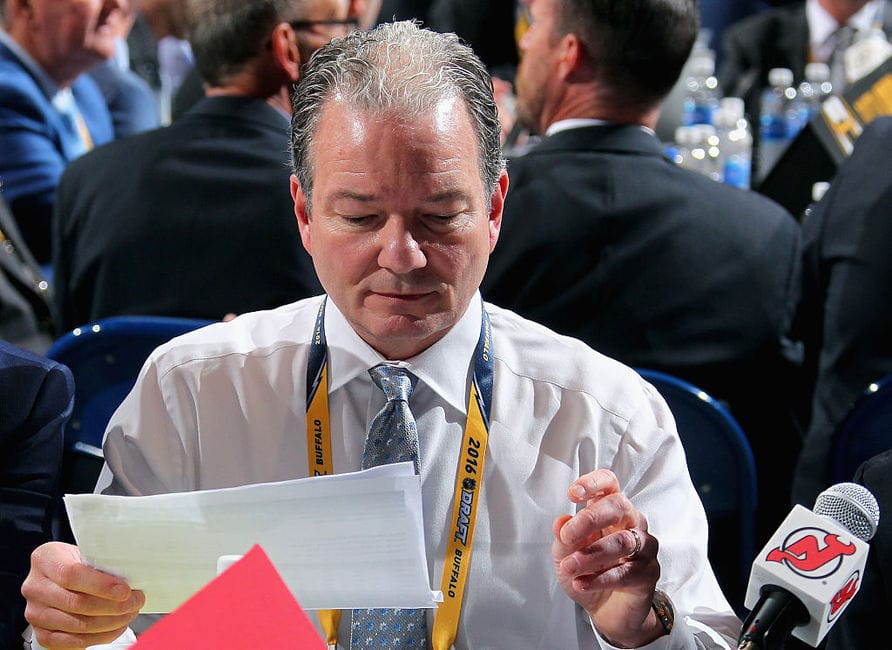 If John Tavares does not return to the New York Islanders, they could be a landing spot for Subban. They had no issues scoring goals in 2017-18 but allowed the most. Acquiring Subban helps the Islanders on the blue line without hindering their ability to score goals. They have several players who could give Nashville more of a scoring punch.
Finally, the Arizona Coyotes. The Coyotes played well in 2017-18 after goaltender Antti Raanta returned from injury. Likely focused on taking a step forward in 2018-19, what better way to do so than by acquiring a Norris Trophy winner? Subban would work great on a blue line that already has Oliver Ekman-Larsson and Jakob Chychrun. He would also provide protection against potentially losing Ekman-Larsson to free agency in 2019.
So…Will They Move Him?
With Poile, anything is possible because he is never satisfied. He is unafraid to trade key pieces from the current team or franchise favorites so no one is safe unless he has trade protection. Nashville's early dismissal from the postseason was not Subban's fault, but he is an easy player to blame given how flamboyant he is.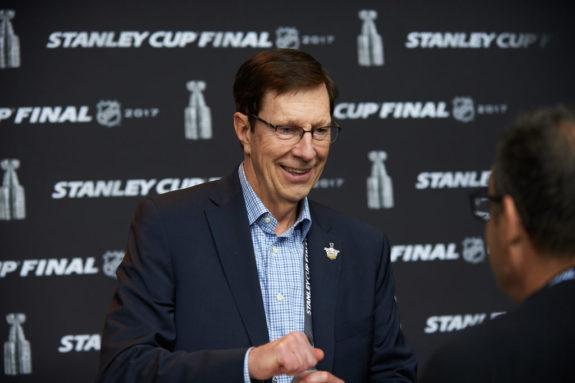 To me, it makes more sense for the Predators to keep Subban through at least next season and keep their top-four intact. If one of their defense prospects is ready to join the NHL club next season, that player can either be insulated on the third pair or one of the top two pairs can be split up, allowing the prospect to play with a trusted veteran.
Related: David Poile's 5 Best Moves
If Subban is kept as all indications point to, he can still be traded the following offseason to free up cap space. That would allow the Predators to extend Kevin Fiala, Colton Sissons, and Ellis. Personally, I feel that trading Subban at any point would be a mistake by the Predators. He is their best defenseman and plays better on both sides of the puck than the others.
*All stats came from Hockey-Reference, Corsica, and Natural Stat Trick.