The Nashville Predators had their hands full with the Colorado Avalanche in round one of the playoffs. What should've been an easy win turned into six games of a heated future rivalry. It all ended in Game 6, where the Predators finally flexed their muscles and put the Avalanche away without a shadow of a doubt. Five to zero was the final score and ended the series at four games to two.
Just because the Predators won the series doesn't mean they were perfect. Some forwards were just plain bad, and the defense was exposed. What was considered to be the best top-four in the NHL was turned inside out by possible Hart winner, Nathan MacKinnon and some very mediocre Avalanche depth.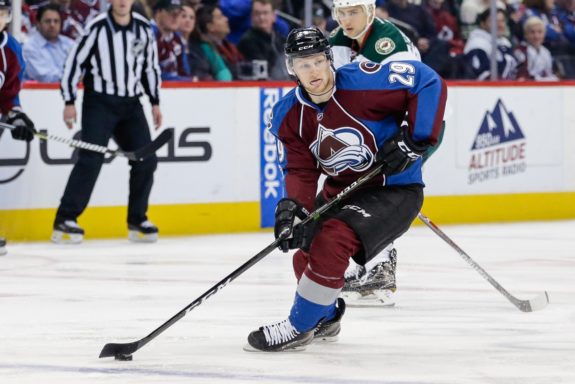 A lot of the blame fell upon P.K. Subban, especially for his poor play on MacKinnon's incredible assist in Game 5. But this one mistake defined his image throughout the series. There seems to be an idea floating around that Subban is the third or even fourth best defenseman on the Predators, when in fact he's their best player. That applies to this series as well, Subban was great and the stats show it.
Subban's Offensive Contributions
The Predators' defense had a weird start to the playoffs, as what was a strength last year took a while to get going this year. No goal was scored by a defenseman until Mattias Ekholm notched the winner in Game 6. From there, it felt like a weight was lifted off their back and almost everything went smoothly.
Despite not scoring any goals, the defense was heavily involved in the offense. They totaled 13 points at even strength between the top four alone, as Alexei Emelin and Matt Irwin were held off the scoresheet. Subban had three of the 13, all assists and two being primary. Other than that, he did his fair share in the offensive zone. For reference, I'm using individual Corsi created (ICC), individual Fenwick created (IFC), and shots on net.
While Subban produced less than two shots per game, he produced three shot attempts. That's awesome for any player, let alone a defenseman. While his Fenwick created isn't as great, it's nice to know that he's making his attempts count by not shooting into the blocking players. Overall, he had the third best Corsi created and Fenwick created and produced the second most shots by a Predators defenseman.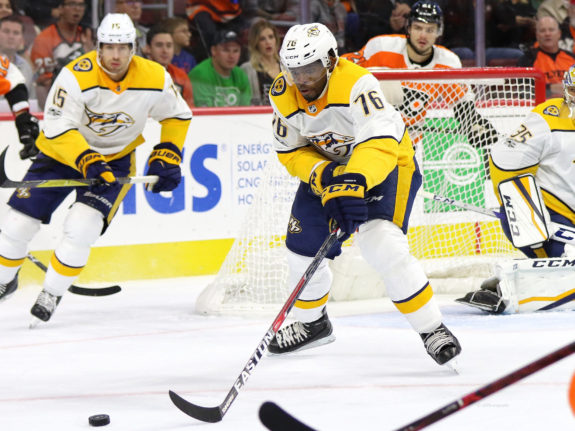 When accounting all strengths, including the power play, Subban's numbers don't jump too far. He has the same amount of points, but moves from third in Corsi and Fenwick produced to second, so that's kind of neat. The Predators aren't exactly good on the power play, so it's nice to see him producing something on it. As far as individual efforts go, Subban produced some of the best.
Subban Setting the Pace
Possession was a big factor in the Predators' victory. As the series went on, their puck control left the Avalanche tired and depleted. Subban was a big part of that as he dominated shot attempts and just about every other possible metric including shot attempt percentage (Corsi %), unblocked shot attempt percentage (Fenwick), scoring chance percentage (SC %), high danger chance percentage (HDC %), and goal percentage (Goal %). Once again, all stats are at even strength.
This is a coach's dream. Peter Laviolette gave his star some easier talent matchups and Subban made the Avalanche pay. Not only are the numbers above the average 50%, but all percentages are in elite territory. In fact, he is top five in all of these categories among defensemen who played over 100 minutes in the playoffs (I made the cut off at 100 minutes to weed out the third pairing defensemen). The only player he's second to on the Predators is Ekholm, who spent the majority of his minutes with Subban.
If Subban can keep these numbers going, with or without Ekholm, the Predators will go far. He's so good on both offense and defense that his contributions are impossible to predict. His ability to read a play and immediately react has killed odd man rushes before they even happen. While the Avalanche were the best team in the first round in terms of creating chances off the rush, those chances rarely came against Subban because he and Ekholm used their physicality and mental edge to shut down the first pass. The pair ate tough minutes together and came out on top in no small part due to Subban's ability.
Defensemen Have to Defend
Subban dominated every stat, yet is unfairly blamed for most of the Predators' shortcomings despite only having the one really bad play. The fact is that he takes very calculated risks and they pay off most of the time, but when they don't, they're extremely visible. Subban does so much away from the puck that a lot of his contributions go unnoticed. Do you know why Avalanche fans were chanting "Subban sucks"? It's not racism but because he was constantly shutting down the Av's best players and getting under their skin with an effective, albeit somewhat dirty edge.
Playing with this edge has given the Predators an advantage. It takes the opposition off their game and draws penalties. In fact, Subban drew the most penalties of any Predators defenseman with three while only taking two minors, good for third least on the team. So no, he was not a liability but actually a net positive in terms of penalty minutes. Very few players can claim that, but those who do are often recognized for their skill.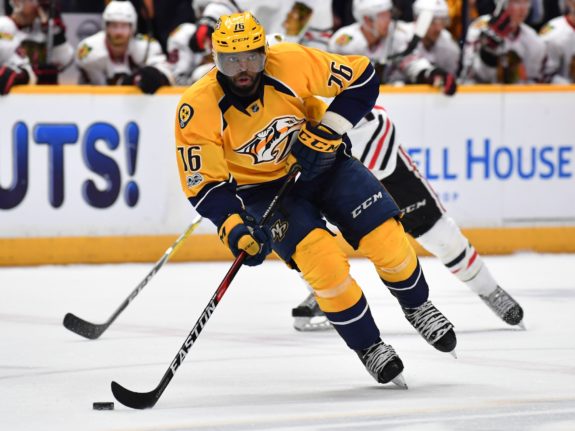 Besides penalties, he was great on defense. He only gave the puck away twice in the series, tied for second least on the team while also snatching Avalanche turnovers three times, the best on the Predators' defense. He was a puck-hawk that dominated the blue line and broke up two or three zone entries per game, by my count.
Gone are the days of bone bruising shutdown defensemen like Chris Pronger and Scott Stevens and in their stead are smaller, more agile defenders like Subban. While he wasn't a physically dominating presence, he threw the second most hits of any one of the defense with 11. That's only two behind the leader, Emelin, who's known for his ability to hit.
All in all, he was just as effective in the defensive zone as he was in the offensive zone.
Give P.K. Subban His Due
It doesn't matter whether or not you look at fancy or simple analytics, Subban shines. He's a positive player for the Predators and does more for their success than anyone realizes. Although he was inexplicably kept away from MacKinnon for certain games, he dominated whoever he was up against.
Finding a player who does so much for a team is rare, and it's terrible that people are not celebrating him. I suspect that no one will truly understand Subban's impact until he's out for a long period of time. Quite simply, he is the "X Factor" that pushes teams over the top, and even if his contributions aren't visible, it doesn't mean they're not there. Ekholm would probably be the best testament to that, as his stats have exploded since Subban arrived.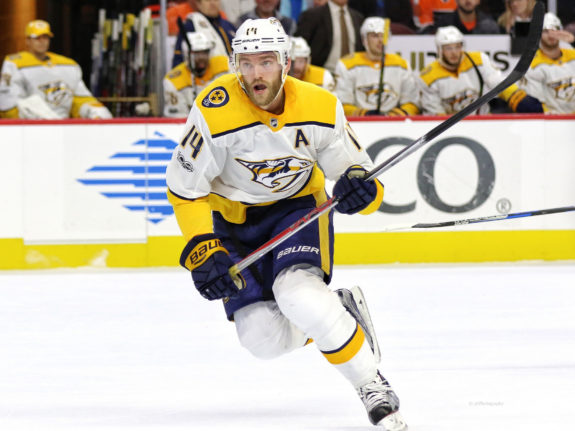 If you love him for his on-ice play, you're justified. And if you hate him for crossing a line every once in a while, that's fine as well. But to think Subban's not as good as Roman Josi, Ryan Ellis, or Ekholm is wrong. The superstar defenseman has proved himself time and time again, and I will write as many articles as are needed to defend him and his play. I just hope that one day we can treasure him the way 30 other fanbases wish they could.