Toronto Maple Leafs president Brendan Shanahan ushered in a new and radical era for the team by naming twelve-year-old Kyle Dubas as the team's 17th general manager in franchise history.
Dubas, is now the youngest GM in NHL history, a full three weeks younger than the Arizona Coyotes' John Chayka. He's 63 years younger than the man he's replacing, former longtime New Jersey Devils executive Lou Lamoriello.
.@MapleLeafs name @kyledubas as 17th General Manager in the Club's history.

📰: https://t.co/gZ3A2xyIDs#TMLtalk pic.twitter.com/ftNYPJMuhf

— Toronto Maple Leafs (@MapleLeafs) May 11, 2018
"I'm very excited about the opportunity to lead this franchise," Dubas told a packed conference of reporters after slurping some chocolate milk through a straw. "I've been a Leafs fan ever since we drafted Auston Matthews."
The Interview Process
Still years away from getting his drivers' permit, Dubas was dropped off by his mom at Air Canada Centre for an interview that apparently went really well. He and Shanahan hung out and played Xbox almost all day.
They have so much in common. Shanahan has a wife and kids and owns a house. Dubas has a dog and shares a bedroom.
During the vetting process, Shanahan was impressed by Dubas' scouting history. Not typical professional hockey 'scouting', but his active participation in Boy Scouts. Dubas excelled at knot tying and finished tied for third in the Pinewood Derby in his cub den.
He scored a five-year deal, two more years than his mentor, Lamoriello. As part of the contract, the Sault Ste. Marie, Ont., native will get seven new suits, 'button-up' dress shirts and ties. He also gets a $100 weekly allowance at The Keg on Esplanade. It features a terrific kids menu filled with chicken strips, mini burgers and ice cream.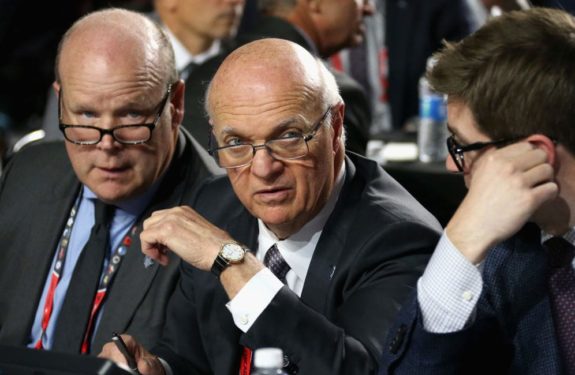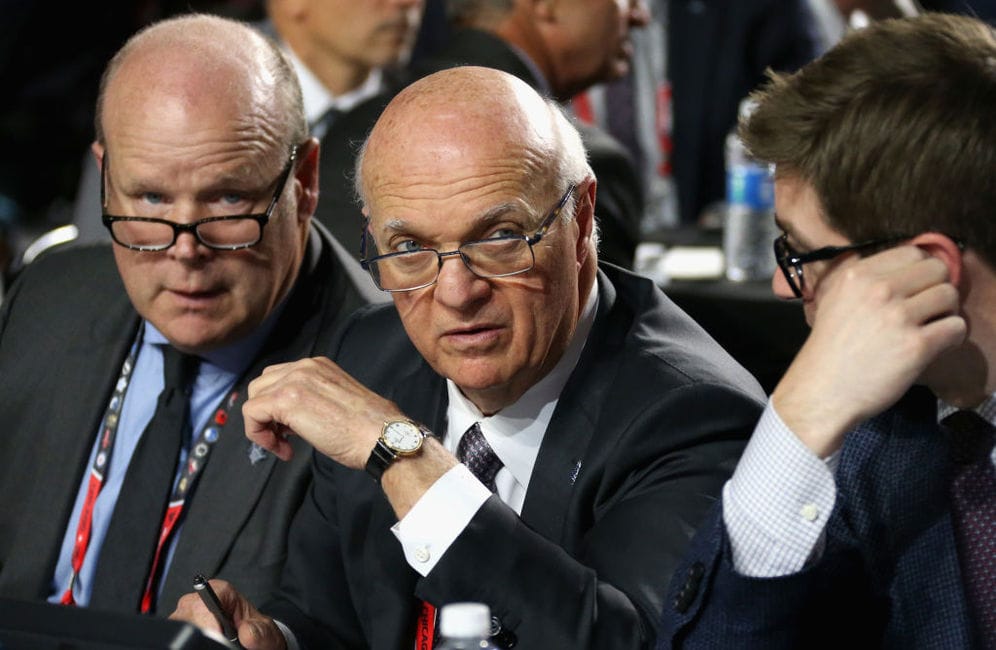 Getting Ready for the NHL Draft
When first news broke of Dubas earning the position, he couldn't be reached by cell phone. He doesn't have one yet. "We'll get him an iPhone on his next birthday," said Shanahan. "If he shows he's responsible enough to do his chores–collecting pucks at the end of practice and wiping down the dry-erase board in the dressing room."
Dubas is excited for the draft and feels confident he'll conquer it. After all, he has two years under his belt playing fantasy hockey on ESPN where he's honed his craft for analytics. After a disappointing last-place finish two years ago, he was runner-up in his eight-team league this year.
Able to solve one full side of a Rubik's Cube and parts of another, his advanced, statistically-inclined mind has been compared to Theo Epstein's and Daryle Morey's. Epstein shepherded the Boston Red Sox to a World Series while Morey had similar success with the National Basketball Association's Houston Rockets. He's been called "Computer Boy" by the bullies at the playground and by his dad who still has trouble remembering the Wi-Fi password at home.
From Allowance to Salary Cap
Some critics have questioned Shanny's choice of Dubas over fellow interim GM Mark Hunter. Hunter is a polished NHL front office executive, versed in scouting, player personnel management and the salary cap. He's proven himself time and time again and is ready for prime time.
On the other hand, Dubas can barely stay up for prime time. His weekday curfew is set at 9 p.m. "On weekends he gets an extra hour," said his mom who chimed in from the kitchen while preparing Kyle's favorite–Kraft macaroni and cheese. Dubas will rely on PVRing late-night games and watching them in the morning after Mr. Dressup reruns.
.@brendanshanahan introduces the new General Manager of the @MapleLeafs, @kyledubas.#TMLtalk pic.twitter.com/Tk2E87k4G7

— Toronto Maple Leafs (@MapleLeafs) May 11, 2018
Dubas's experience with money extends to playing Monopoly and earning a $6 a week allowance. Occasionally, he mows his neighbor's yard for arcade money or ingredients to make his own slime.
Building a Winner
Shanahan expects to have an open line of communication with Dubas. They will speak about team matters every day using a pair of Canadian Tire Walkie Talkies that he received for his last birthday.
With the Leafs having been eliminated in the opening round of the playoffs twice, the honeymoon with fans and coach Mike Babcock is quickly coming to an end. The defense needs an upgrade and there are contracts to negotiate with key players. Much of this immediate work falls to Dubas.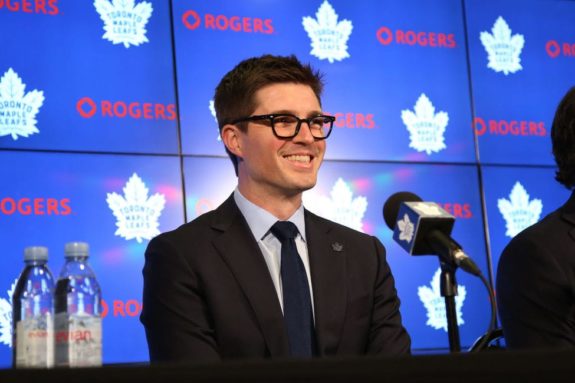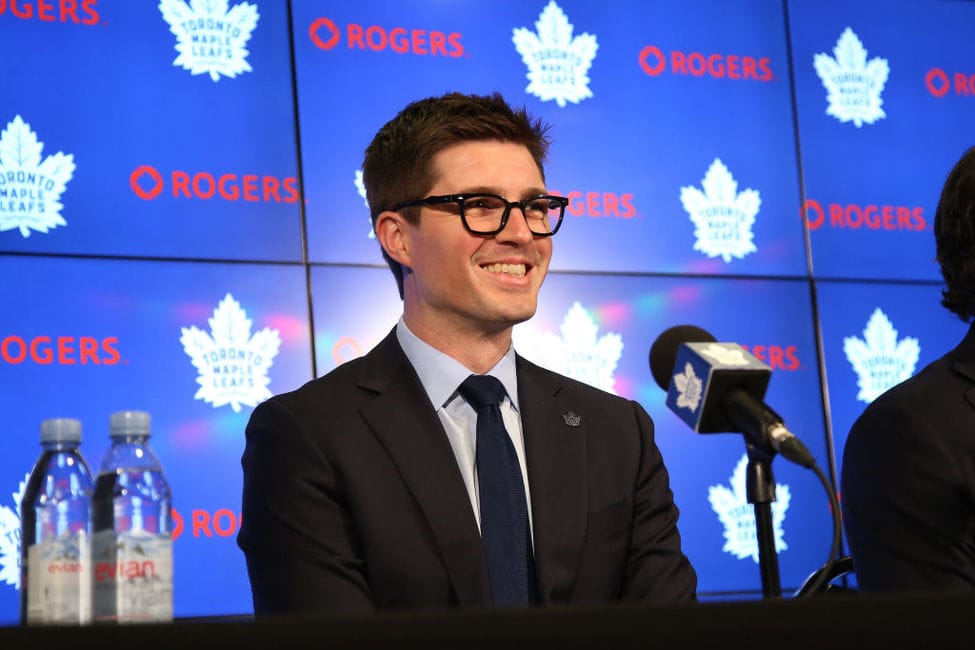 But before he can dive in and solve these complicated matters, he's determined to finish his academic year. Seventh graders have finals at school next week, and if he has the gumption, Dubas will go to the end-of-year dance. Then and only then will he be able to devote his free time to the Leafs.
He will rely heavily on Babcock for advice. "We talk not just about hockey, but all the aspects of life and family," said Dubas. "He's like a grandpa to me. I love him."
*Relax folks. It's satire. All of us at THW wish Mr. Dubas all the best in his new position, for which he's abundantly qualified.*

---
Enjoy more 'Off the Crossbar' columns.
---