Many 18-year-old hockey stars will be watching the NHL Conference Finals that are underway, but their focus is on something completely different: the 2018 NHL Entry Draft. With under six weeks left, these players are preparing for one of the biggest days in their lives. With all of the scouting reports, draft lists, mock drafts and analysis building up, we wanted to take a look at how these players' lives will change financially after signing their first entry-level contract and making it to the big leagues.
Be sure to also check out our NHL Draft Guide | 2018 Edition.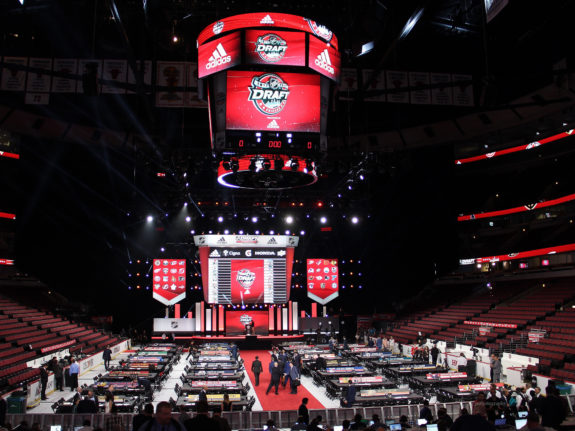 The Entry-Level NHL Contract
The entry-level contract (ELC) structure was first brought into the league after the 2004-05 lockout and will definitely be a point of discussion during the next Collective Bargaining Agreement (CBA). Along with restricted free-agent status, the ELC gives teams the ability to limit their cap spending on young and developing players. It also allows them to keep players under contract and reduces the risk of losing their prospects to another team prematurely. There is a great post here on how entry level contracts help teams stay competitive.
The length of an ELC varies based on the age the prospect signs:

There are also some specific rules around players coming over from Europe who already have professional experience.
Each rookie that signs an ELC is automatically deemed to be a "two-way" contract. This means that there are different compensation levels within the NHL and the AHL. In the next section, we'll take a look at how the compensation works.
Compensation Details 
Earlier we touched on the advantage that teams carry with the ELC system allowing them to limit their spending on prospects and young stars. While these contracts might be "cheap" to NHL teams with a large budget, these salaries can be life-changing for these young players.
Getting drafted won't guarantee you a payday, but signing your first ELC can. There are maximum annual salary amounts at the NHL and AHL level for players on these contracts:

As you can see above, there is a major difference in compensation from the maximum NHL salary vs. the maximum AHL salary. Young players can receive up to 13 times more on their paychecks by accumulating days on the NHL roster. There is also a maximum signing bonus of 10 percent of your salary (up to $92,500) during each year of the contract. This isn't in addition to the salary, but rather paid out from it up front or during the summer.
Performance Bonuses
Performance bonuses are a way that star players on ELCs can negotiate their overall compensation above the maximum salary. These are typically reserved for first-round draft picks but can also can be applied to lower-round picks for incentives such as games played.
There are two main types: Schedule A and Schedule B
Schedule A bonuses are more common and include items such as number of goals, number of assists, points per game, plus-minus, time on ice, All-Star nods, etc. The maximum per milestone is $212,500, and the combined maximum is $850,000. This allows some players to almost double their NHL salaries.
Schedule B bonuses are rarer and apply to the superstar prospects (think Connor McDavid or Auston Matthews). Schedule B bonuses allow a player to make an additional $2 million in incentives and almost quadruple their base salary. You can see the breakdown of Auston Matthews' contract in our NHL Salary Caps section.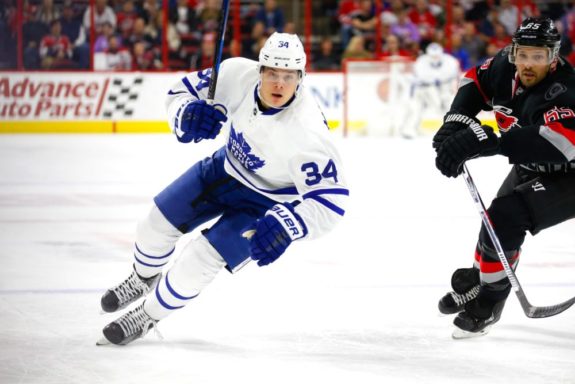 One downside to performance bonuses for teams is that they apply to the next year's salary cap and can handcuff a team if they have a lot of young stars maxing out their bonuses.
NHL Player Earnings Examples
Some star players will sign right after the draft and enter the NHL, while most will continue to play major junior or collegiate hockey for another couple of years. We are going to breakdown three examples to see what a player will earn annually during a year of their entry level contract: Star 1st Round Pick, Mid-Round Prospect, and Lower Round Prospect. It is important to note that the draft position doesn't necessarily dictate the salary level and that many drafted players or even signed players will never play an NHL game.
Star First-Round Pick
This is a franchise player that has the ability to turn a team around in year one. They are expected to make the NHL in their first training camp and has dominated the game at the junior level. They will not see any time in the AHL.

Although rare, these star first-round picks can make more than the league's average salary during their entry-level years if they negotiate performance bonuses and hit them. This level of compensation in a player's first few years rivals NBA salaries.
Mid-Round Prospect
This is a player who was drafted in the mid rounds and played an extra year of major junior to further develop. They have signed for the maximum entry-level salary but with no performance bonuses. Although they may see some time in the AHL, this example assumes that they will play the full year in the NHL.

While much less than the performance bonus packed first-round star's compensation, a player who is able to sign for the maximum and play the full year in the NHL is still making a salary just shy of $1 million. This is comparable to CEO compensation levels and definitely is life-changing money.
Lower-Round Prospect 
This is a role player who may take a few years to get to the league and will spend some significant time in the AHL. Although he excelled at the major junior level, there is still some uncertainty of his ability to play at the NHL level and therefore they don't sign the maximum entry level salary. This scenario is very common and allows a team to get a better look at the development of a player before inking them to a larger contract.

While much different than the two examples above, and maybe not life-changing, $250,000 in annual compensation for someone in their early 20s coming straight from high school or college is a hefty chunk of change.
Getting drafted is a big step in making it to the next level, but there is still a lot of work to be done by these prospects. If they are able to continue their development, sign an ELC and find their spot in the league, these "kids" will be entering the top 1 percent of earners in their 20s.