Kevin Bahl
2017-18 Team: Ottawa 67's (#88)
Date of Birth: June 27, 2000
Place of Birth: New Westminster, BC
Ht: 6'6" Wt: 230 lbs
Shoots: Left
Position: D
NHL Draft Eligibility: 2018 first-year eligible
Rankings
NHL Central Scouting Mid-Term: 30th
Future Considerations: 45th
In reviewing the profile for Ottawa 67's defenseman Kevin Bahl, one word immediately stands out for me. That word is champion. In his coming up through the ranks to the OHL, Bahl was a champion at just about everything he did.
In his time in the Greater Toronto Hockey League, Bahl won four straight championships. He then won an OHL Cup championship. Then to polish off his mantle, he added a gold medal at the Ivan Hlinka for Team Canada this season. It's easy to see why he is a champion throughout his career.
RELATED: THW's 2018 Draft Guide
In watching Bahl live, his calm nature was a steadying influence on Ottawa's blue line. At 6-foot-6 and one of the biggest players in the league, he made life difficult on his opponents in the defensive end. You tried winning a one-on-one against him, likely not happening. You tried getting around him, you were poke checked with his immense reach. Teams had to account for him every time he stepped on the ice.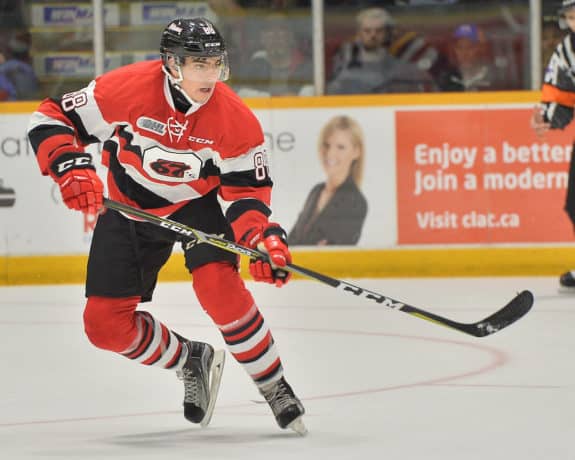 Bahl was one of the premier shutdown defenders in the OHL. That makes him an intriguing draft day option for teams looking to beef up their blue line. As with all players especially with his size and skill set, there are questions about Bahl's potential at the next level.
Bahl finished with a line of 1-17-18 in 58 games and was a -21 on the season. Although there has been some improvement offensively, it really isn't a part of his game. In speaking to him earlier in the season, he knows this is a point of emphasis and said this is something he will work hard at over the summer. The other thing that stands out is smaller, speedier players can dance around him. Bahl needs to continue improving in the physical part of the game. He needs to be able to stop those kind of rushes.
Bahl is a defensive defenseman in every sense. With above average skating for a big man, can he find a consistent two-way game at the next level? With his championship background, don't count him out.
Other THW Draft Profiles:
Kevin Bahl – NHL Draft Projection
Bahl is a solid second-round pick for me. While I like what he can do on the defensive end, his lack of offense to date gives me slight pause and puts him as a day two pick. Most in the industry have him as a second rounder. Those that have him in the first round believe he will become one of the premier shutdown defenders in the league in future seasons. He checks in at 43rd overall on my list.
Quotables
"Bahl goes 6-foot-6, 231 pounds, but he's a smooth skater and knows how to use that long stick to his advantage when taking away space from opposing forwards. I'd like to see him use that size down low a little more and not allow players to gain position easily, but he understands his role and he plays it well." –Mike Morreale/NHL.com
"Huge blue liner has seen his confidence shoot through the roof this year and has been really impressive this season. He can assess a situation and react accordingly. Not the fastest skater but good mobility and keeps up with the play well for a kid his size. Not phased by pressure forecheckers and shows patience with the puck. Seals the wall and likes to chip in offensively and has underrated offensive skills. Skates well in the offensive zone moving off the line and pinching along the wall. Moves in front of the net on the Power Play and creates huge problems for goaltenders to see. Will also park himself in the slot and make it difficult for defenseman to move him. Would like to see a more intimidation factor from him and gain more confidence in his physical play." –hockeynow.ca
"First and foremost, Bahl is an above average skater for a player of his size. He possesses very good mobility with excellent lateral movement, however he lacks top end speed although I wouldn't say he is slow. Defensively, Bahl is one of the top, if not the top shutdown defender available for the 2018 draft. Along with good skating abilities, his condor-like reach makes him tough to beat one-on-one. His positioning in almost every situation is excellent.  He uses a high level of hockey IQ to anticipate, always be in position, close up lanes and use a very active stick to quash plays." –Dominic Tiano/OHL Writers
Strengths
NHL size & strength
Above average skater for his size
Effective special teams player
Excellent defender
Under Construction (Improvements to Make)
Overall offense
Physical play
NHL Potential
This is hard to tell at this point. Bahl is a defensive defenseman who is one of the best at the shut down game. But in a game that favors speed and moving the puck, he has work to do. At this point, he projects as a bottom-four defenseman with some upside if he continues to improve his speed and offense.
Risk-Reward Analysis
Risk – 4/5, Reward – 3/5
Fantasy Hockey Potential
Offence – 3/10, Defence – 7.5/10
Awards/Achievements
Bahl won four straight GTHL championships from 2010-2013. His team won the OHL Cup in 2014-15. He also scored a goal in the Ivan Hlinka Championship Game and won a gold medal for Team Canada in 2017-18.
Interview/Profile Links
Videos