Following the Calgary Flames' 7-4 loss to the San Jose Sharks on March 16, head coach Glen Gulutzan expressed optimism about his team by stating "We have 100 points left on the table." The number was a reference to the games remaining and potential points the Flames could capture.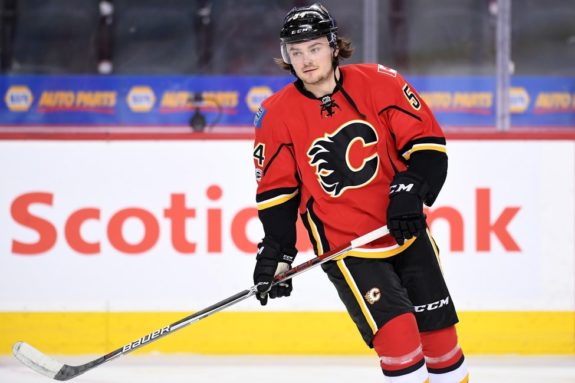 Two weeks later the Flames had captured zero of those available points, falling completely out of the West's playoff picture. A goal with 21.4 seconds remaining against Columbus helped the Flames save a very small amount of face as it ended their pursuit of a goal-scoring futility mark – they still went 167 minutes and 21 seconds, over eight full periods, without scoring a single goal. With the postseason firmly out of reach, the team has shifted from a playoff push to evaluation mode in an effort to get a jump-start on solving the problems that put them in this position.
Goaltenders
In between the pipes, the Flames have been examining whether Jon Gillies or David Rittich – or neither – can take the reins full-time as Mike Smith's backup next season. Rittich was given the role in November when the Eddie Lack experiment ended and initially played very well. However, Rittich faltered a bit down the stretch when Smith was injured and he was temporarily thrust into the starting role – he went 3-5-1 with a 3.52 goals against average and .885 save percentage in nine starts – and then nudged back into the backup role when Smith returned.
David Rittich has as many wins since the Bye Week as Mike Smith does. That's the season, right there. #Flames

— Ryan Pike (@RyanNPike) March 23, 2018
With an eye to giving some playing time to both their prospective backup goaltenders, the Flames swapped Gillies and Rittich on March 26. Gillies has gotten some NHL starts, while Rittich has returned to his familiar perch as the undisputed starter for Stockton. Both Rittich and Gillies are on expiring deals that will make them restricted free agents, though due to his age Rittich will be eligible for salary arbitration. It'll be useful for the organization to know what they have in both goaltenders.
Defensemen
The Flames have a slew of young defensive prospects in their system. 2012 draft pick Brett Kulak is the most recent graduate of their development system, while 2015 selection Rasmus Andersson has been knocking on the door for an NHL opportunity. Injuries to TJ Brodie and Travis Hamonic have opened the door for Kulak to be tried out in the second pairing after having success on the third unit, while Andersson has gotten a chance to get regular NHL reps.
"You can see there's a couple mistakes from our younger players," said Gulutzan following the club's 5-1 loss to Columbus. "But if you ask me those are mistakes you can live with because we're trying to clean up and you're giving them some experience. We've got guys pushed up like Brett that are now playing significant minutes against better competition. It's good experience for them and you can live with some of the stuff that goes on."
Andersson is signed to his entry-level contract through the 2018-19 season, while Kulak will be an arbitration-eligible RFA on July 1.
Forwards
It's no secret that the Flames haven't gotten enough offense from their third and fourth lines in 2017-18. As a result, the team has conducted a few roster experiments to see if any of their younger players can generate some offense for the club – moves made possible by season-ending injuries to Sean Monahan, Matthew Tkachuk and Kris Versteeg.
Curtis Lazar was given a larger role and moved up the rotation after spending much of the season on the fourth line. College signee Spencer Foo was brought up from Stockton to see if he's close to NHL-ready after a series of improvements during the AHL season. Nick Shore, a trade deadline acquisition and prospective fourth line center going forward, was tried out at center with Foo and Johnny Gaudreau to see if he could unlock his offensive potential.
"He's a very safe player," said Gulutzan of Shore, after a recent morning skate. "He plays things very defensively, he's always on the defensive, cautious side of the game. But there's a fair bit of skill there that's a little bit untapped. So I've talked to him about making sure that he doesn't lose any of that defensive awareness, but certainly he has the ability to see if he can make some plays at the right times. I think there's some skill, there's some vision, there's certainly hockey sense there for sure."
The Flames aren't going to solve all of their problems during the last week of the season, but spending some time focusing on their younger players will undoubtedly help the team as it looks to improve over the off-season.
Ryan Pike has covered the Calgary Flames and the NHL Draft extensively since 2010 as a Senior Writer for The Hockey Writers and Senior Contributing Editor of FlamesNation.ca. A member of the Professional Hockey Writers Association, he lives in Calgary.