The Philadelphia Flyers' defensemen have been getting offensive this season. The Flyers have 48 goals from defensemen this season, which is the fourth-most in the NHL. This outburst of goals is the most the Flyers have gotten from their blue line since the 1992-93 season when their defensemen scored 52 goals.
We will have more on that 1992-93 defensive group and other historic defensive groups later. This season they are also ranked tied for ninth in the NHL in points by defensemen (171), which is already more than they had all of last season (165). The goal-scoring group is led by the top pairing of Shayne Gostisbehere and Ivan Provorov, who have been scoring at a record pace.
Flyers' Top Defensive Duo Leads the Charge
Shayne Gostisbehere is the fourth different defenseman in Flyers history to record 60-plus points in a season, joining Mark Howe (three times), Garry Galley (twice) and Behn Wilson. He is also only the third defenseman to have 49-plus assists in a season, joining Howe and Galley. While Ivan Provorov is the seventh defenseman in Flyers history to score 15-plus goals in a season joining Howe (six times), Bob Dailey, Steve Duchesne, Wilson, Eric Desjardins (twice), and "Ghost," who did it his rookie year back in 2015-16.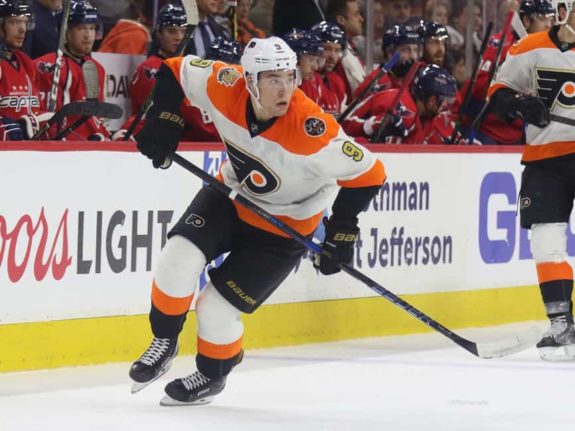 The Flyers' scoring from the back end is much needed this season, as the depth scoring has failed them. The Flyers' top four scorers of Claude Giroux, Jakub Voracek, Sean Couturier, and Travis Konecny have combined for 104 goals, 195 assists, and 299 points. The 11 other forwards who have points this season for the Orange and Black have combined to score 88 goals, 108 assists, and 196 points. Compare that to the seven defensemen who have points and you get only 40 fewer goals, 15 more assists, and 25 fewer points. Without the defensemen chipping in offensively, the Flyers would not be fighting for a playoff spot.
Even much criticized Andrew MacDonald is getting into the scoring action. The veteran has scored a career-high six goals this season in 64 games played. To put that in perspective in his first 178 games played in Philadelphia he combined to score only five goals.
Andrew MacDonald, pure goal scorer! 4-3! pic.twitter.com/TkdHulH9mA

— Sons of Penn (@SonsofPenn) March 16, 2018
Another defender having a career year is Brandon Manning, who has seven goals this season, with two of them being game winners. The 27-year-old had only four goals to his name before the season started.
History of Flyers Defensive Scoring
The 1992-93 Philadelphia Flyers will forever be remembered as the rookie season of Hall-of-Fame franchise forward Eric Lindros, but they sure had a scoring bunch from the back line. Led by Galley, who scored a career-high 13 goals that season, all 10 defenders who suited up for the team that season scored a goal. They also received five goals from rookie Russian defender Dmitri Yushkevich.
The team with the most goals from the blue line was actually the season prior, back in 1991-92 when they combined for 58 tallies. That team was paced by two players who would be included in the Lindros trade during the offseason, Steve Duchesne with 18 goals and Kerry Huffman with 14 goals. Another scorer on that team was Flyers legend Mark Howe, who in his 10th and final season in Philadelphia scored five goals. Current assistant coach Gord Murphy was also a part of this historic team, as he scored two goals in 31 games played before being traded to Boston for Galley on Jan. 2.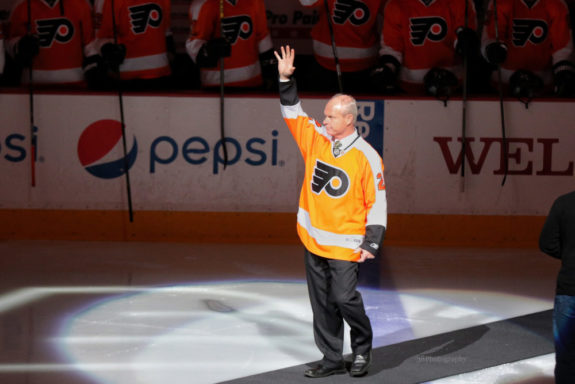 Neither the 1991-92 nor the 1992-93 team made the playoffs, but the most successful scoring team ended up in a playoff spot. The 1983-84 defensive core combined for 52 goals and a franchise-record 232 points. This was Howe's second season with the Flyers, and he scored 19 goals and added 53 points. Swedish defenseman Thomas Eriksson had a career-year, scoring 11 goals, 44 points, and 14 power-play points. The player that was traded for the great Behn Wilson from the Chicago Blackhawks, Doug Crossman, had seven goals and 35 points. This team finished third in the Patrick Division and lost in the first round to the Washington Capitals, a fate that this year's team is hoping not to repeat.