A little over five years ago, Shayne Gostisbehere was nothing more than an undersized third round selection in the 2012 entry draft. Listed at 5'11" and 160 pounds, his chances of making the NHL were rather slim, but his explosive offensive style was too much to ignore at one point.
NCAA Career and Frozen Four
During his three NCAA seasons with  Union College, Gostisbehere racked up 82 points in 119 games with a plus-70 rating. He also had the chance to represent his country at the World Juniors, where he played sheltered minutes, ran the power play and notched a goal and an assist in six games.
In his final season, he led the Dutchmen to a national title over the Minnesota Golden Gophers by tallying a goal, two assists, and plus-seven rating in a 7-4 win in the championship game. In other words, he was dominant and was on the ice for every goal Union scored.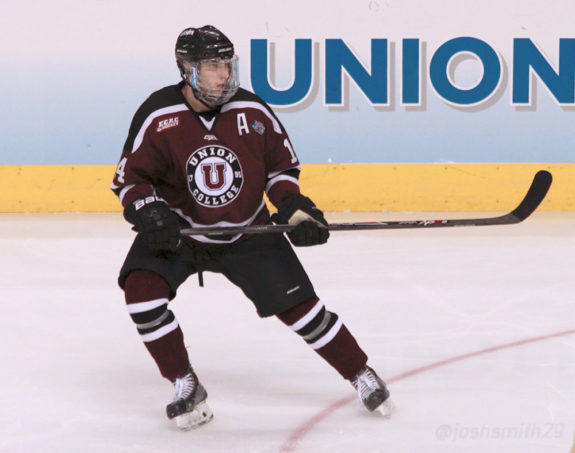 I remember watching him throughout that tournament and thinking "He will be running the Flyers power play very soon." His dynamic skating, great vision, and cannon of a shot were apparent at all times. It's no coincidence that he led the Dutchmen in shots on goal that season with 159.
Gostisbehere is always looking to create offense. His performance during the Frozen Four awarded him MVP honors and three days later, he was signed to an entry-level contract. He was also a finalist for the Hobey Bakey Award.
Gostisbehere was poised to start his first full pro season with the Lehigh Valley Phantoms, but he tore his ACL five games in and did not play for the remainder of the year. Normally, a torn ACL is a huge step back in a player's career, but Gostisbehere didn't let it affect him.
Becoming the Ghost
Gostisbehere played 14 games in the AHL to start the 2015-16 season and was called up after Mark Streit went down with an injury. He appeared in his first game against the Carolina Hurricanes and posted one assist. Three days later, he scored his first career goal while taking Streit's place on the first power play unit against the Los Angeles Kings.
Those two games immediately set the tone for "Ghost" and he never looked back. His 17 goals and 46 points in 64 games were good enough to lead the Flyers into the playoffs against the Washington Capitals and give Gostisbehere a shot at the Calder. His puck-moving skills and ability to put the puck on goal were a big difference maker for the Flyers, who were struggling to get the puck up the ice and in the back of the net.
In addition, he set NHL records. One for the longest point streak by a rookie defenseman (15 games) and one for the most overtime goals by a rookie (four goals.) Despite losing the Calder voting to Blackhawks rookie Artemi Panarin, the addition of Gostisbehere was a clear indication of what the Flyers blue line was about to become.
Gostisbehere also needed hip surgery in the offseason that sidelined him for 10-12 weeks.
Expectations Too High for Gostisbehere
After such a great season, a lot was demanded from Gostisbehere. He played for Team North America at the 2016 World Cup and recorded four assists in three games. Unfortunately, his surroundings weren't the same when he came back to start the season with the Flyers.
Gostisbehere only had four goals and 19 points at the halfway point of the season and the Flyers were struggling to score. That problem never seemed to change, the Flyers were a team that could not score at even strength and other teams had Ghost figured out already. While his numbers weren't awful for a defenseman, the expectations from the fans were just too high. Gostisbehere was also a victim of several healthy scratches from head coach Dave Hakstol. It was a team problem.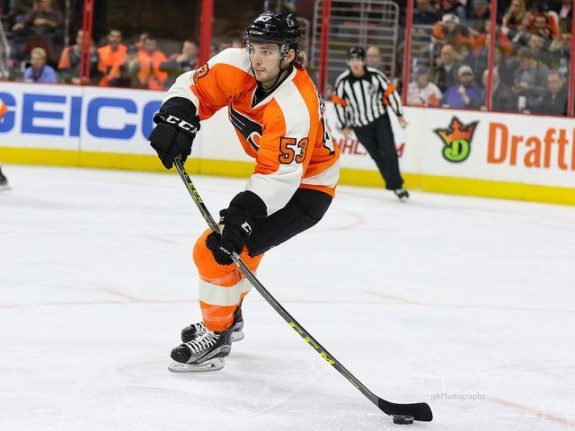 Although there were a few setbacks, Gostisbehere should be good for a bounce back season. His 3.5% shooting percentage last season is unsustainable and his puck luck will turn eventually. With the addition of other young defensemen and talented forwards, there is no way Gostisbehere slumps again. He is great at driving play, his possession metrics are solid and he is going to be in his first year of his new six-year contract. He also gets a lot of offensive zone starts, which should help pump his numbers up.
If the Nashville Predators have taught us anything, it's that you need guys who can move the puck up the ice quickly and effectively. If Gostisbehere can play 18-19 minutes a night and first power play minutes, he will have a good 2017-18 campaign.