After a 17-year NHL career spanning four different teams, Brian Campbell retired this week. The 38-year-old defenseman announced his decision as well as his plans to join the Chicago Blackhawks' front office staff as a special advisor in business and hockey relations.
Campbell was willing to take a 'hometown discount' to stay in Chicago, but Blackhawks president John McDonough let him know they decided to go in a different direction. They then discussed the option of staying with the organization in a different capacity.
"He kept talking to me about the importance of his family and didn't want to leave Chicago," said McDonough.
A Teary Goodbye
At his press conference, Campbell couldn't hold back his emotions. Saying goodbye to his playing days was a difficult decision, but he's excited to stay in Chicago and remain a part of the Blackhawks.
"I don't think I'd want to retire any other way but a Blackhawk. It was fun. I had a blast. There were a lot of nights after games, I was with my buddies. That was the best part of all of that," Campbell said. "It wasn't fun pulling off the jersey [in April], that's for sure. These are just thoughts I've had for a while now. I feel like this is the time for me to step away." –Brian Campbell
Campbell's wife, Lauren, their two daughters, Harper and Everley, and Brian's parents were in person to support him.
"I'm grateful to the countless number of teammates, coaches, team staff and fans that I have crossed paths with throughout my playing career in Chicago, Buffalo, Florida and San Jose," said Campbell. "The Blackhawks organization has allowed me to take on this challenge and I'm thankful for this new opportunity."
Campbell has made an equally impressive impact off the ice as he has on it. His charity Campbell for Kids has raised over $1.5 million dollars for children with disabilities and special needs.
Drafted by the Sabres
Campbell was a steal–he was selected in the sixth round in 1997 by the Buffalo Sabres. The undersized defenseman put up 87 points in 62 games for the Ottawa 67's in his final year of junior, enough for the Sabres to take a chance on him with the 156th overall pick. He spent a few years playing for both the Sabres and their AHL affiliate Rochester Amerks before joining the NHL full time in 2002 at the age of 23.
"Soupy's" smooth skating and open-ice hits made an impact with the Sabres. Nothing will compare to his thunderous hit on R.J. Umberger in overtime of Game 1 of the 2006 Eastern Conference quarterfinal against the Philadelphia Flyers. Umberger missed Game 2 but came back for Game 3.
Campbell started slowly, notching just 41 points in his first 167 games. In his next 244 games, he improved, scoring 26 goals and 154 points. It ranked him 10th in scoring among defensemen in that span.
He made his playoff debut in 2006, tallying six assists in 18 games as the Sabres came one win away from the Stanley Cup Final. In 2007, the Sabres again made it back to the Eastern Conference Final, but lost to the Ottawa Senators in five games, with Campbell netting three goals and seven points in 16 playoff games.
In all, he spent almost eight seasons with the Buffalo before being traded to the San Jose Sharks at the trade deadline for Steve Bernier and a 2008 first-round pick (Tyler Ennis).
Don't Bother Unpacking
In his 20 games down the stretch for San Jose, he put up 19 points. His seven playoff points helped the Sharks' run that ended in Game 6 of the Western Conference Semifinals.
Chicago Blackhawks general manager Dale Tallon signed Campbell as a free agent in 2008 to an 8-year, $57.1 million dollar contract. It was one move along with some outstanding draft picks that helped re-launch the franchise, making it a consistent and legitimate Stanley Cup contender.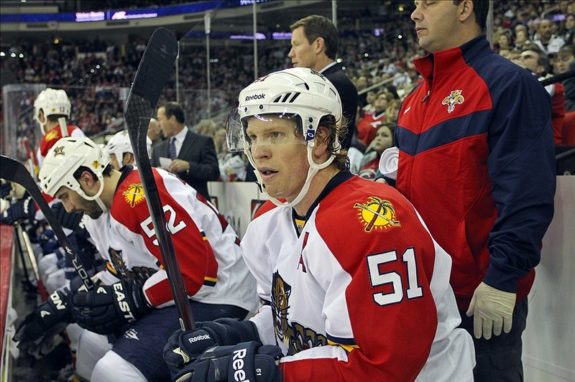 He played three seasons with Chicago. In his second season, in 2010, Campbell helped the Blackhawks break their 49-year drought and win the Stanley Cup. He was an important piece of the team, using his signature speed to get the puck out of his zone and transition the other way. He assisted on Patrick Kane's game-winning goal in overtime to defeat the Philadelphia Flyers 4-3 and win the Stanley Cup in Game 6 of the 2010 Stanley Cup Final at the Wachovia Center.
Campbell scored one goal and had four helpers, skating an average of 19 minutes on the ice during the playoffs that year.
Fun in Florida
At 31 years old, Soupy was one of the many salary cap casualties in Stan Bowman's tenure. His hefty contract signed in Chicago was eventually the reason he was traded away to the Florida Panthers for Rostislav Olesz in 2011. Olesz wound up playing only six games for Chicago.
Campbell played five of his last six seasons in Florida. He contributed with 28 goals and 147 assists for the Panthers, but was equally as dependable. Incredibly, he never missed a regular season in 376 contests in the Sunshine State.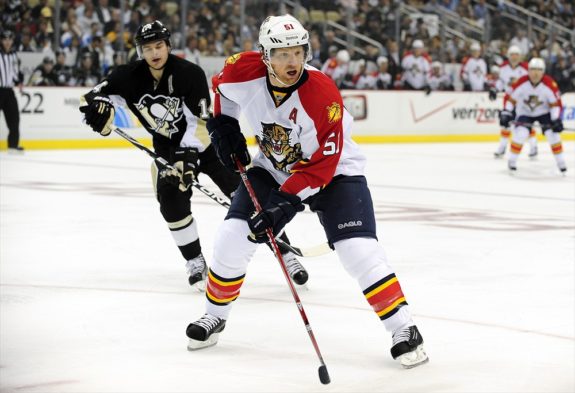 Campbell excelled in his first year with the Panthers, notching his second-best offensive numbers (4 goals, 49 assists). The franchise made the playoffs for the first time in 10 years. In a double-overtime heartbreaker, they lost to the New Jersey Devils in the first round. The Panthers returned to the playoffs in 2015-16, losing to the New York Islanders.
Closing It Out in Chicago
Altogether, Campbell played five seasons with the Panthers before returning to Chicago for the 2016-17 season.
He signed a one-year deal for only $2.25 million to be back where he called home: Chicago–no doubt cemented by winning the Cup there. Even when playing for the Panthers, he and his family kept a home in the Windy City where they lived during the offseason. He was reluctant to move them.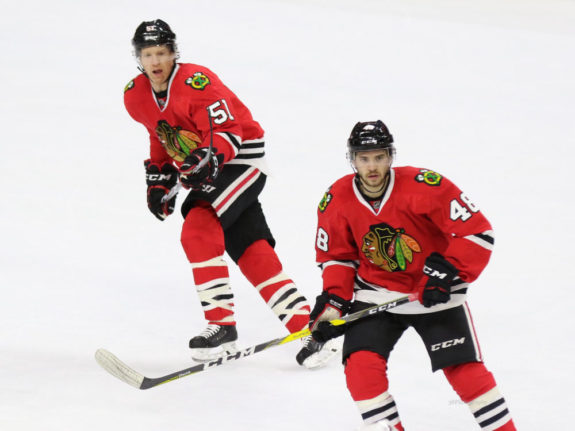 In his final season, he played in 80 games, averaged 18:27 of ice time, and contributing five goals and 12 assists. It was near his lowest point total ever. His other stats plunged as well, including a 48.94 percent Corsi-for (his only year below 51 percent) and a 48 percent Fenwick (his previous low was 51.1 percent), which could be attributed to multiple defensive partners and/or a slight decline in foot speed.
Campbell played roughly a quarter of his career in Chicago (295 of his 1,082 career games).
A Full Career
Campbell won't go down as one of the game's best defensemen and he's a long shot to get 'the call' from the Hockey Hall of Fame. However, he had an impressive career, playing over a thousand games (1,082 to be exact) and got to raise the Stanley Cup once. He also won a Lady Byng award for sportsmanship in 2012 while with the Panthers.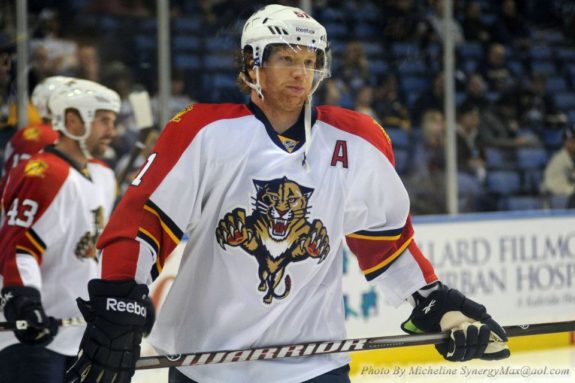 Campbell will be remembered as a durable, elite puck-moving defender. Since 2005-06, only Jay Bouwmeester (928) and Brent Seabrook (923) played more games than Campbell. His 504 points were spread out fairly evenly. He had eight 30-plus point season and four seasons of more than 20 points with the man advantage; he consistently contributed throughout his career. In fact, only three defensemen recorded more points than Campbell (463 points) since the start of the 2005-06 season (his first full season). They are Duncan Keith (511 points), Shea Weber (485 points) and Zdeno Chara (472 points)… all likely Hall-of-Famers.
He was a late-round-draft hidden gem and one of the best at making an accurate first pass and quickly getting the puck out of his zone. He also drove possession stats at even strength, piled up assists and played in every situation.
It's a career many would jump at if given the chance.