Ryan Chyzowski
2017-18 Team: Medicine Hat Tigers (#29)
Date of Birth: May 14, 2000
Place of Birth: Kamloops. British Columbia
Ht: 6'0″ Wt: 190 lbs
Shoots: Left
Position: Left Wing
NHL Draft Eligibility: 2018 first-year eligible

Rankings
In every draft class there are a few players from a few different parts of the hockey world that seem to be good candidates for teams to buy low on. These players are usually ones that have all the attributes to be a strong performer at their level, but just haven't yet pulled them all together yet. Arguably the best "buy low" Western Hockey League prospect in the 2018 NHL Draft class is Medicine Hat Tigers winger Ryan Chyzowski.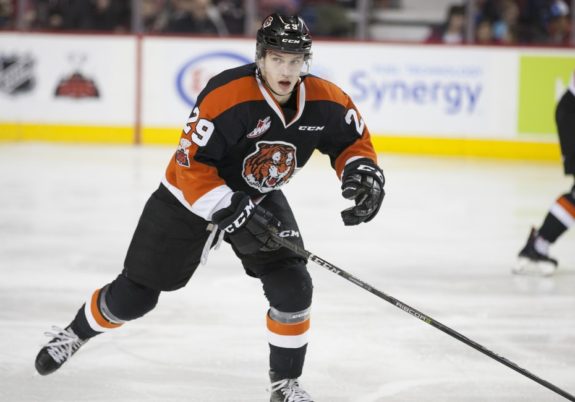 Hockey's been a family business for the Chyzowski clan. Ryan's father, Dave, was the second overall selection in the 1989 NHL Draft and played briefly for the New York Islanders and Chicago Blackhawks, while older brother Nick has just completed his overage year with the Kamloops Blazers. While Nick's been a solid WHL citizen during his time in the league, but his younger brother is already a better player (if a tad inconsistent)
The reasons to be excited about Chyzowski are multiple. He's got a big frame but doesn't yet play "big." Even with his frame, he moves around well and has effective acceleration and on-ice speed. He has good awareness and positioning in all three zones, but these qualities haven't clicked into place and translated into monster offensive production yet. That said, he made a big leap from a 12-point rookie WHL season in 2016-17 to a 52-point season in 2017-18, so he's making progress.
The big gap in his game right now is his performances run hot and cold: he either puts together a multi-point effort and is impressive, or he's quiet enough as to be near-invisible. He doesn't hurt his team when he's "off," but when he's good, he's really good.
Related: THW's 2018 NHL Draft Guide
There's nothing about Chyzowski's game that screams "elite" right now, but he's already established himself as an effective WHL scorer and his collection of physical and intangible attributes suggest that there's a higher ceiling there. The gamble for scouts is how high that ceiling can be and whether Chyzowski can attain it. Worst-case, he has the disposition of a player that will be a useful depth player in the pros. Best-case, he could become a depth scorer in the big leagues. An NHL organization with enough depth to roll the dice on his potential could be handsomely rewarded.
Ryan Chyzowski – NHL Draft Projection
Chyzowski could be selected as early as the third round, if a team's gung-ho about his potential, or slip as late as the fifth round, if teams are a bit more cautious about his ceiling.
Quotables
"Chyzowski possesses all of the tools necessary to be successful at the next level. He can fly up and down the ice and has quick boots for lateral movement. His internal motor has always been running at a high level and he doesn't take any shifts off. Chyzowski doesn't punish anyone with his physical play — he will lean into you on the boards, but don't expect any major open ice collisions. His play with the puck is improving as the season progresses, as he isn't afraid to let his impressive shot go, and he's been making that extra move with more success and more often. He holds onto the puck for longer periods of time and doesn't rush nearly as much with his decision-making." – Logan Fossum, Future Considerations
An excellent 2nd half to 2017/18, followed by a 4 goal opening playoff round has ballooned @tigershockey F Ryan Chyzowski into the top 100 draft eligible NA skaters.#whl https://t.co/Jm16AczDzF

— Mitch Bach (@MitchBach) April 16, 2018
Strengths
Good situational awareness in all three zones
Has a big frame that can pack on more muscle
Good mobility and positioning on the ice
Under Construction (Improvements to Make)
Needs to work on his consistency
Doesn't play particularly mean or battle in the corners effectively
Could stand to take more risks with the puck to create offense
Could rely on his teammates more and distribute the puck more effectively
Other 2018 NHL Draft Profiles
NHL Potential
Chyzowski projects as a bottom-six two-way winger. If his offense keeps developing, he could become a very useful third line scorer.
Risk-Reward Analysis
Risk – 1/5, Reward – 3.5/5
Fantasy Hockey Potential
Offense 8/10, Defense 8/10
Awards/Achievements
Chyzowski represented Canada at the World Under-17 Challenge.
Interview/Profile Links
Videos