The New Jersey Devils recently announced the signing of Russian free-agent defenseman Egor Yakovlev to a one-year contract. In this translated interview, originally appearing on the Russian website Sport-Express, Egor Yakovlev talked about his move overseas, discussed his strong points and talked about his countrymate, the New York Rangers' Igor Shesterkin.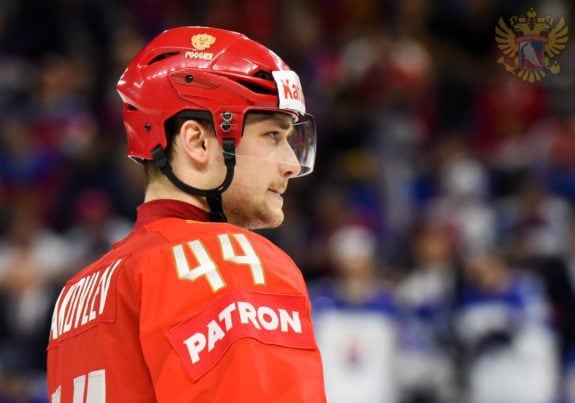 * You can read the original interview by Igor Eronko in the Russian language here *
Igor Eronko: Ray Shero said that if you sign a 26-27-year-old player, then you're going to play him in the NHL. Did you give any conditions to the Devils to sign a contract? For example, you wanted a spot in the lineup?
Egor Yakovlev: I'm going [to the NHL] not so much with the hope of a place in the lineup. There will still be exhibition games before the season. Anyway, I'm going there to prove my worth. I want to show that I can play in the NHL and that I'm ready for this league's requirements. Of course, I haven't been promised anything. I'll start showing my worth during the exhibition games. I need to get to them truly prepared.
Egor Yakovlev moving to the NHL
IE: Are you going to move to North America early on?
EY: Of course. I'll transfer there in July and will spend there all the time before the training camp. I'll both rest and practice, I also need to improve my language and work out. I'll work with local coaches there.
IE: How good is your English?
EY: I'd say that it's at an average level. I'll study it and try to improve. I understand very well that knowing the language is one of the most important things.
IE: According to Shero, your mobility and your first pass will help you in the NHL. What do you think yourself?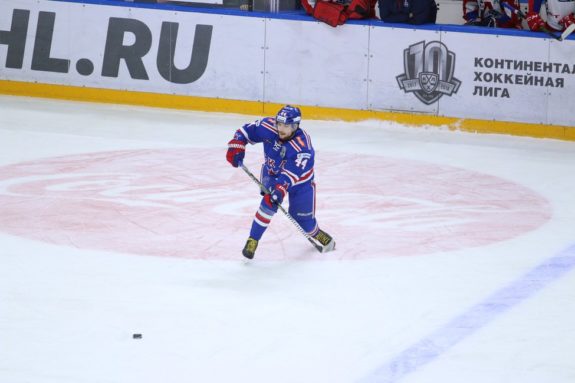 EY: Probably yes. First thing, my mobility. My energy. I'm not a very big defenseman. That's why I need to step up with my energy and activity. I think he's right.
IE: In the NHL forwards are very big.
EY: But you can still challenge them with your mobility and agility. Being big isn't always an advantage. Sometimes it's even easier to separate a player from the puck when he's big. But I'll go even further, it's always easier to play against a bigger forward if compared to an agile forward like [Edmonton Oilers captain Connor] McDavid, who skates well and has a great coordination. It's easier to play against bigger forwards.
Egor Yakovlev and the New Jersey Devils
IE: You have probably studied the New Jersey Devils' roster. Against whom do you think you'll be fighting for a roster spot? John Moore? Moreover, I think that you said that you have no problems in playing either on the left or the right.
EY: Yes, it's the same to me. I don't have any concrete player to fight against for a roster spot. I just want to get there and give the coaches a good headache. My first goal is to get the coaches a positive headache. But I need to get ready first.
IE: As far as I know, you also had other offers. Why did you pick the Devils?
EY: I talked with them and their scouts for a long time. I have been scouted for three years. I didn't choose this team just because, it was a long process and I'm glad to be a part of this organization.
Defenseman Yegor Yakovlev is 26! Happy birthday and celebrate it with a victory this evening! https://t.co/4pOBcaFsUw pic.twitter.com/D2jxpFbO2O

— SKA Ice Hockey Club (@hcSKA_News) September 17, 2017
IE: The Devils are a very fast team. Did it play a role in your choice? And are you familiar with [Devils head coach] John Hynes' system?
EY: I watched a good number of Devils games. They play a very mobile hockey, they have a very active system. I liked it and I think I understood the way they play.
IE: Are you ready to play the kind of offensive hockey that Hynes dictates?
EY: This is how modern hockey works: defensemen need to attack. It's hard to defeat the opponents just in three men. Look at the Swedish national team, they play very well, and their defensemen are very active. Generally speaking, all the best national teams have very active defensemen and blueliners are very important. I really like this kind of hockey and I'm ready for it.
IE: Does Igor Shesterkin play well with his stick?
EY: This is one of his strong points. He really plays well with his stick.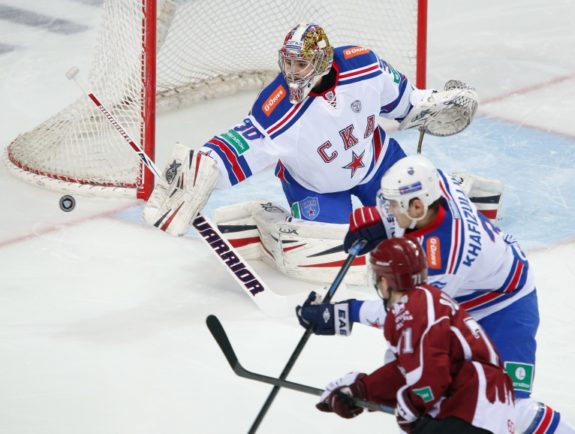 IE: Do you think he played well against Team Canada at the IIHF WC?
EY: Yes, he really helped the team. He has a bright future in front of himself. He's a very good goalie already and has a lot of potential.
IE: There is a good rivalry between the Devils and the New York Rangers. You're going to meet in a year or so.
EY: I don't know, but I hope it.
A professional hockey writer and translator. Loves Russian culture, language, and hockey. Reachable on twitter @AlexSerenRosso