When the Tampa Bay Lightning traded Jonathan Drouin to the Montreal Canadiens for Mikhail Sergachev back on June 15, 2017, they did so with the hope that the teenage defenseman would be competing for NHL ice-time in the 2017-18 season. Not only did Sergachev grab hold of a roster spot coming out of training camp, he refused to let it go despite Tampa Bay having a surplus of defensive options that could have replaced him if he struggled.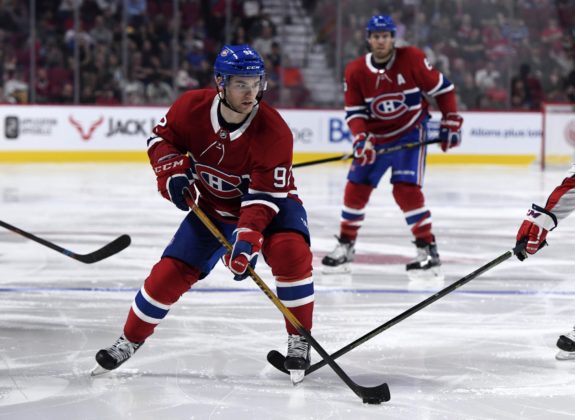 For the majority of the 2017-18 season, Sergachev played around 15 minutes each night on the Lightning's second defensive pairing with veteran Anton Stralman. This was the perfect scenario for the young defender, who got to learn how to play in the NHL next to one of Tampa Bay's most experienced and responsible defenders. Sergachev was a quick student as well, racking up nine goals and 40 points in his rookie season, both franchise highs for the Lightning.
Sergachev Benefitted from McDonagh Trade
After the Lightning traded traded for Ryan McDonagh, though, there was uncertainty as to how Sergachev would slot into the nightly line-up. While he was able to impress in the regular season, being thrown into top minutes in the postseason can be a tall task for even veteran defenders, let alone a 19-year-old rookie. Once McDonagh was ready to take on the Lightning's line-up full-time, Sergachev was the odd man out in Tampa Bay's top-four, meaning that he had to slide down to the bottom pairing with Braydon Coburn for the playoffs.
There was no telling how this transition could have gone for Sergachev before it occurred, but in retrospect, it has been the best developmental scenario for the young Russian defenseman. Since taking up residence next to Coburn, Sergachev has found great success playing limited minutes in the playoffs. As I wrote in an article about McDonagh for THW:
Sergachev has excelled in this reduced role, allowing him to experience meaningful yet sheltered playoff minutes that simply can't be replicated during the regular season.
If the Lightning had chosen to stand-pat and not trade for McDonagh at the deadline, there's no telling how Sergachev's playoffs could have gone. However, with the ex-New York Ranger in the lineup, Tampa Bay's rookie defenseman has been able to take sheltered defensive shifts and quarterback the Lightning's second powerplay unit. This defined role, alongside some strong play by Coburn, has allowed Sergachev to find unexpected success this postseason.
Sergachev Already Contributing in Playoffs
Despite being an NHL franchise for 25 years, there have only been eight rookie defensemen to start a playoff game in Lightning history. Of those eight rookie defenders, three failed to register a point, while two others only scored a single assist.
With two goals and five points in the 2018 playoffs, Sergachev sits third overall in the Lightning's rookie defenseman scoring, with games still left to play. If he can register one more point, he would reach a three-way tie for first overall in Lightning history.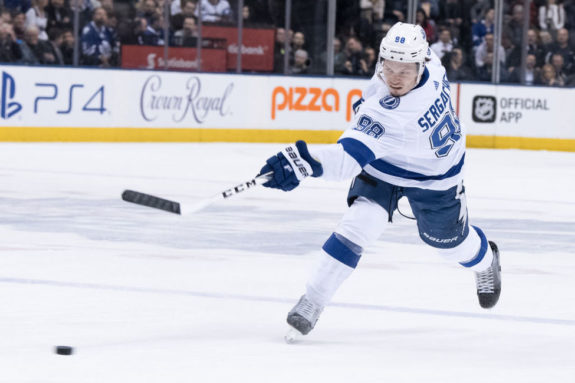 While at first glance this may not seem like a particularly impressive record for Sergachev to hold, it would have meaning to the Lightning. Just a few years ago, the team had one of the weakest blue lines in the NHL, with little exceptional young talent in the system. Finding a 19-year-old defender who is already setting team records bodes well for the future of their defense and will help take some of the heat off of the next wave of young defensemen in Tampa Bay's prospect pool.
Lightning Loving Their New Star Sergachev
Even if Sergachev didn't get the opportunity to play in the postseason this year, his rookie season in Tampa Bay would still have been considered a success in terms of developing his game. Outside of a few mistakes expected from a rookie, he had a solid regular season full of continual growth.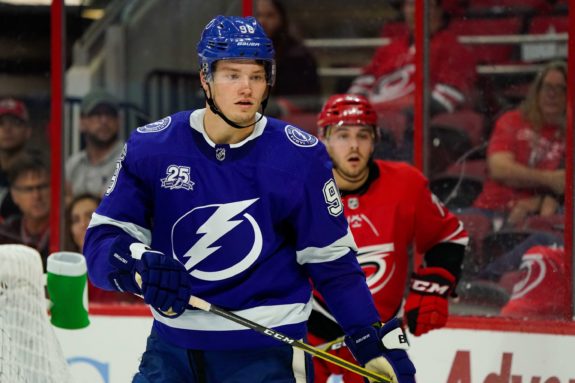 With the additional playoff ice-time, Sergachev's year went from good to truly great. By getting to experience a lengthy playoff run, he has had the opportunity to learn in a scenario that simply can't be simulated in practice or during the regular season.
The best part for the Lightning is how he hasn't looked out of place in the process. When the lights got brighter, Sergachev stood strong, showing composure despite his young age. If his first year is any indication of the future, he will develop into a true star for Tampa Bay sooner rather than later.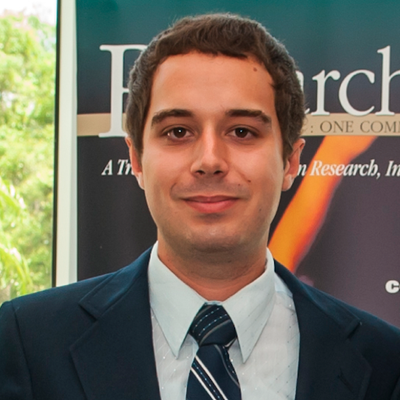 Eugene Helfrick is a Tampa Bay Lightning writer who is actually from Tampa Bay. He has written about the Lightning for six years, covering everything from their run to the 2015 Stanley Cup Final, to their crushing first-round exit in 2019, to their redemption in the bubble in 2020. While he is happy to talk about just about anything from cows to cars to video games, hockey will always remain one of his favorite pastimes.