Needless to say, Tampa Bay Lightning defenseman Ryan McDonagh had a rough first two games against the Washington Capitals in the Eastern Conference Final. In those games, he posted no points and was minus-3, while being a catalyst for multiple goals against due to poor decision-making with the puck.
After two noticeably bad games in a row, many were asking a valid question: Did Lightning general manager Steve Yzerman make the right choice when he traded for McDonagh over other options at the deadline? While the immediate answer is simple (yes, he was the right choice), there's still a discussion to have about what McDonagh has contributed during the 2018 playoffs and what he can bring in the future.
McDonagh's Immediate Impact on Lightning
For the better part of 10 playoff games, McDonagh has been nothing short of stellar. In their Round 1 match-up against the New Jersey Devils, he was arguably the team's best defender, registering four points while logging more than 22 minutes a night. He also provided a strong defensive presence that Tampa Bay could roll out when they needed to give Norris candidate Victor Hedman some freedom to move around on the ice.
As said by Roger Mooney of the Tampa Bay Times:
When the Lightning needs a goal, it can pair McDonagh with Hedman. That takes some of the defensive responsibility off Hedman and allows Hedman to join the rush and act as a fourth forward.
Even with the flexibility he brings to the Lightning's blue line, the largest contribution McDonagh has made in the playoffs are the 22-plus minutes of ice time he chews up each night. By taking on such a big workload at this vital time of the year, it allowed for rookie defender Mikhail Sergachev to play a reduced but focused role for the team.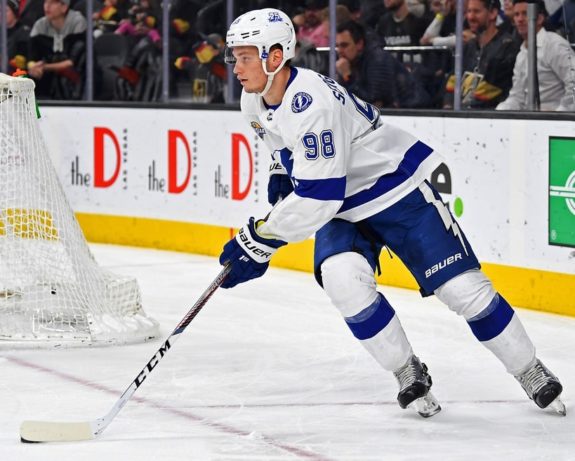 Sergachev has excelled in this reduced role, allowing him to experience meaningful yet sheltered playoff minutes that simply can't be replicated during the regular season. This boon to the 19-year-old's development could be an important part of McDonagh's legacy long after he finishes playing with the franchise.
Yzerman Had a Long-Term Plan with McDonagh
However, McDonagh wasn't brought in by Yzerman to be good in just this year's playoff. Since he is signed through the 2018-19 season, the Lightning will expect his high-level of play for at least one more season. There's no reason to believe that he won't improve next year, either. While playing only 49 games with a mediocre New York Rangers team this season, he still registered 26 points.
As said by Scott Maran of blueshirtbanter in his review of the Rangers' 2017-18 season:
Overall, McDonagh's last season with New York was a bit of a mixed bag. Yes, he could have done better but he still did a good job with what he had. The Rangers had huge fundamental problems that almost no one single player could have fixed and McDonagh tried his best.
Since he won't be expected to be the best defender, let alone the best player on the ice, McDonagh should have a different level of freedom to just play his game each and every night. As long as he can stay healthy, this could lead him to a career-rejuvenating year statistically, after a relatively down year.
Even if he doesn't break out offensively, having someone around to eat 20 minutes a game in the regular season will take some of the workload off of Hedman and Anton Stralman, and will likely pay dividends by the end of the season.
McDonagh Trade Only Aids Tampa Bay's Future
The Lightning paid a significant cost to bring McDonagh and J.T. Miller to Tampa Bay, giving up Vladislav Namestnikov, two top-end prospects and two high draft picks in the process. However, when you consider that the Lightning already has a loaded, young AHL team that is expected to receive even more talent next fall, this loss won't wreck the future of the team.
In fact, since McDonagh slots into the top of Tampa Bay's line-up next season, this will prevent Yzerman from overpaying a defensive free-agent in June to cover a hole in the roster or having to rush a young defenseman into taking on more responsibility than they are ready for.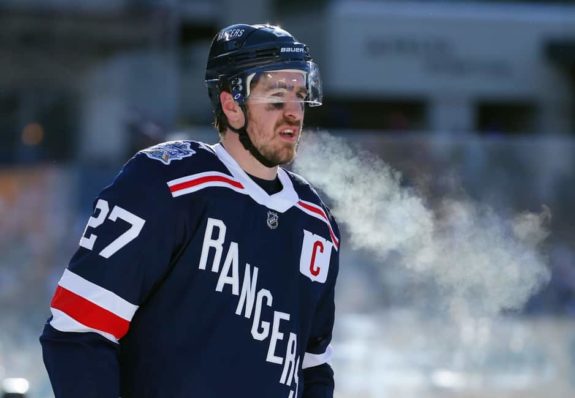 After the 2018-19 season, the Bolts could attempt to re-sign McDonagh to a short-term contract to keep him. With top defensive prospects like Cal Foote and Erik Cernak likely ready for NHL ice time by the 2019-20 season, he would provide a valuable veteran presence that could help train the next wave of young defensemen for the Lightning.
McDonagh Was the Right Choice for the Lightning
Even if his recent play in Game 1 and 2 of the Eastern Conference Final was less than inspiring, McDonagh is still a great acquisition for the Lightning. As long as he stays healthy for the remainder of his contract, he will continue to be a top-four defender who can take some of the pressure off of Hedman and Stralman each night while acting as a valuable mentor to young defenders like Sergachev. That sort of player is invaluable to a team like the Lightning, who are attempting to build a juggernaut in the Eastern Conference.