Last April, when Casey Mittelstadt wristed a laser past Tampa Bay Lightning goaltender Andrei Vasilevskiy, scoring his first-ever NHL goal, it likely felt as good for Buffalo Sabres fans as it did for the 19-year-old.
The native of Eden Prairie, MN, raised his hands in celebration and got the expected head taps and fist bumps from his teammates. After all, a player's first goal is something special; a moment that he will never forget; the realization of a dream come true.
For fans, the goal was a promise of better days; a glimpse of an offensively-minded talent that will likely help turn this team around. Mittelstadt is another reason to see the glass half full for a Sabres franchise that desperately needs to climb out of irrelevance and snap its seven-year playoff absence.
Mittelstadt's First Taste of the NHL
Mittelstadt appeared in six games at the end of the 2017-18 season, notching a goal and four assists while averaging just under 14 minutes of ice time per game. In this small sample size, he had nine shots on goal, a plus-1 rating, and won 17 of 36 faceoffs.
Fans gave Mittelstadt a rousing ovation for his first shift. Some were already sporting No. 37 jerseys. "It's cool to see that and it's cool to have people excited that I'm here,'' said the baby-faced center.  "Obviously, I'm excited to be here too."
While the brief showing burned a year off his entry-level contract, the handful of games also gave him a taste of the big league. He got to experience how the team practices and prepares for games, the importance of nutrition and more. "I think … it opened his eyes up a little bit to what it means to be a National Hockey League player, what the guys are doing after a game in terms of workouts and how they're eating," said Sabres assistant general manager Steve Greeley.
Minnesota's Mr. Hockey
In 2016, Mittelstadt was offered the opportunity to attend the University of Minnesota a year early but declined, instead deciding to complete his senior year of high school. Mittelstadt was focused on winning a state title for his high school, Eden Prairie. The draw for the elusive title had crept into his blood. "One more go at the dream with the boys I grew up with," Mittelstadt tweeted soon thereafter.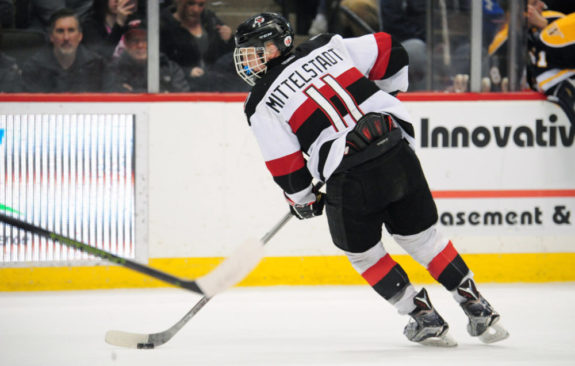 The back of Eden Prairie's practice jerseys read "For Those I Love, I Will Sacrifice." But Mittelstadt bristled at the notion that he personified the motto. "I don't see what I'm doing as a sacrifice for them," he said. "I'm just happy to be here. I can't really imagine being anywhere else."
It was a critical decision and his opponents paid the consequence of it. He played lights-out hockey, filling nets and shredding goalies while scoring at a 2.5 point-per-game pace for 25 games. He outscored his closest teammate by 19 points, led the conference in assists (43) and points (64), and earned the All-USA Player of the Year award for the second consecutive season. He went on a tear in the 2016 title run, electrifying the Xcel Energy Center crowd by tallying 12 points (five goals, seven assists) in three games, however, his bid to lead Eden Prairie to a state AA title fell just short, making it to the semifinals.
Some scouts held the decision to chase a high school championship against Mittelstadt. They felt that he developed bad habits while playing another year against inferior competition and his development had been stunted. He would often force plays and try to skate through his opponents rather than around it. While his speed and creativity may have enabled him to succeed, critics felt it was doubtful he'd be able to pull off the same moves at the professional level. He may have been better off honing his game against top competition.
Others, like Craig Button, the former Calgary Flames General Manager who is now an analyst for the NHL Network and TSN, disagreed. "You only get your high school years once. He wanted to lead them to a state championship," Button said. "They made the semifinals, but it was a good run. I love players who, when they commit to something, they're all in. I don't know how anyone wouldn't want that."
Mittelstadt later tweeted, "A lot was made out about me only coming back to win a state tournament, in my eyes it was all about another 5 months with the kids I love and grew up with. When you all fall in love with the same game together, it makes it that much more special and that much harder. So much goes into winning, and sometimes things just don't go your way. Laying it on the line with my brothers will be the best memories of my entire life. … Thanks everyone who helped us out growing up through the years and who supported us this weekend. Nothing like MN hockey. #Eaglesforlife"
As Minnesota's top high-school senior, Mittelstadt was given the prestigious honor and title of the Mr. Hockey. The award has been won by NHLers Ryan McDonagh (2007), Nick Leddy (2009) and Nick Bjugstad (2010).
Mittelstadt Rises Through the Ranks
Mittelstadt played briefly–24 games–for the Green Bay Gamblers of the USHL. While he piled on 30 points (13 goals and 17 assists), nearly all of them came with the man advantage, raising some flags he couldn't produce at even strength. The reality was the team just wasn't that good. They struggled to put the puck in the net, finishing third to last in 5-on-5 goals, and failed to have a player in the league's top 20 in scoring. It's very possible Mittelstadt's low production was directly related to his sub-par teammates. At times, it appeared he was trying to do everything by himself. Even so, with such a small sample size of games, it's not fair to judge his output.
In the span of less than a year, Mittelstadt quickly ascended from a high school star at Eden Prairie High to a difference maker in his freshman year at the University of Minnesota, where he scored 11 goals and 19 assists in 34 games. He also pitched in 11 points for the United States at the 2018 IIHF World Junior Championship en route to a bronze medal and being named the tournament's most valuable player. He skated around with speed, reading plays like he already saw the game footage.
According to Elite Prospects, Mittelstadt is an electric offensive presence on the ice. He embodies the complete package of speed, skill, and hockey sense while competing hard every shift. He also has the dynamic puck skills to keep up with his creativity, a hallmark of his game. His awareness is all-encompassing and he never puts his teammates in positions where their time and space will be bottlenecked.
Selected by the Sabres with the eighth overall pick, Mittelstadt could eventually become the best player from the 2017 NHL Entry Draft. The class features Nico Hischier (No. 1 overall) of the New Jersey Devils, Nolan Patrick (No. 2 overall) of the Philadelphia Flyers, Miro Heishkanen (No. 3 overall) of the Dallas Stars and Cale Makar (No. 4 overall) of the Colorado Avalanche.
The Sabres Depth at Center
It's widely believed that winning hockey clubs build up the middle. With Ryan O'Reilly dealt to the St. Louis Blues, the Sabres are counting on Mittelstadt to step in and contribute. This fall, the skilled and tenaciously hard-working center is slotted as the second line center behind Jack Eichel. They clearly see him as a key piece of the puzzle moving forward.
The Sabres depth chart now features Jack Eichel and Casey Mittelstadt, followed versatile swing forward/wingers Patrik Berglund, Zemgus Girgensons and Johan Larsson. On the horizon are prospect Sean Malone, Rasmus Asplund and Andrew Oglevie.
Working His Way Up
Although the 6-foot-1, 201 pound forward was unable to represent the United States at the 2018 IIHF world championships in May due to a groin injury, he dazzled onlookers at the Sabres' recent development camp with some nifty moves and impressive goals. He has the creativity to open up lanes in the attacking end and the vision to lead teammates into scoring areas with insightful passes. "I think the Casey [we saw at development camp] is more mature, more refined in terms of trying to become an everyday great National Hockey League player," said Greeley.
He's filled out his frame a little more. "I've definitely been working on training, that's the most important," said Mittelstadt in his second development camp in HarborCenter. "Get in the weight room, stuff like that. Get to July, I'll start ramping up the skating a lot more. Definitely working on my shot."
This summer, Mittelstadt is playing in Da Beauty League — a Minnesota-based summer league many NHLers participate in annually. They play on Wednesdays and it's livestreamed.
The #DBL Top 🔟 Week 2
🔟 @gollygoose33
9️⃣ @BBoeser16 @canucks
8️⃣ @ECondra
7️⃣ Casey Pass
6️⃣ @tyguy102
5️⃣ Justin Braun @SanJoseSharks
4️⃣ Teddy Blueger @penguins
3️⃣ @Bnelson 🎩
2️⃣ @CMittelstadt ⚔️ @buffalosabres
1️⃣ @MikeyEyssimont 👑@buccigross pic.twitter.com/7nQqyBQ272

— Da Beauty League (@DaBeautyLeague) July 20, 2018
Not only can he make plays at high speed, his shot is dangerous and accurate. His quick release can beat goalies clean, even when they are square and seemingly in good position. His puck handling skills and vision of the game are just as impressive.
Related – Sabres Fans Bickering: A Great Thing
Sabres in the 'Mittel' of a Turnaround
Mittelstadt has an electric offensive presence. He has great acceleration and the dynamic puck skills, strength and tenacity to take the puck to areas of the ice where goals are scored. While all of these characteristics are present, it may take some time for him to put it all together. He's played his game with relative ease thus far but the NHL is an entirely new level of competition.
Given his decision to pursue a high school state championship, Mittelstadt doesn't have as much experience playing at high levels compared to many of his draft peers. However, the way he plays the game, with tremendous awareness and speed on the ice may compensate.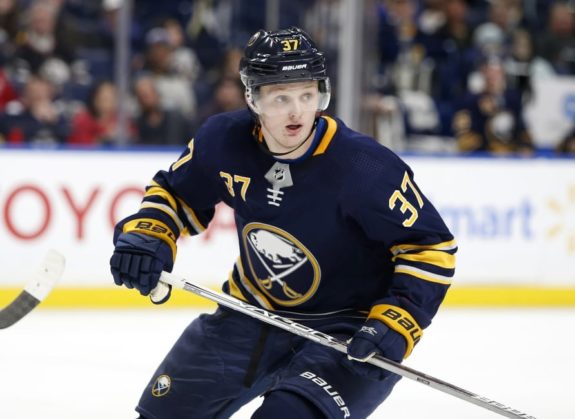 While hype and expectations run high for Mittelstadt, he's only one player. The new 2018-19 Sabres roster has been significantly overhauled. Gone are goaltenders Robin Lehner and Chad Johnson, forwards Ryan O'Reilly, Benoit Pouliot, and defensemen Josh Gorges and Victor Antipin. Welcomed to the Blue and Gold family are Rasmus Dahlin, Conor Sheary, Vladimir Sobotka, Patrik Berglund, Matt Hunwick, Carter Hutton and Tage Thompson among others.
Mittelstadt's end of last season debut likely gave Head Coach Phil Housley flashbacks. Both players are from Minnesota and both broke into the league at a young age with high expectations. Housley, a defenseman, put up 19 goals and 47 assists for 66 points in 1982-83, his rookie year.
Come September and training camp, the plan calls for Mittelstadt to be ready to step right into a revamped roster. He's excited for the new season and has high expectations for himself but was cautious about setting benchmarks. "I don't put numbers on paper and want to get these numbers," Mittelstadt said. "I want to come and prove I can play and make plays at the highest level."
Jeff has been covering the NHL for over a decade for various sites. He's been with The Hockey Writers as a lead Sabres writer three years, while also writing a satire column called "Off the Crossbar."