Ask an arbitrator and they'll tell you that when both sides of a deal think they made out like bandits, it's usually a fair and even outcome.
Armchair general managers on both sides are having a field day with the trade that was consummated Sunday night between the Buffalo Sabres and St. Louis Blues. The Sabres acquired forwards Patrik Berglund, Vladimir Sobotka and Tage Thompson, as well as a first-round pick in 2019 and a second-round pick in 2021 in exchange for center Ryan O'Reilly.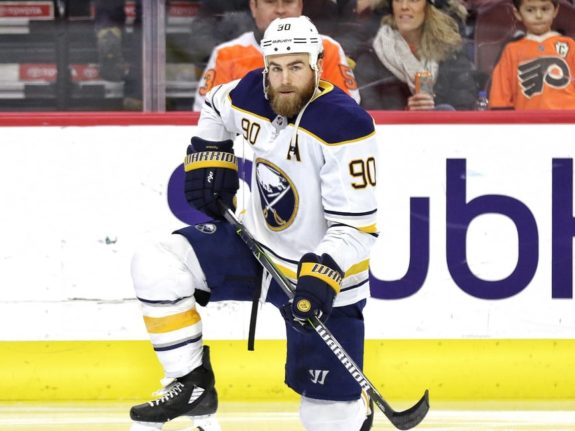 It's much too early to know which team will benefit more from this trade. Many Sabres fans want to win now and are skeptical of Jason Botterill's path forward — one that could have the team suffer another year or two. He brought in two versatile, yet older, mediocre players who likely won't be difference-makers. The picks, even if made out to be difference-makers, won't make that difference for a couple of years. It's one step backward today for two steps forward tomorrow.
Previous Sabres GM Tim Murray went hard for players like O'Reilly and Kane, spending capital excessively. Botterill could have followed this strategy and gone after a top player who can make a difference this year. He didn't.
The Trade Pieces
Ryan O'Reilly
Contract: Five years remaining at $7.5 million per year
Stats Last Season: 24 goals, 37 assists in 81 games
Last Five Year Average: 0.76 points per game (62 points per 82 games)
O'Reilly, 27, is still in his prime. He was originally drafted by the Colorado Avalanche (No. 33 overall) in the 2009 NHL Draft. Last season, the 6-foot-1, 216-pound center appeared in 81 games with the Sabres, tallying 24 goals and 37 assists.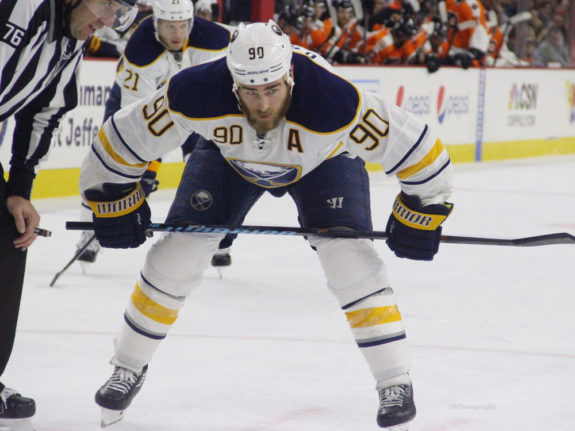 The Clinton, Ontario native is a four-time 20-goal scorer and has recorded 55 or more points in six seasons, including each of the last five. In 2013-14, he logged a career-high 64 points while only serving two penalty minutes, earning the 2014 Lady Byng Trophy. In 2015-16, O'Reilly was selected to the NHL All-Star Game before finishing the year with a career-best 39 assists and 60 points. In his nine-year career, he has 155 goals and 267 assists for 422 points in 651 regular season games. He has seven points in 13 playoff games.
O'Reilly is a three-time gold medalist with Team Canada, capturing gold in 2015 and 2016 at the IIHF World Championships and won gold at the 2017 World Cup of Hockey. He's been selected to represent his country many times.
The Blues will pay O'Reilly's $7.5 million bonus that was due at midnight, dictating the timing of the trade. Otherwise the terms and structure of the deal might have looked quite different.
Related: Sabres' O'Reilly Deserves Respect, Not Accusations
Patrik Berglund
Contract: Four years remaining at $3.85 million per year
Stats Last Season: 17 goals, 9 assists in 57 games
Last Five Year Average: 0.4 points per game (33 points per 82 games)
In 10 seasons with the Blues, the 30-year-old, 6-foot-4, 219-pound forward has collected 168 points and 154 assists for 322 points in 694 regular season games. The Swedish center/left winger has 242 penalty minutes. He was originally drafted by the Blues with the No. 25 overall pick in the 2006 NHL Draft.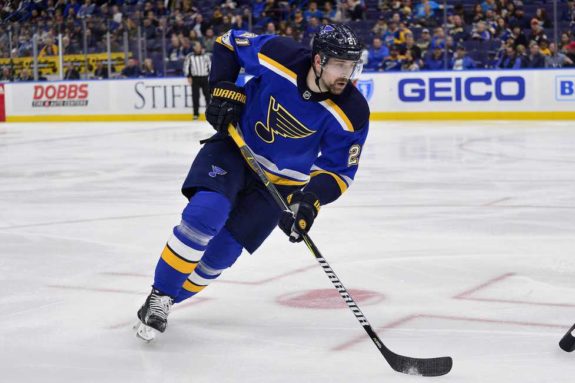 Vladimir Sobotka
Contract: Two years remaining at $3.5 million per year
Stats Last Season: 11 goals, 20 assists in 81 games
Last Five Year Average: 0.39 points per game (32 points per 82 games)
Sobotka, 30, is a nine-year NHL-veteran forward. He spent three years in the KHL before returning to the NHL last year, where he played in 81 games and recorded a career-high 11 goals. All told, he has 47 goals and 108 assists in 463 regular season games. The Czech native is 5-foot-10, 184-pounds. He was originally a fourth-round draft pick of the Bruins in 2005.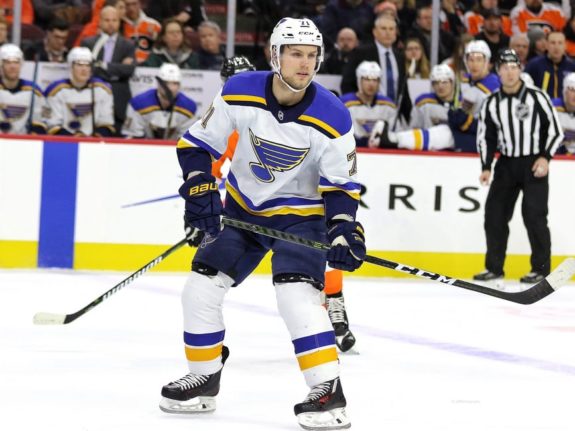 Added together, Berglund and Sobotka's average production over the last five years, roughly equals that of O'Reilly.
Tage Thompson
Contract: Two years remaining at $925,000 per year
Stats Last Season: Three goals, six assists in 41 games
Thompson is a 20-year-old center with size and strength, standing 6-foot-5 and weighing 205 pounds. He was originally drafted by the Blues with the No. 26 overall pick in the 2016 NHL Draft. Last season was his first in the NHL in which he recorded nine points (three goals, six assists) in 41 regular season games.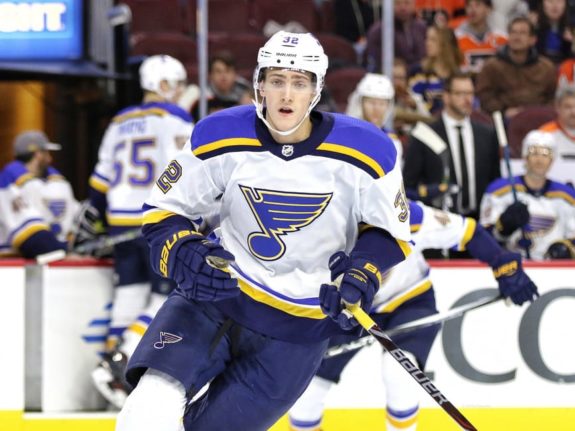 The Phoenix, Arizona native also posted 18 points (8 goals, 10 assists) in 30 regular season games with the American Hockey League's (AHL) San Antonio Rampage. Before that, he played two seasons at UConn and led the NCAA in power play goals (13) in 2015-16.
Blues Win the Trade
Many Blues fans are psyched to add the league's top faceoff man in O'Reilly and arguably one of the best two-way centers in the NHL. He plays in all situations, including power play and penalty kill situations. The hard-working O'Reilly plays copious minutes and can be counted on for about 60 points.
"Hey Ryan – Doug Armstrong calling." https://t.co/Igr20bJzKL #stlblues pic.twitter.com/Y3M2aK7AOn

— St. Louis Blues (@StLouisBlues) July 2, 2018
More so, Blues fans are absolutely jumping for joy that general manager Doug Armstrong was able to shed both Berglund and Sobotka's contracts. They are viewed as two slow players who are past their prime. Tage Thompson needs time to develop his game and his body. St. Louis didn't have to give up prime prospects in 20-year-old forward Jordan Kyrou or 18-year-old center Robert Thomas.
The Blues didn't lose a single impact player from their roster (initially rumored to be Colton Parayko) and top center prospect Robert Thomas in return for O'Reilly, one of the top 30-40 centers in the league.
Sabres Win the Trade
The Sabres will miss O'Reilly's success at faceoff, but it was high time for a shakeup of the team's core. O'Reilly had his moments in Buffalo, but the reality is, the team has gotten instantly better with him out of the lineup.
O'Reilly had a way of becoming invisible when times were tough. His cap hit was massive and his place on the team's second line was in question. Whether or not his frank comments were too much for some to handle, this 'hockey trade' addresses multiple team needs. He obviously was in a troubled mindset that did not positively affect the team.
GM Jason Botterill on trade with Blues: "We felt we had to change the dynamic.. We liked the balance of this move." pic.twitter.com/dJUb89yZgc

— Buffalo Sabres (@BuffaloSabres) July 2, 2018
With Evander Kane, Robin Lehner and now, Ryan O'Reilly gone, the chances of ridding the locker room of its issues has likely been addressed. No one except the players really know who the problem was.
Pierre LeBrun called the trade, "1st 2019. 2nd 2021. Tage Thompson. Sobotka. Berglund. That is a major return for the Sabres. I get why the Blues did it, they add ROR and Bozak today and they're a better team. But given the midnight pressure to deal ROR, impressive by Jason Botterill."
The new acquisitions will likely fill out the Sabres absentee bottom six. They give the Sabres much-needed veteran depth and a blue-chip prospect who will bring positional competition.
The Blues' first round pick in 2019 is lottery protected and will likely be late in the round considering they are loading up for a deep playoff run. But a first is a first and is sought-after draft capital that has inherent value. The Sabres now have three first-round picks next year (their own, the San Jose Sharks' and the Blues'), plus they add a 2021 second rounder.
Thompson is a big-bodied right winger with a heavy shot and could be a great complement for Casey Mittelstadt or Jack Eichel. "He needs to add a little more beef to his 6-foot-5 frame. Scored 33 goals in 70 NCAA games with UConn prior to first full pro season in 2017-18," per Sabres Prospects Kris Baker. He's the real asset with potential. Sobotka is a good third-line guy.
Quantity vs. Quality
Blues gave up a lot–three players and two picks–for one guy. It may be a case of quantity over quality. None of the players currently measure up to O'Reilly's production.
That said, both Berglund and Sobotka bring playoff experience to the locker room. Thompson brings other assets. "He has a great shot, great size, good reach on the ice, has played NHL games, had the opportunity to win a World Juniors gold medal. We think he can step into our lineup & grow with our young centermen. Also has a bit of a shooter's mentality, which we like," said Botterill.
The critical piece to the trade will likely be Thompson. If he can't crack the lineup in the next year or two, the Sabres have little left of the trade.
Related: Botterill Slams Door on Sabres' Season – Now What?
It's a Hockey Trade
As we've all seen by witnessing the Vegas Golden Knights success, a change in scenery in today's NHL can dramatically impact a player's career.
O'Reilly's exit interview with media at locker cleanout day in Buffalo was filled with honest, hard-to-hear words. After three years of constant losing with the Sabres, he admitted it had worn him down. "We're stuck in this mindset of just being OK with losing," he said. "I feel it, too. I think it's really crept into myself. Over the course of the year, I've lost myself a lot, where it's just kind of get through, just being OK with just not making a mistake. That's not winning hockey at all, and it's crept into all of our games."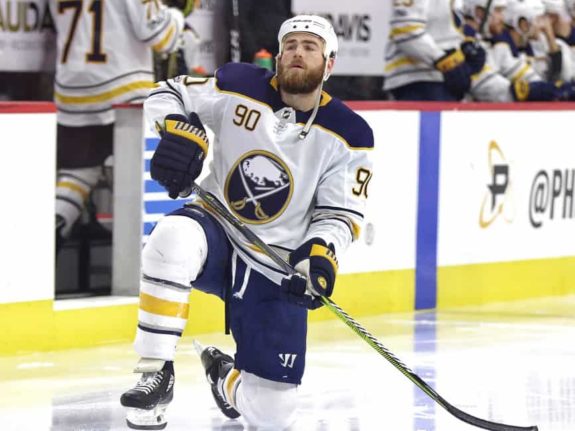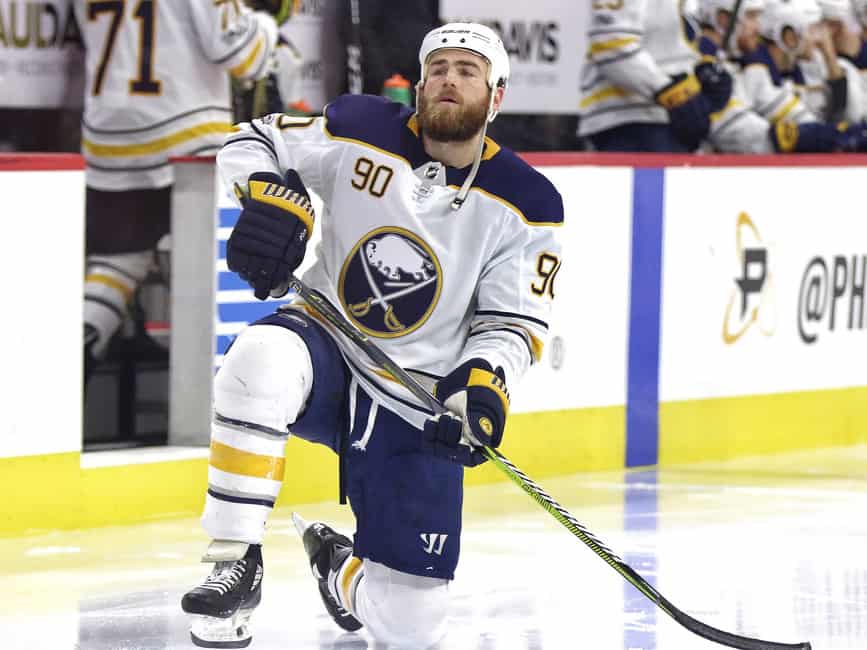 He added, "I feel throughout the year I've lost the love of the game multiple times. You need to get back to it because it's just eating myself up and eats the other guys, too. It's just eating us up, and it's tough."
Botterill viewed O'Reilly's words as being honest about the situation and admitted that other players likely felt the same way. He did not say it was the reason for moving him, rather that O'Reilly, 27, was outside the Sabres' core of 18-23 year old players. "I had some great conversations with Ryan at the end of the season. I knew if Ryan was coming back, he was certainly going to be a big part of changing things here in Buffalo," said Botterill. "We just felt comfortable at this time with what St. Louis was offering."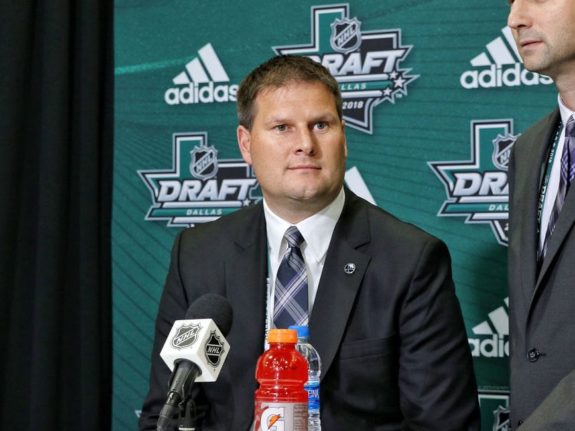 Both teams got what they needed and it could turn out to be a mutual win for both organizations. O'Reilly was the highest paid player on a Sabres team that finished dead last in the league. If Botterill was going to follow through with his 'change the culture' talk, he had to make a bold move. The Blues got a high-end center that they were seeking.
In the short term, the Blues made out with the better deal: they are a better team after the trade. In the not-too-distant future, when Botterill's core is ready to do some damage, Buffalo made out with the better deal.
Related: Sabres Roster Won't Be Easy to Overhaul
Jeff has been covering the NHL for over a decade for various sites. He's been with The Hockey Writers as a lead Sabres writer three years, while also writing a satire column called "Off the Crossbar."