As many in the United States paused to celebrate their country's independence yesterday, I, for one, am also grateful to be celebrating something else: the avid, vocal, outspoken and opinionated fans of the Buffalo Sabres.
Sabres: Glass Half Full or Half Empty?
Some ongoing debates among Sabres fans include the following:
Whether they're on either of the polar opposite sides of the recent Ryan O'Reilly blockbuster trade; rejoicing in the future draft picks and added depth of the bottom-six or ranting that the team got fleeced.
Whether they're glad to see goaltender Robin Lehner exit, cursing former Sabres general manager Tim Murray for a final time in the process, or already missing the goalie's ferocious demeanor, extreme intensity and laser-like eyes.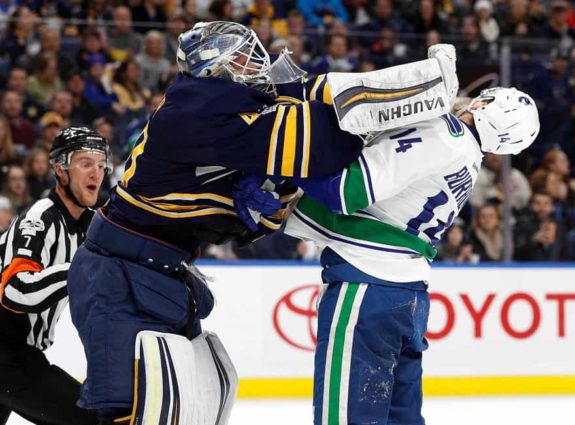 Whether they're confidently trusting second-year general manager Jason Botterill's methodical process and think of him as a savior or are lambasting him for his trades and his SuperCuts-like haircut.
Whether they think the end-of-year statements at locker cleanout day made by O'Reilly, a player who filled a prominent role on a team that lost more games than any team in the NHL, were honest and professional or a valid reason for kicking him to the road.
Whether they think O'Reilly was a walking cliché generator who couldn't single-handedly lift his team out of the league's basement or an example of the vocal leadership this team desperately needs.
https://twitter.com/BogosianZach/status/1014301205210812416
Whether they're excited about the possibilities of having three first-round picks next year or are the insufferable fans who are depressed and complaining that they're 'low' picks.
Whether they're demanding they want talented, productive players and are sick of taking on prospects and picks in trades, or they prefer to build a team that way.
Whether they think Patrik Berglund is an overpaid, aging, slowpoke or a veteran presence that can bring experience and scoring depth.
Whether they insist on going long term for Sam Reinhart's next contract or prefer a shorter bridge deal. Or whether he should be playing center or wing.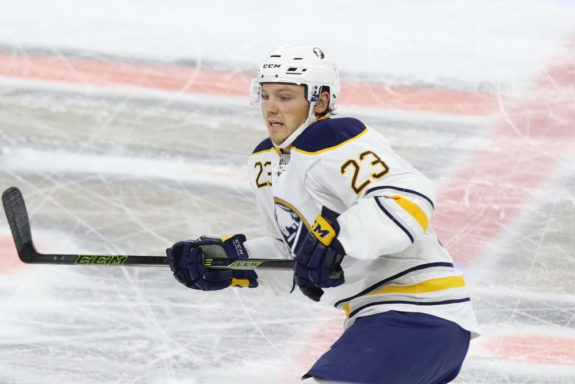 Whether they're giving coach Phil Housley a short leash this year, already with their hands on the hot button to catapult him out of town, or giving the Hall-of-Fame defenseman and relatively green bench boss the benefit of the doubt, unable to turn a mediocre roster from finishing in the basement.
All of the above regardless of whether they're spouting off about the need to win now or see the light of a bright future in a few years.
These days, there's even feuding between members of the Buffalo sports media.
A Bickering Bunch
One gets the feeling Botterill could have traded O'Reilly to the Washington Capitals for Ovechkin and 10 first-round picks and there'd be a faction in Western New York still complaining. The blue and gold faithful go ape crazy over everything, regardless of the logic or precedent.
I got bored last night and decided to make a meme regarding the debate over the ROR trade. Enjoy. #Sabres #Blues #NHL pic.twitter.com/j4wmX3n2LL

— Anthony – DBtB, xB (@DBtBAnth) July 3, 2018
But given all the current rancorous and often combative words, there's an undercurrent that hasn't been in place for months. Fans of the blue and gold had grown almost apathetic to the team. Season-ticket holders were eating the cost of their tickets and skipping the trip downtown. They couldn't give their seats away.
Now, in the middle of summer, with the thermometers hitting 90s, the Sabres are engaging people in discussion again. There's hope of brighter days ahead.
Related: 6 Stories from Sabres Development Camp
Talking Sabres: It's All Good
The Sabres are back in water cooler and Twitterverse conversations. With several players to get excited about and plenty of new faces, fans are engaged, playing arm-chair GM, tinkering with starting lineups and becoming attached to prospects in the pipeline.
With so many new faces battling for positions on the roster this year, it's too early to know how much improvement to expect from the 2018-19 Sabres. Though they could improve 30 points in the standings, the Sabres could very well miss the playoffs.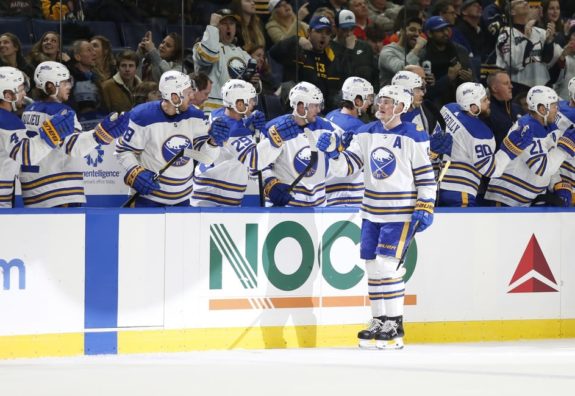 But it's nice, almost comforting, to hear and read so many differing opinions. After seven missed postseasons and several basement finishes, fans, players and front office personnel should all be tired of losing. The frustration of losing and underperforming rosters have lasted so long that it translated into fan apathy altogether. Now, there's a return of enthusiasm manifested in so many different, yet loud views. And, in an odd way, the dissenting opinions are creating positive vibes.
A winning season in 2018-19, with a sniff of the playoffs, could unite the city and the fanbase. It would wash away a lot of the failures of the past. But for now, in the middle of the offseason, it's exciting to have something to talk about. Even if everyone else's opinion is completely and utterly full of crap.
Jeff has been covering the NHL for over a decade for various sites. He's been with The Hockey Writers as a lead Sabres writer three years, while also writing a satire column called "Off the Crossbar."