Entering the 2018 NHL Entry Draft, the Buffalo Sabres' biggest needs were scoring wingers and goaltending. They left with five defensemen and one center. It's not cause for alarm, but many are second-guessing general manager Jason Botterill's master plan. Don't. At least not yet.
There's no need to get antsy. Let's not forget, the Sabres scored the pick of the litter: Rasmus Dahlin. That alone makes this a great draft.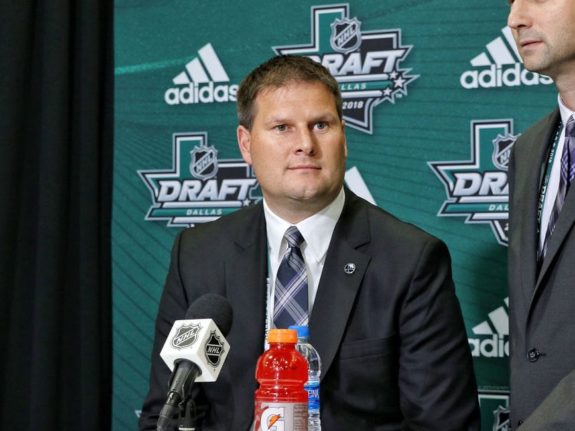 Botterill said there were times during the draft on Saturday when the Sabres had their eye on a forward, only to have him taken before them: "You can never have too many defensemen," said Botterill. "It's a scenario where we did talk a lot about trying to add some more defensemen, but we looked at different things throughout the last couple of days and there were some good forwards where we were looking to add to our group, it didn't materialize."
Even with Dahlin, Brendan Guhle and others, Botterill stressed the importance of adding defensemen. "We're very excited about developing a young player like Brendan Guhle and as much as we're excited about Brendan Guhle, we want to make sure there's more Brendan Guhle's coming," said Botterill.
Here is a recap of the Sabres' 2018 Draft Class.
Rasmus Dahlin, D
Round 1, Pick 1, Overall 1
Amateur Team: Frolunda (Sweden)
6-foot-2, 185 lbs.
Dahlin is already a legend. He's the most highly touted defenseman since Denis Potvin was drafted in 1973. He's only the eleventh defensemen to be drafted No. 1 overall since the Sabres entered the NHL in 1970.
Related: Sabres Welcome Dahlin With No. 1 Pick
Mattias Samuelsson, D
Round 2, Pick 1, Overall 32
Amateur Team: USA U-18 (NTDP)
6-foot-4, 218 lbs.
Botterill's eyes must've jumped out of their sockets when Mattias Samuelsson was still on the board after the first round. "We certainly liked the player, we're very excited about having him at that position," said Botterill. "We've watched him very closely being at the national program, all of the big tournaments, he's going to be a part of, so we think he's a player that's going to fit into Phil's system."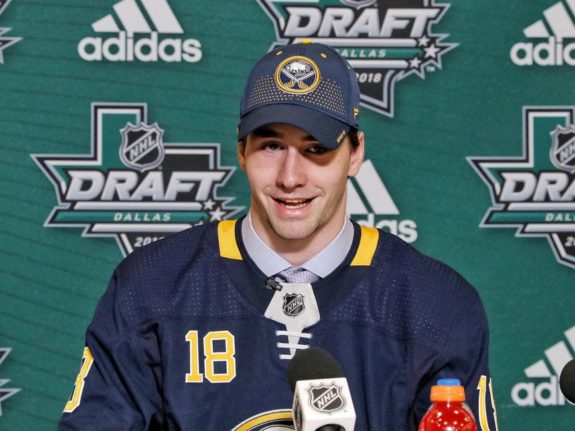 Samuelsson was labeled "a solid, can't-fail pick" by The Hockey News. He's the son of former NHL defenseman Kjell Samuelsson, a veteran of several NHL teams including the Philadelphia Flyers, Pittsburgh Penguins, New York Rangers and Tampa Bay Lightning.
The left-handed defenseman with tremendous size skated for Team Chelios in the 2017 All-American Prospects Game at KeyBank Center in Buffalo. He was recently named the U.S. captain at the Under-18 World Championship, where he scored a goal and an assist in seven games en route to winning a silver medal.
"They're getting a guy who will complement Dahlin pretty well, said U.S. teammate Bode Wilde about Samuelsson. "I could just imagine those two playing together. Mattias will definitely lock it up defensively and shut down and allow a guy like Dahlin to have a bit of freedom."
Seth Appert, the head coach of USA Hockey's National Team Development Program, likes what he sees in Samuelsson. "He's going to be a top-three defenseman on some NHL team for the next 15-plus years," said Appert. "He's going to eat minutes, he's going to help you win and he's going to be miserable to play against."
Samuelsson is committed to play college hockey at Western Michigan, where his older brother, Lukas plays. His head coach is Andy Murray, who was an assistant with the Flyers when his father played in Philadelphia.
Matej Pekar, C
Round 4, Pick 1, Overall 94
Amateur Team: Muskegon (USHL)
6-foot-0, 170 lbs.
Pekar is great value for pick No. 94. What's noteworthy about his stats: his production was almost entirely at even strength (42 of 54 points) as a rookie in the USHL. He's a Czech native who can play both center and on the wing. He plays a high-energy game and is a tenacious forechecker.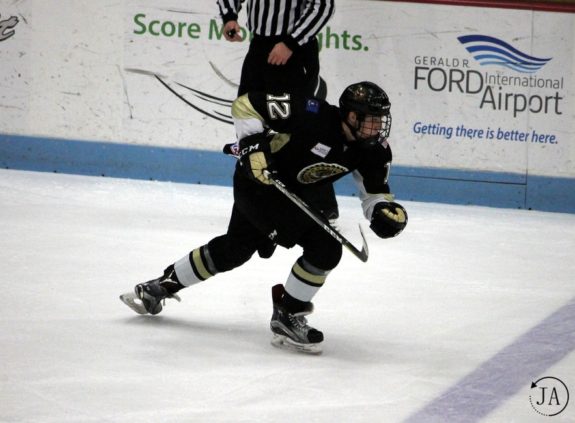 Pekar will play at the Miami University at Ohio next season. There, he'll need to add some muscle to go along with his playmaking skills. The Sporting News ranked him 99th on their draft board.
Watch Pekar's interview here.
Linus Lindstrand-Cronholm, D
Round 4, Pick 24, Overall 117
Amateur Team: Malmo Jr. (Sweden-Jr.)
6-foot-1, 172 lbs.
For starters, good luck to the dressing room guy who has to put his name on a jersey. He's a stay-at-home defenseman with good hockey sense, playing a solid and simple game in his own end. Cronholm spent the majority of last season playing for Malmo's U20 team in Sweden where he finished with six assists. He plays a physical game, blocks shots and makes it his priority to clear the front of the net.
The left-handed defenseman won't turn 18 years old until July 3, making him one of the youngest players at the draft.
Miska Kukkonen, D
Round 5, Pick 1, Overall 125
Amateur Team: Ilves Jr. (Finland-Jr.)
6-foot-0, 198 lbs.
The right-handed defenseman is a smooth, fast skater who plays with poise. He passes the puck well and doesn't give it away by forcing it when there's traffic. He's not a dangler or highlight reel player but plays a steady game.
Kukkonen recorded 12 points in 36 games over two seasons with Ilves of Finland's junior league.
Buh Bye, C-ya
Buffalo traded its sixth-round pick to the Toronto Maple Leafs for their sixth-round pick in 2019. "It was just a situation where we certainly still had some players on the board, but we felt comfortable we could get them in the 7th round and that's what materialized there and we felt we should bring in another asset for next year," said Botterill.
It's a bit of a head-scratching move by Botterill, especially to a rival team like the Maple Leafs.
William Worge Kreu, D
Round 7, Pick 1, Overall 187
Amateur Team: Linkoping Jr. (Sweden-Jr.)
6-foot-6, 172 lbs.
The lanky, left-shot defenseman spent the majority of last season playing for Linkoping's U20 team in Sweden where he registered three goals and 11 assists for 14 points to go with a plus-6 rating in 38 games.
Related: Botterill's Draft Blueprint Beyond Dahlin
Botterill's Patient Plan
At most drafts, a team is really fortunate to land two players that may have an impact in two or three years. With Dahlin, they already have one. With Samuelsson, they likely have another. Both should help offer some stability to the Sabres' blue line for many years.
Come 2020-21, it could shape up to be Dahlin, Ristolainen, Guhle, Samuelsson, Borgen and McCabe. Plus, Lawrence Pilut, Brandon Hickey, Casey Fitzgerald and Jacob Bryson could challenge for spots. This assumes Scandella is not re-signed.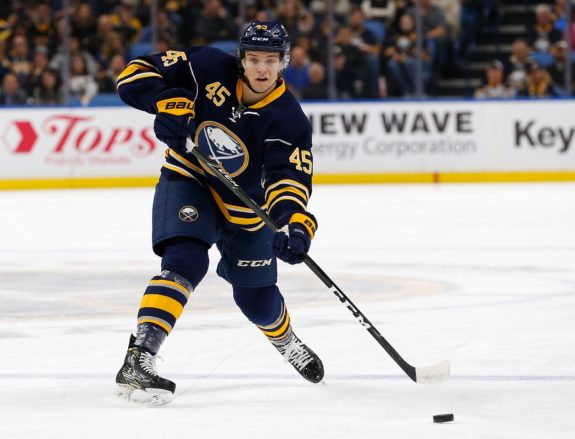 Botterill isn't done; he's just getting started. He'll continue to work trade opportunities and the free agent market to further address the team's needs. Fortifying the defense was a necessary step. History shows it's also harder to trade for proven defensemen than it is for proven forwards.
Only a few trades of significance transpired at the draft. Despite getting several offers, Botterill held tight to Ryan O'Reilly and offers on a few other players. "Our main focus was the draft," he admitted.
The Sabres don't have to trade O'Reilly and the idea of the team's top three centers being Jack Eichel, Casey Mittelstadt and O'Reilly is pretty encouraging. That said, there's still plenty of time before opening night.
Related: Sabres' O'Reilly Deserves Respect, Not Accusations
Jeff has been covering the NHL for over a decade for various sites. He's been with The Hockey Writers as a lead Sabres writer three years, while also writing a satire column called "Off the Crossbar."