In reality, the Buffalo Sabres didn't choose Rasmus Dahlin as much as the NHL assigned them the phenom. It happened nearly two months ago when NHL deputy commissioner Bill Daly flipped the card at the draft lottery, revealing the Sabres logo.
It was as if the lottery ping pong balls heard the cries from disillusioned, disenfranchised Sabres fans. "It's been tough to be a Buffalo Sabres fan," said Sabres general manager Jason Botterill, not afraid to tell it like it is. "Today is an exciting day for our organization."
A night to remember.@rasmusdahlin00 is a Sabre! ⚔️ #NHLDraft pic.twitter.com/Dj0RLC3P7n

— Buffalo Sabres (@BuffaloSabres) June 23, 2018
Since then, it's been the worst-kept secret in the hockey world. The most hyped defenseman prospect in decades, one compared to Erik Karlsson and Nicklas Lidstrom and Denis Potvin (chosen first overall in 1974), was going to be playing his career in Western New York.
It finally became official at the 2018 NHL Entry Draft Friday night at the American Airlines Center in Dallas.
Related: Rasmus Dahlin: 6 Things We Learned
Welcome to Buffalo, Rasmus
After warm words for the city of Dallas and the Washington Capitals by Sabres owner and president Kim Pegula, GM Jason Botterill stepped up to the microphone. "On behalf of our great fans in Western New York, the Buffalo Sabres are proud to select Frolunda defenseman Rasmus Dahlin."
After being picked first overall by the @BuffaloSabres, Rasmus Dahlin spoke with @Jackie_Redmond about his #NHLDraft experience. pic.twitter.com/wfXj4ODRnv

— NHL Network (@NHLNetwork) June 23, 2018
Dahlin stood up and hugged his parents, sister and brother before heading to the stage. There, he was greeted by Botterill, head coach Phil Housley, Terry and Kim Pegula, director of scouting Ryan Jankowski and a few others. He wasted no time donning his jersey and hat, wearing a huge smile on his face. The Swede smiled between a beaming Botterill, a giddy Housley and a proud Terry Pegula.
"It's amazing. Finally putting on a Buffalo Sabres jersey," said Dahlin. "I've been there twice and I love that city. I can't wait to get everything started. It's been a long wait. You can't really plan anything, but finally, today, I can plan my future. I love to call my new town: Buffalo."
Soon thereafter, amid countless interviews and photo ops, Dahlin received a welcome call from Jack Eichel. Even Buffalo Bills 2018 first-round draft pick, quarterback Josh Allen, tweeted at Dahlin to invite him out for wings. And Bills coach Sean McDermott offered his congratulations as well.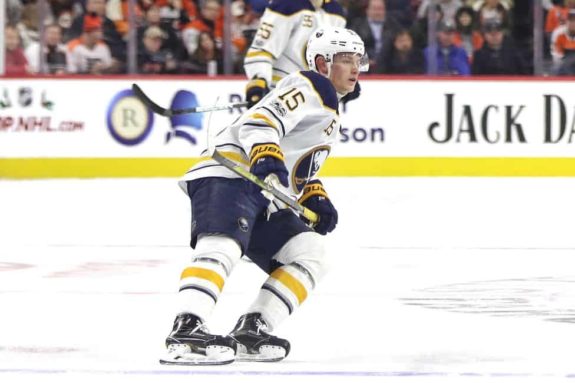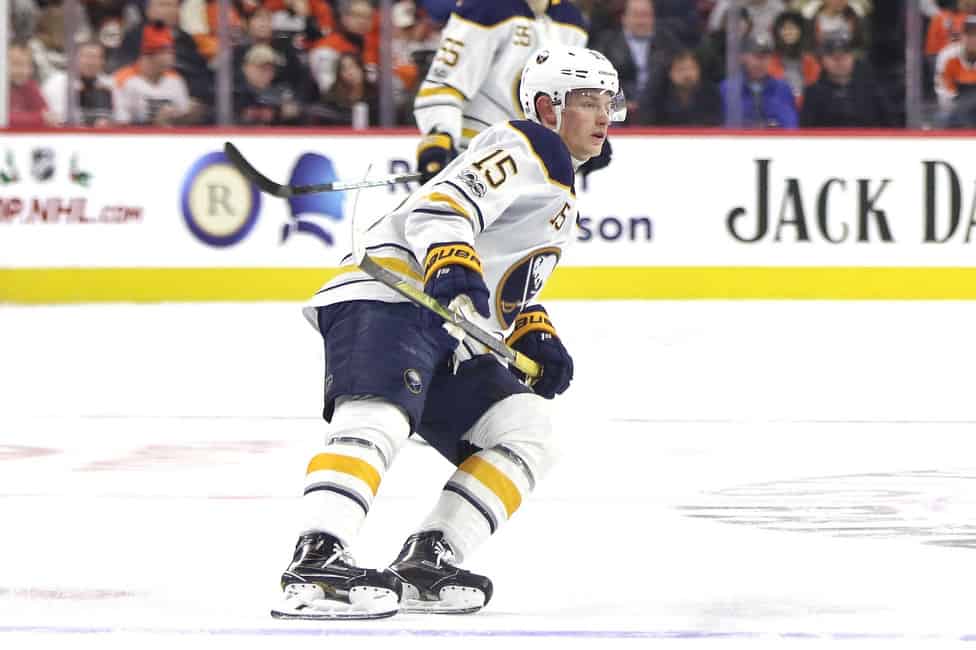 It doesn't stop there. Botterill says several veterans have already reached out to say Dahlin can live with them next season.
Real Hope for Sabres
With three last-place finishes in the last five years, Sabres fans are in dire need of a jolt of adrenaline. Times have been tough–front office turnover, roster changes and losing have been the norm. Getting the first overall pick and a generational talent like Dahlin is just what the doctor ordered.
No one expects Dahlin to carry the Sabres to the promised land overnight. But the mere presence of the 18-year-old from Sweden helps elevate everyone around him.
Dahlin's a fast, smooth skater. He's got tremendous vision. And he's able to carry the play. These qualities translate to quicker outlet passes, less play with the puck in the defensive zone, and more offensive zone time. "When you move the puck up quicker to the forwards, the team looks faster all together," said Botterill.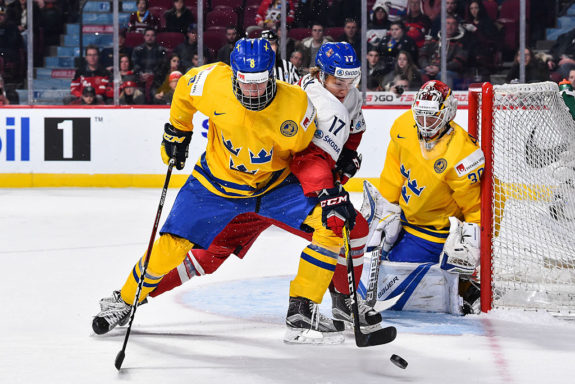 The 6-foot-2 defenseman from Frolunda of the Swedish Hockey League will make an immediate impact. Dahlin's presence will likely vault him into the team's first pair on the blue line. It will help balance out Rasmus Ristolainen's minutes. His game is tailor-made for Housley's up-tempo, attack-based system.
"The only thing I can do is bring all I can to that team to win hockey games," said Dahlin. "I'm super excited to do that. I've seen a bunch of guys play on that team. I've seen guys, so it's amazing to be a part of the organization."
Sabres' Core is Forming
With Eichel, Casey Mittelstadt and now Dahlin, a core of exciting, talented players have formed a foundation. At least on paper. Add to it young talent like Brendan Guhle and others in the pipeline. The Sabres are bound to be better. They're reaching a critical mass where success soon to come.
Despite the media and hype frenzy, Dahlin has remain grounded. It's impressive for such a young kid, especially one from Europe who is still mastering his English. He routinely brushes off the attention and scoffs at the thought of pressure. "I love to play hockey," said Dahlin. "Why put pressure on you when you can play the game because you love it?"
Related: Sabres Botterill is the New Swedish Chef
Sabres Success is on the Horizon
It was easy to see and hear Dahlin's happiness about being drafted. He's excited to be coming to the Sabres and the city of Buffalo. Like all of the players who heard their name called Friday night in round one, it's one step closer for him to realize his dream of playing in the NHL.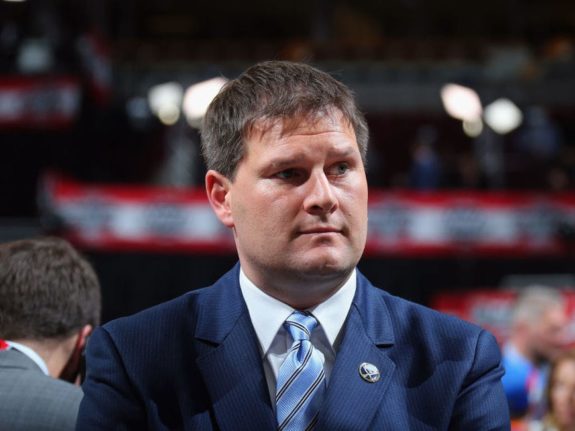 Botterill knows the impact Dahlin can have on his team. It hit really hit him at the NHL Scouting Combine a few weeks ago in Buffalo. "[He's] A very humble man off the ice. I was very impressed with his self-assessment and what he felt he has to improve on," said Botterill. "Just the focus he has and the determination from that. I came away from the meetings very positive about him and that he will have a very impressive future in the National Hockey League."
"Rasmus has an enthusiasm and a passion for the game," said Botterill. "I believe he can come in and contribute to our team. I know our fans are going to enjoy watching him in the coming years."
Housley knows he has another special player on his roster. He said he wants to put Dahlin in a position to succeed. The reality is, Dahlin's already put the Sabres in a position to succeed.
Jeff has been covering the NHL for over a decade for various sites. He's been with The Hockey Writers as a lead Sabres writer three years, while also writing a satire column called "Off the Crossbar."