Bitter rivals, the Toronto Maple Leafs and Montreal Canadiens have always had it out for each other. Seeing each other on a regular basis, it's hard to think that either team would like to help their divisional counterpart get a leg up.
While their most recent transaction took place in 2018, their five most recent date back to Aug. 1992. With that in mind, here's a look at those five deals.
Maple Leafs Acquire Depth Down the Middle
To find the most recent deal between these two clubs, you only have to look back to Feb. 25, 2018. The Maple Leafs acquired a depth center for their playoff push in Tomas Plekanec along with Kyle Baun, while the Canadiens added Kerby Rychel, Rinat Valiev and a 2018 second-round pick.
Plekanec – a career Canadien up until the point of the trade – had tallied 605 points in 981 career regular season games for Montreal. With his best offensive seasons behind him, he had just 24 points in 60 games before he was dealt to Toronto.
With the Maple Leafs, he notched two assists in 17 games to go along with six penalty minutes and a minus-two rating. His Corsi-for Percentage (CF%) rang in at just 48.1 in those 17 games, but he stepped up come playoff time. In seven games against the Bruins, he tallied two goals and two assists before the Maple Leafs were knocked out following Game 7.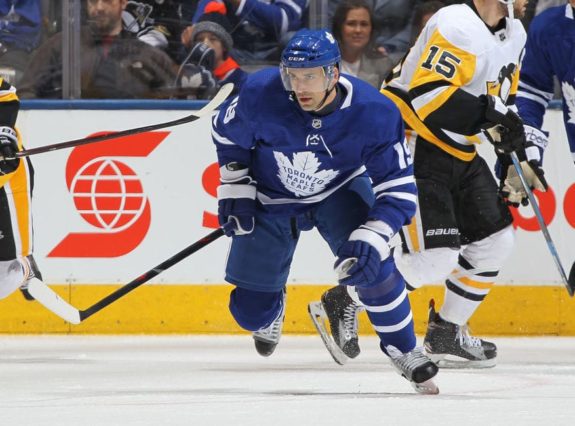 Baun played just 17 games for the Maple Leafs' AHL affiliate Marlies tallying one goal and six assists. He has only seen five games of NHL action dating back to 2014-15 and 2015-16 when he was a member of the Chicago Blackhawks.
As for what Montreal got in the deal, Rychel played four games with the Canadiens – collecting one goal and one assist after not playing a single game in a Leafs jersey. Valiev also dressed for two games with the Canadiens to close out the season picking up just two penalty minutes.
The Canadiens used the second-round pick, which ended up 56th overall, to draft Jacob Olofsson. Olofsson is a center who is coming off a 21-point season where he played 43 games with Timra IK in Sweden.
Maple Leafs Grab a Forward
Prior to the Plekanec trade, the Maple Leafs and Canadiens engaged in a trade nearly a decade before. On July 3, 2008, the Leafs acquired forward Mikhail Grabovski in exchange for defenceman Greg Pateryn and a 2010 second-round pick.
Grabovski spent five seasons with the Leafs collecting 208 points over 340 regular season games. That included two consecutive 50-point seasons in 2010-11 and 2011-12 where he notched 58 and 51, respectively.
As for Pateryn, he played 82 total games for the Canadiens over four seasons. He scored two goals and 13 points, but never played a major role for the team. He most recently played with the Dallas Stars over the past two seasons.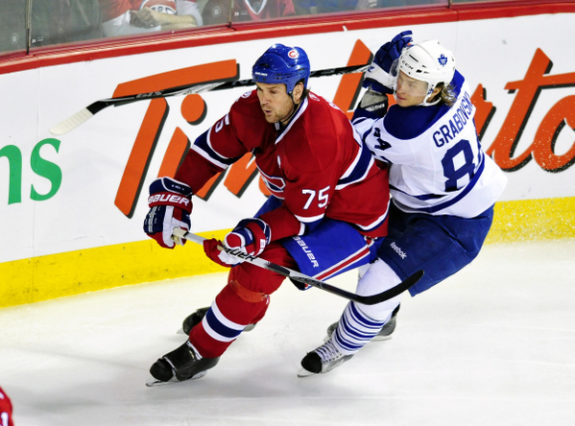 The second-round pick changed hands a number of times. Originally belonging to the Maple Leafs, it would eventually fall back into their hands following a trade with the Blackhawks, but the Leafs moved it again in the Phil Kessel deal with the Bruins. The Bruins used it – the 32nd pick overall – to take Jared Knight who never made the jump to the NHL. Knight most recently played for Esbjerg EfB Ishockey in Denmark.
Catching Up With the Killer
On Mar. 11, 2003, the Maple Leafs brought in a familiar face in a trade with the Canadiens. Toronto re-acquired Doug Gilmour in exchange for a 2003 sixth-round pick.
Gilmour played just under five minutes in his final stint with the Leafs before getting injured and it will go down as his final game in the NHL.
As for the pick, Montreal used it to acquire defenceman Mark Flood with the 188th overall pick in 2003. While he never played a single game for the Canadiens, he did play six games for the New York Islanders in 2009-10 (with one assist) and 33 games with the Winnipeg Jets in 2011-12 – tallying seven points over that span.
Another DiPietro
Before Gilmour, you have to go back to Apr. 6, 1995, to find another trade between the Maple Leafs and Canadiens. The Leafs acquired center Paul DiPietro in exchange for a fourth-round pick in the 1996 NHL Draft.
DiPietro played just 32 games with the Maple Leafs over parts of two seasons. He collected five goals and five assists, while having a minor role with the team.
As for the pick, the Canadiens used it to take Kim Staal with the 92nd pick overall in 1995. Staal played just 64 games in North America in 2006-07 with the AHL's Milwaukee Admirals before heading back overseas where he is currently playing in Denmark.
Scooping Up Sylvain
Finally, the fifth most recent transaction between these two clubs came back on Aug. 20, 1992. The Maple Leafs acquired Sylvain Lefebvre along with future considerations in exchange for a third-round pick in the 1994 NHL Draft.
Lefebvre played 165 regular season games for the Maple Leafs over two seasons and tallied 41 points for the club. He also joined them for two playoff runs in 1992-93 and 1993-94 adding nine points in 39 postseason games.
The Canadiens used the third-round pick to take Martin Belanger with the 74th overall selection in 1994, but Belanger never made the jump to the NHL.
After reading through, did either team really come out on top of these deals? Be sure to share your thoughts in the comments below and tune in next time as we take a look at the most recent trades between the Maple Leafs and the Nashville Predators.