Even without a first-round pick in the 2018 NHL Entry Draft, the Tampa Bay Lightning still had an incredibly busy weekend. While general manager Steve Yzerman chose to stand pat with his seven picks on Saturday, a rare instance where he didn't trade for a roster player or more picks, the team was still active filling organizational needs.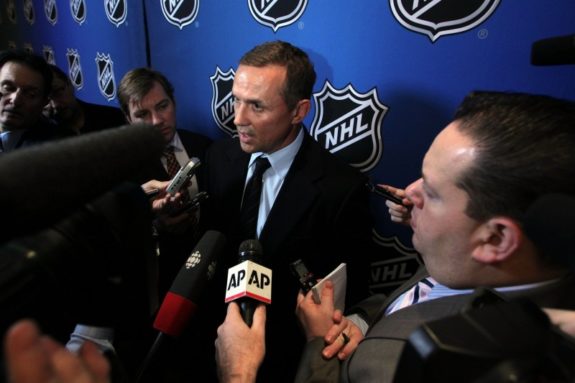 First and foremost, the Lightning took a few more risks during this draft than they traditionally would. With a stocked, young AHL affiliate, Yzerman had room to select a few players that needed more time to develop. This included three players who will be playing in the NCAA next season and other talented but raw prospects.
With this in mind, how do these new players fit into the Lightning's current and future plans?
Lightning Select Few Forward Prospects
The defining feature of this draft is the lack of forwards chosen by the Lightning. Since taking over as GM in 2010, Yzerman has selected at least one center each draft, and no less than three forwards total. This year, they flipped the script by only selecting two forwards (both wingers) who will likely play a utility role with the franchise instead of a scoring role.
Gabriel Fortier, their first pick of the draft, is a classic Yzerman-era pick. He is small and fast with a high hockey IQ and compete level that should translate well to the professional game, all traits that Yzerman and director of scouting Julien Brisbois prize. While he is only expected to be, at best, a bottom-six forward, he is a player that could have a very productive career for the Lightning in a few years.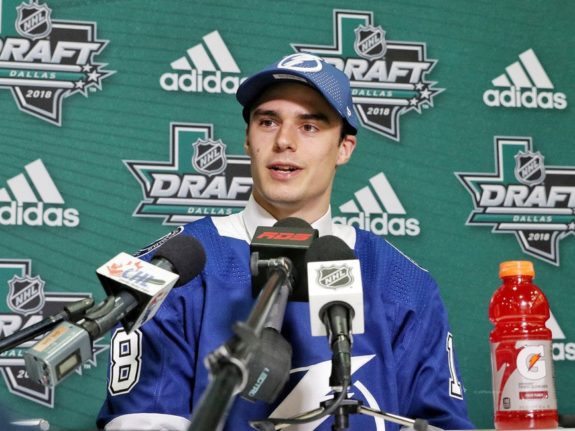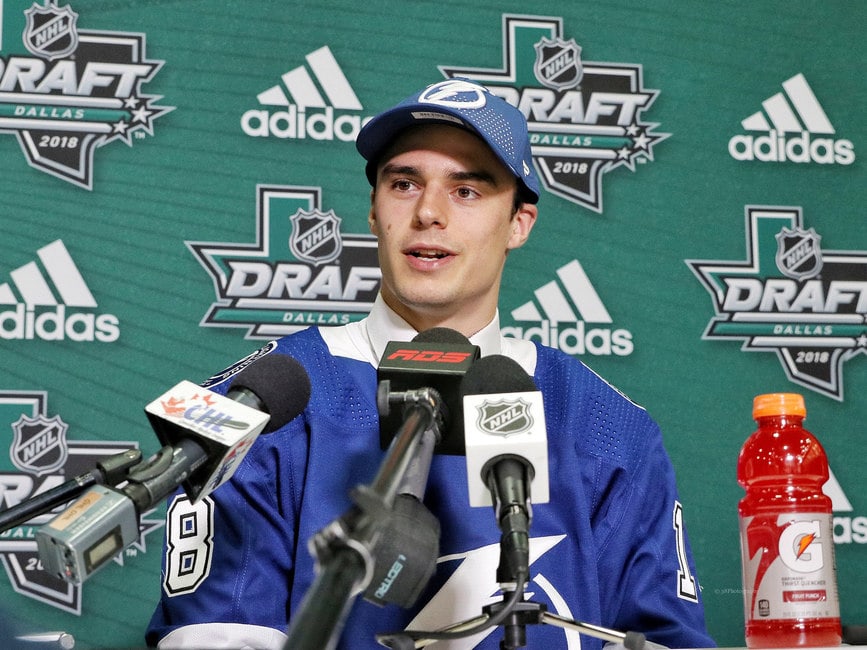 Cole Koepke, the second forward selected, is another Yzerman pick. As a talented over-ager who missed the majority of his previous season due to an injury, Koepke could immediately find a spot with the Syracuse Crunch. As said by loserpoint of Rawcharge:
It seems like the Lightning may have found a player who fell off other teams' radars because of the injury last year.
While both forwards may have been a slight reach at their draft positions, both could have a productive role as a bottom line winger in the future.
Risky Defensive Picks Could Make Draft for Lightning
Alongside the two forwards, the Lightning selected three defensemen with their third, fourth and seventh-round picks. All three were, once again, a bit of a surprise selected when they were, but as an organization that is still lacking in defensive prospects, all three could find a place with the franchise.
Dmitri Semykin, their third-round pick, was arguably the biggest shock of them all. As a largely unranked player, Semykin slipped under the radar of mock drafts. He appears to be the sort of smart, big-bodied right-shot defenseman the Lightning need in their pipeline, though, so the pick could become the steal of the draft if he can develop his game to the NHL.
In contrast, the Lightning's fourth-round pick, Alex Green, feels like a very a conservative selection compared to Semykin. As a 20-year-old right shot defenseman currently playing at Cornell, Green will be able to hone his game at the NCAA level for a few more years or be called upon should the Lightning need him in Syracuse. In short, he gives the team a lot of flexibility for a fourth rounder, assuming his development continues to be positive.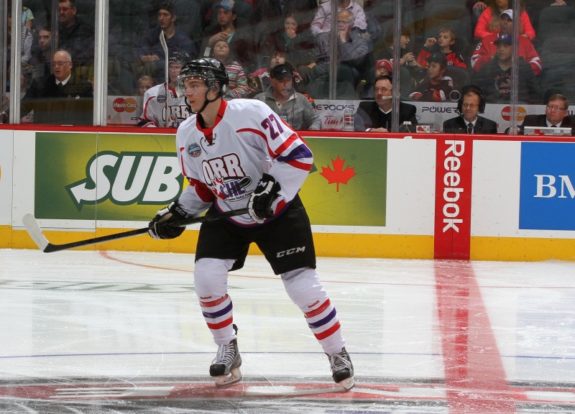 The one player who doesn't fit the Yzerman mold is Radim Salda, the left-shot defender selected in the seventh round. Simply, Salda is said to have the talent and toolkit of an NHL prospect, but not the hockey IQ. Typically, this is the sort of player Yzerman avoids, but with an extra seventh-round selection, this was a risk worth taking. There's little expectations for a seventh-rounder anyway, so even if he never puts it together, it wouldn't be a huge loss for the team given the benefits he could provide.
Goaltending Is a Priority for Lightning
After selecting two goaltenders with their fifth and seventh round picks, Yzerman made one thing clear: goaltending is not just an organizational need but a constant requirement for the franchise. Even with their goaltending situation set at the NHL level, Yzerman has been consistent in spending a pick on a goaltender every year or two, just to keep a fresh face in the pipeline. This year, they took it a step further and chose two goaltenders who are both years away from professional hockey.
Magnus Chrona, their fifth-round pick, is only 17-years-old and currently playing in the Swedish junior league. While he appears talented at that level of play, it is impossible to predict where the career of such a young goaltender will go. This one could become a legacy pick for Yzerman or a complete miss that no one remembers in three years.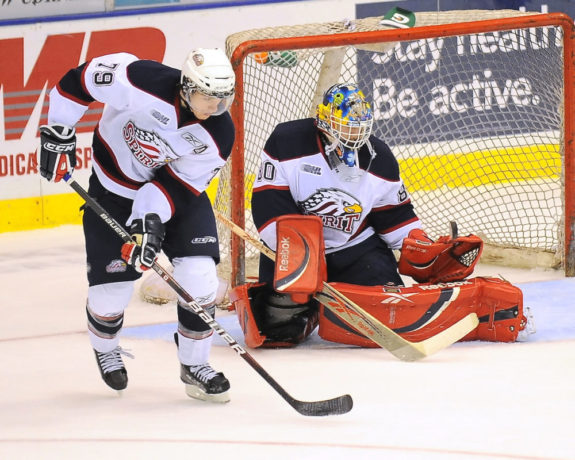 Ty Taylor, their second goaltender selected, is another traditional Yzerman pick. Similar to previous late-round goaltender selection Kristian Oldham, Taylor is committed to play NCAA hockey at the University of New Hampshire next year. As a late seventh-round selection, there is little expectation that Taylor will crack the AHL, but the Lightning are hoping that he will be the value-pick of the draft after honing his game in college.
A Boring but Necessary Draft for Lightning
No, this was not a particularly sexy draft for the Lightning. Without a first-rounder, all of their choices lacked the pomp and circumstance of Cal Foote's selection last year. No one is expected to become the next great thing for the team, but they all could develop into useful utility players for the franchise.
With a cap crunch approaching, having these sorts of players in the franchise will be a necessity, however. In theory, the only roster spots the team will need to fill will be bottom pairing forwards and defenders who can provide energy and utility. This draft class is full of players who fit that category, and they all could find their way to the Crunch in the coming years.