On day two of the NHL draft, the Pittsburgh Penguins selected a handful of intriguing young prospects that fans should be excited about. But let's face it, you were hoping for a big juicy trade and some crisp acquisitions for the Penguins' lineup with that wonderful new player smell.
Chin up, friends. You will likely get your wish very soon.
The NHL offseason starts like a game of golf, each player takes their time and is methodical. Eventually, it will get as wild as Phil Mickelson chasing a moving ball on a putting green.
Kovalchuk to Kings Will Open Floodgates
There was a ton of trade hype going into the draft, largely due to Penguins general manager, Jim Rutherford's penchant for dealing at this time of year. But a backlog of potential moves league-wide seems to have slowed the trade frenzy that we have become accustomed to.
Ilya Kovalchuk signing with the Los Angeles Kings was the first domino to fall, with the rumored trade of Carolina Hurricanes winger, Jeff Skinner next in line. Soon, general managers will get nervous and the trade winds will start blowing.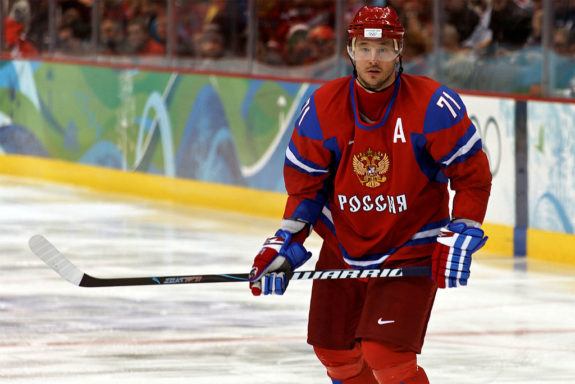 As Trib Live's Jonathan Bombulie noted in a recent article, the abundance of talented wingers available may be clogging things up.
It's hard to say why there's such a glut of goal-scoring wingers on the market this summer, but it's safe to assume the flood will make an impact on Penguins general manager Jim Rutherford as he decides whether to trade the 30-year-old Kessel.
It remains to be seen if the Penguins are in the running for Skinner or Montreal Canadiens winger Max Pacioretty, but once one or both have been moved, Phil Kessel, Carl Hagelin, or Conor Sheary could follow shortly after.
Rutherford Has Been Down This Road Before
Despite that Rutherford wasn't particularly active this weekend, doesn't mean he doesn't have a trick up his sleeve. The 2015 NHL Draft is evidence, as it was just days before he acquired Kessel from the Toronto Maple Leafs. This year was not quite as dramatic as the draft-floor meeting that the Penguins' boss had with his staff as the cleaning crew was packing up around them.
In fact, this time, members of the media who were observing the Penguins' draft table poked a bit of fun at the situation. They commented on the lack of activity, noting when Rutherford walked across the draft floor:
With time running out, Jim Rutherford just got up from his seat to do something impactful. Believe he's walking over to the lunch spread before they're out of ham and turkey.

— Jason Mackey (@JMackeyPG) June 23, 2018
It may not have been obvious, but you can be sure that GMJR had his share of conversations with peers and has laid the groundwork to improve his club.
The salary cap did go up, but in order to be active in free agency on July 1, Rutherford will need to make some moves to free up money. Some assume that the lack of activity lowers the likelihood of moves prior to next season, but I can't envision a scenario where Pittsburgh sits on their laurels while Washington continues to parade the Stanley Cup around the world.
Penguins Didn't Come Home Empty-Handed
Penguins fans should be excited about their draft class, despite not picking until the second day.
The Penguins' first pick in the second round, Calen Addison, has a set of skills that perfectly fit in coach Mike Sullivan's system. He is a gifted offensive defenseman, although undersized. He was projected by many to go in the first round but his small stature had him fall to Pittsburgh in the second round. The 18-year-old has some work to do on his defensive game, but that will come with experience.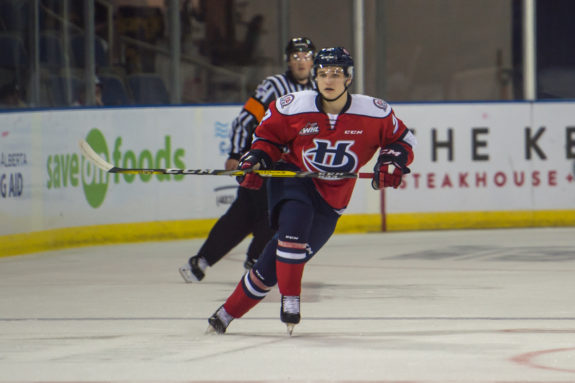 THW's Ryan Pike ranked Addison 26th in his pre-draft rankings.
Addison's not the belle of the 2018 NHL Draft ball as far as defensive prospects go, and that's fine. He's still a promising young player with a ton of potential and a high ceiling if he can continue to add to his offensive repertoire.
Pittsburgh also traded up in the second round to select forward Filip Hallander. His prospect profile sounds remarkably like Patric Hornqvist, however, he is considered to be a project and we may not know if the comparison is correct for a few years. He is a big-bodied winger, able to play in traffic and in front of the net. Prior to this weekend, he was selected number 56 in the THW mock draft. Both Addison and Hallander fill needs within the organization, particularly the young defender.
I'm still willing to bet that a Penguins trade is imminent. Soon, the groundwork laid at the draft will be seen, likely before Pittsburgh's prospect development camp next week. This was a good weekend for the organization, the results will be felt this season, and for years to come.