All eyes in Ottawa are on the Erik Karlsson situation. On July 1, general manager Pierre Dorion announced that the club had offered the franchise player a contract extension, later revealed to be eight years at $10 million per. The next day it was announced that the Senators granted permission to the Swedish defenseman to speak to other teams about a contract extension, with the possibility of trading the defenseman seeming very high.
With everyone at the edge of their seats waiting to hear Karlsson's future, there are a few other key players on the team in need of new contracts that have sat on the back burner to the captain.
Mark Stone and Cody Ceci are currently restricted free agents, and Matt Duchene has just one year remaining on his contract. On June 25, the Senators tendered qualifying offers to the RFAs, but there hasn't been much news from any side since. Dorion has prepared media and fans to expect the silence to continue moving forward.
"We're not going to discuss any other contract negotiations, whether it's Mark Stone, Cody Ceci or Matt Duchene or anyone (else) moving forward," GM Pierre Dorion said to reporters July 1 at Canadian Tire Centre.
It's clear that the focus in Ottawa is on Karlsson, but these three players are key elements of the Senators and should be locked down.
Mark Stone Is a Star in Ottawa
After being drafted in the sixth round in 2010, Mark Stone didn't waste any time making a name for himself in Ottawa. Stone joined the club full-time in the 2014-15 season and has put up at least 60 points in three of his four seasons. Last season Stone was above a point per game, tying Karlsson for the team lead, with 62 points in only 58 games.
Related: Mark Stone's Future with the Senators
What's even more impressive for the 26-year-old is that he managed to finish the season as a plus-9. While that doesn't sound spectacular, he did it on a team that finished minus-70. The closest teammate to Stone was Chris Wideman, who finished a plus-5 but in only 16 games.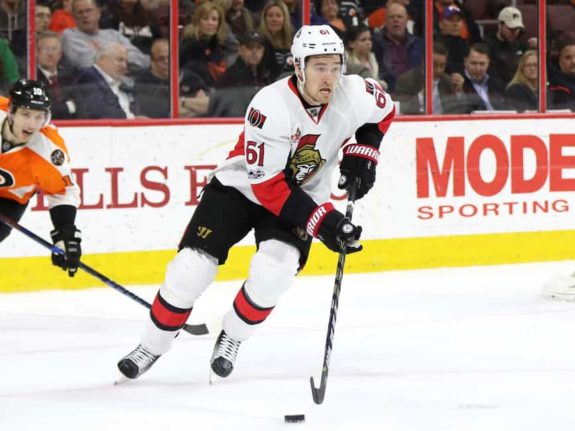 Stone's stellar play in Ottawa, especially this past season, will earn him a sizable pay increase this summer. He's coming off of a three-year, $10.5-million contract that was a steal for the Sens. He'll likely be looking for around double his average annual salary of $3.5 million this summer, which as of now the team has more than enough cap space to accommodate.
As the offseason rolls on, two potential snags stand in the way of Stone and the Sens reaching a deal that makes everyone happy. The first is the salary arbitration deadline of July 15, which Stone is likely to win after the season he just had. The second is the potential for an offer sheet. Offer sheets are very rare in the NHL, the last one coming back in 2013 with Ryan O'Reilly's $10-million deal that the Calgary Flames offered and was quickly matched by the Avalanche.
Even though Dorion says the team isn't rebuilding, Ottawa is on the brink of just that. Karlsson's decision to sign or not sign should greatly impact that label, but either way Mark Stone is a player the Sens do not want to lose. Good two-way forwards who can put up 60-plus points a season are not easy to come by.
Cody Ceci Is About to Hit His Prime
Like Stone, Ceci is a restricted free agent this summer. He's coming off of a two-year bridge deal worth $2.8 million per year. Ceci was the Senators' second-most used player this past season, behind captain Karlsson, averaging 23:20 in ice time per game.
The 15th overall pick in the 2012 draft has become a fan favorite. The 24-year-old was born and raised in Ottawa and has spent his whole life there, even playing OHL for the Ottawa 67's. Growing up he was a huge fan of the Senators, now creating the perfect story of a homegrown kid fulfilling his dream of playing on his favorite team.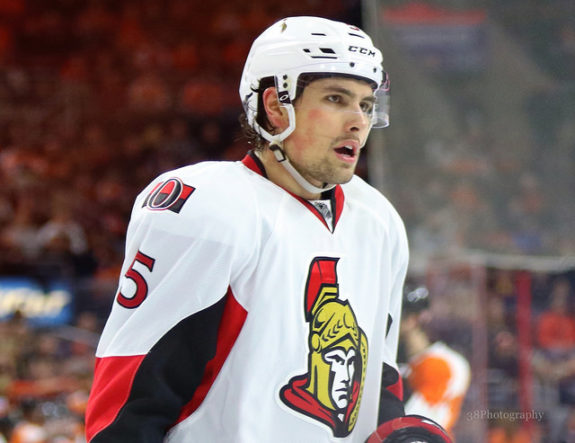 He doesn't put up the points like Karlsson, scoring 19 points this past season (down from his total of 26 two years prior). But the defenseman shows up in other ways for the Senators. He finished eighth in the league in blocked shots in 2017-18 with 171, was second on the team in hits with 163, and led the team in shorthanded minutes with 226:54 recorded.
Ceci is in the same situation as Stone this summer. The defenseman will likely file for salary arbitration come July 15 if a deal cannot be signed beforehand. It's also a possibility that the Ottawa native is a candidate for another team to file an offer sheet, although offer sheets tend to be saved for players of a higher caliber than what Ceci currently is.
Ceci is still a young player in the NHL and is about to enter his peak years as a defenseman. He plays tough minutes for the Senators, and with the chance of Karlsson leaving this summer, Ottawa should be looking to hang on to its home-grown talent.
Matt Duchene Is Looking Like Himself in Ottawa
Matt Duchene broke into the NHL in the 2009-10 season and put up 55 points in his rookie campaign after being drafted third overall by the Colorado Avalanche. Duchene played just over eight seasons in Denver before being traded to the Senators in November 2017.
Duchene's start in Ottawa was rough, as he did not record a point in his first seven games. But after getting used to the new teammates and crowd, the Haliburton, Ontario native came into his own. Duchene ended up leading the Senators with 27 goals and added 32 assists to his point totals. His goals tied the second-highest mark of his career, the highest being 30 goals in the 2015-16 season.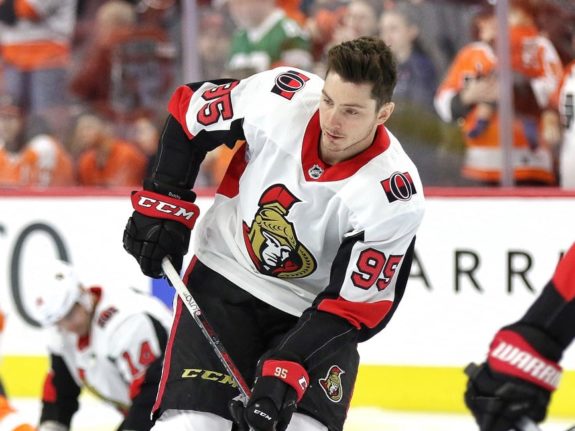 After being surrounded by trade rumors in Colorado, it seems that the forward might be back to his old self just three hours from his hometown. Duchene is currently on a five-year, $6-million contract and will be looking for at least something similar in his next deal.
Duchene has expressed interest in staying in the Nation's Captial. In an interview with the Ottawa Citizen, the centreman said, "I also want to be very clear that I'm extremely happy to be here, and I'd love to win in this city, I'm a loyal person. I feel allegiance to a team. Especially these guys for bringing me in, what they've done, having the faith in me and treating me as well as they have. It's definitely something I would make work if it works out."
At only 27 years old, Duchene has lots of gas left in the tank, is a bonafide top line centreman in the NHL and has proven that he can score goals. The Sens should be doing everything they can to lock up Matt Duchene, just like Mark Stone and Cody Ceci. Erik Karlsson or no Erik Karlsson, these players have the potential to form part of a core group for the Senators as the team moves forward and possibly moves on from its captain.
Starting out as an Ottawa Senators contributor for The Hockey Writers, Josh is now an editor and at-large contributor, focusing on prospects, the NHL Draft, hockey history, and breaking news stories.