The Central Division was already the toughest division in the entire NHL last year, but it may be even tougher next year given the events of the past few days.
With July 1 comes free agent frenzy, the day a myriad of talented players hit the open market and ink with new teams. While the Jets didn't welcome any big-time new players to their fold, many of their Central Division adversaries did. Here are some skilled new opponents that have moved to the Central Division and with whom the Jets will have to contend a lot more come October.
Ryan O'Reilly: A Scorer and a Gentleman
The 27-year-old veteran of nine NHL seasons will be bringing his talents to the St. Louis Blues — he was traded by the Buffalo Sabres for Vladimir Sobotka, Patrik Berglund, Tage Thompson, and a couple of high-round draft picks.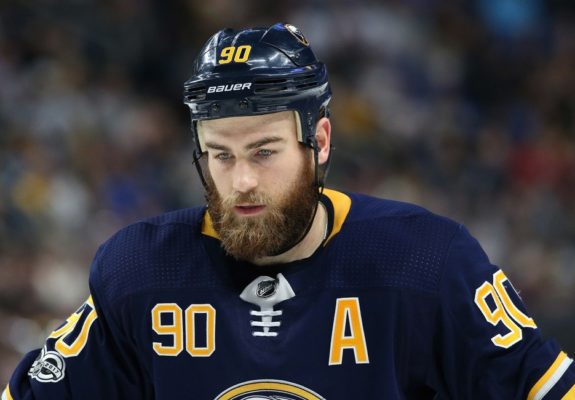 O'Reilly is a big-bodied centre in the prime of his career. The definition of consistency, he's recorded at least 55 points in each of his past five seasons. He also does a great job avoiding the sin bin — in 651 career contests, he's amassed a paltry 84 penalty minutes. In 2013-14, he received only one minor penalty and won the Lady Byng Trophy as a result.
The Jets better come up with a game plan to neutralize O'Reilly, as he's a capable 200-foot player who'll be in their division for the next five years. The fact that he's now on a contender opposed to a perennial loser may give him motivation to ramp up his game even more.
The Jets will get their first look at O'Reilly in their season opener in the Gateway City on Oct. 4.
David Perron: A Familiar Face
David Perron is about to begin his third go-round with the Blues as he agreed to a four-year deal with the team.
Perron is a proven top-six forward who will bring a scoring punch the Jets will have to contend with. The 30-year-old is coming off a great campaign: he put up a career-high 66 points in 2017-18.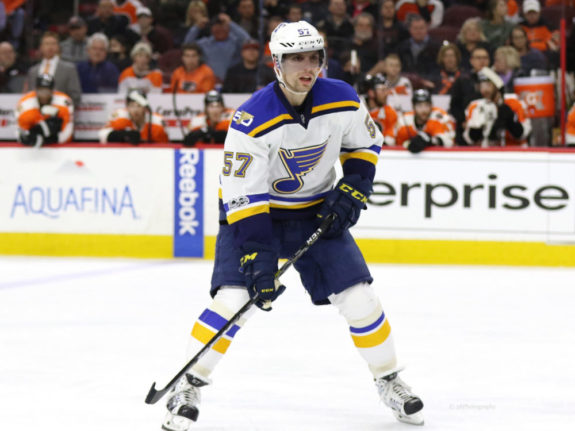 Perron is a familiar face to the Jets. He played in their division during his second stint with the Blues in 2016-17 and was also a member of the upstart Vegas Golden Knights squad that crushed the Jets' Stanley Cup hopes in the 2018 Western Conference Final. In 20 career games against the Jets, Perron has 14 points.
Perron benefitted from having offensively gifted linemates in Vegas. While that may have inflated his point totals a bit, the Blues are looking like a true four-line squad with depth to spare. He could be in for another very strong showing. The Jets are just hoping his strongest games won't be against them.
Matt Calvert: A Brandon-Born Boy
A home-grown Manitoba product will be popping up at Bell MTS Place more often in 2018-19.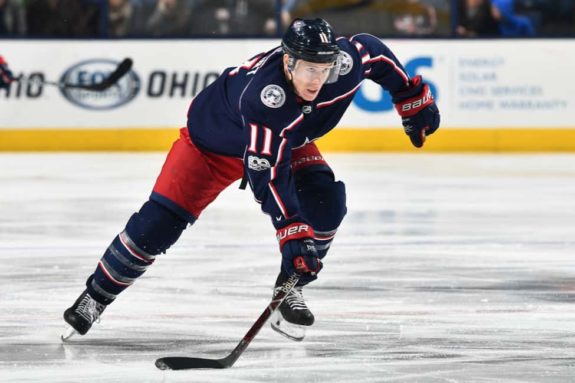 Previously the longest-tenured Columbus Blue Jacket, Matt Calvert will now bring his hard-working, lunch bucket game to the Colorado Avalanche.
Calvert competes at a high level and never takes a shift off. He's known to shine in big games and is famous for returning to the ice after getting 36 stitches and scoring a game-winner. His workmanlike and gritty demeanour has shown in spades over his eight-year, 416-game NHL career.
While Calvert's not particularly dynamic offensively — his career high in points is 24 — he's been known to pot a pretty goal from time to time and never gives up on a play.
"I've always liked Matt Calvert," Avalanche general manager Joe Sakic said after signing him. "With the departure of Blake Comeau, we thought Matt would be a great fit to come in. He's 28, I know our coaching staff knows him really well. For 28 he's experienced, he plays hard, he plays fast, he brings energy, brings leadership. He can play up and down your lineup."
The Jets will face Calvert for the first time in his new Avalanche duds in a Friday night bout on Nov. 9.
Tyler Bozak: A Long-Time Leaf
The Blues were busy bees during the first few days of free agent frenzy. The third key player they locked up who the Jets will see a lot of is Tyler Bozak.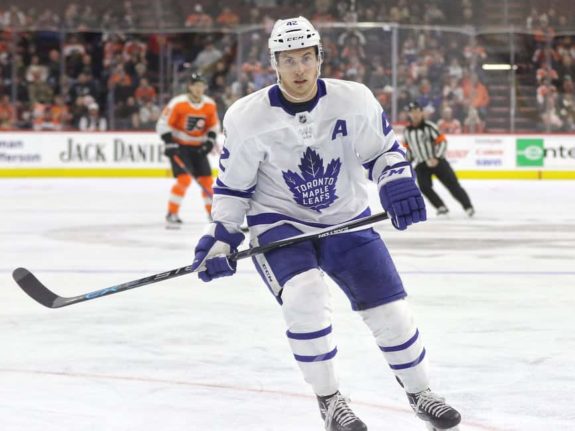 Bozak was a victim of the Leafs' choice to clear cap space in advance of their successful quest to acquire John Tavares. The now-former Leaf will bring a number of positive traits to his new Central Division team.
The ROR trade makes the Blues' signing of Tyler Bozak look even better and provides great depth

Centers in the 2017-18 regular-season finale: Schenn, Brodziak, Sobotka, Sundqvist.

Potential centers for 2018-19 opening night: Schenn, O'Reilly, Bozak, Thomas, Barbashev. #stlblues

— Jeremy Rutherford (@jprutherford) July 2, 2018
Bozak is a face-off man with good hands who's won 53.6 percent of his draws during his nine-year NHL career. He can play a top- or bottom-six role and, while his offensive numbers dipped in 2017-18, he can be counted on to produce between 35 and 50 points. He's also strong on special teams, with 48 power-play goals and 56 power-play helpers in his 594 NHL games.
Chris Kunitz: A Decorated Veteran
The Chicago Blackhawks are entering a rebuilding phase, as their dynastic era is over — they failed to qualify for the postseason for the first time since 2007-08. While their chances of making the playoffs are tenuous at best for 2018-19, adding a proven veteran of nearly 1,000 NHL games couldn't hurt those chances.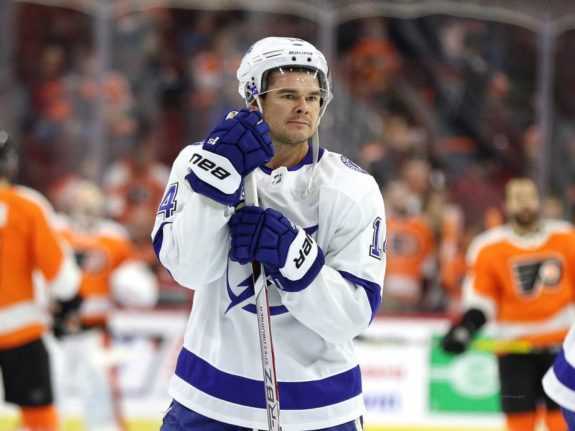 Kunitz has four Cup rings on his fingers and more than 600 points to his name. He tallied 29 points with the Tampa Bay Lightning in 2017-18 but has put up 40 or more nine times in his 16-year career as recently as 2013-14.
While not as dangerous as he used to be and in the twilight of his career, the Jets will still have to be aware when Kunitz hits the ice. He's a proven producer who wins wherever he goes. They'll meet him for the first time on his new team on Oct. 29 at Bell MTS Place.
Will There Be More to Come?
It's only early July. There's still nearly two months until training camps open and plenty of time for plenty of players to head to new locales. While their opponents may not be done injecting new blood, the Jets may not be either.
While the Jets are bound to have their hands full in a Central Division that looks to be as competitive as last year — or perhaps even more — they've got an outstanding offence and adaptable defence that can undoubtedly compete with their opponents' best guys, new or not.