Soon after the unrestricted free-agent signing period officially kicked off, the Chicago Blackhawks announced a trio of signings. Addressing depth for all three position groups, the Hawks agreed to terms with forward Chris Kunitz, goaltender Cam Ward, and defenseman Brandon Manning.
OFFICIAL: Forward Chris Kunitz and goaltender Cam Ward have signed 1-year contracts and defenseman Brandon Manning has inked a 2-year deal with the #Blackhawks.

Welcome to Chicago! pic.twitter.com/K0y1kuAL1z

— Chicago Blackhawks (@NHLBlackhawks) July 1, 2018
Kunitz Joins the Blackhawks
Kunitz, 38, lands in the Windy City on a one-year deal worth $1 million. The Blackhawks are coming off a disappointing season in which they failed to qualify for the playoffs, and while Kunitz—at this stage in his career—will probably not do a ton directly on the ice to move the needle in 2018-19, it's easy to conclude that general manager Stan Bowman and the Blackhawks value the depth and leadership the winger can add to the club.
A native of Saskatchewan, the undrafted Kunitz originally latched on with the Anaheim (Mighty) Ducks in 2003. He was eventually waived and picked up by the Atlanta Thrashers in the 2005-06 season before being waived yet again after just a couple of games and being claimed back by his original team, Anaheim. This time, he would stick and establish himself as a productive player, scoring 19 goals and 22 assists in 67 games for the then-Mighty Ducks.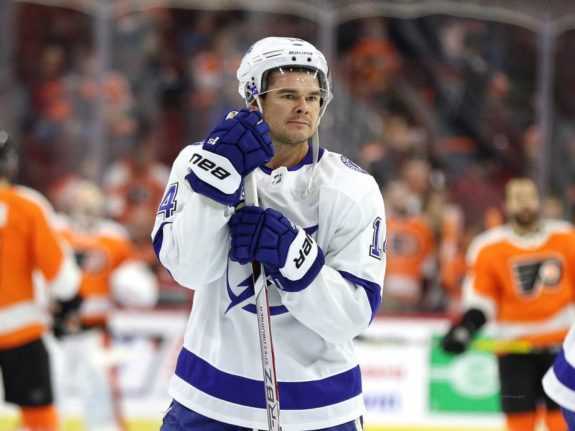 After notching 60 points and a Stanley Cup ring in 2006-07, followed by a 50-point campaign in 2007-08, the Ducks dealt Kunitz to the Pittsburgh Penguins in the 2008-09 season in a deal that involved defenseman Ryan Whitney going the other way.
The trade would be huge for Kunitz's career, as he excelled playing alongside Sidney Crosby and Evgeni Malkin in Pittsburgh. His high-water mark in terms of individual success was a 35-goal, 68-point year in 2013-14. Kunitz also made the roster for Team Canada in the 2014 Olympics in Sochi, taking home a gold medal in the process.
Kunitz would win the Stanley Cup three more times with the Penguins (2009, 2016, and 2017). In 2017, he scored a double-overtime goal in Game 7 of the Eastern Conference Final against the Ottawa Senators to send the Penguins to the Stanley Cup Final, where they would defeat the Nashville Predators in six games.
Following that achievement, Kunitz became an unrestricted free agent and signed with the Tampa Bay Lightning for one year. He tallied 13 goals and 16 assists for the Lightning before hitting the UFA market once again and inking this deal with the Blackhawks.
Blackhawks Add Goaltender Cam Ward
Coming off a lost season that fell apart largely because of an injury to starting netminder Corey Crawford, the Blackhawks sought to solidify their goaltending depth and hope to have done that via a one-year, $3-million agreement with longtime Carolina Hurricanes netminder Cam Ward.
The 34-year-old Ward is best known for winning the Stanley Cup and the Conn Smythe Trophy as playoff MVP as a rookie with the Hurricanes in 2006. That remains the crowning achievement of Ward's career, as he has not had a save percentage above .910 since the 2011-12 season while the Canes have not qualified for the postseason since 2008-09.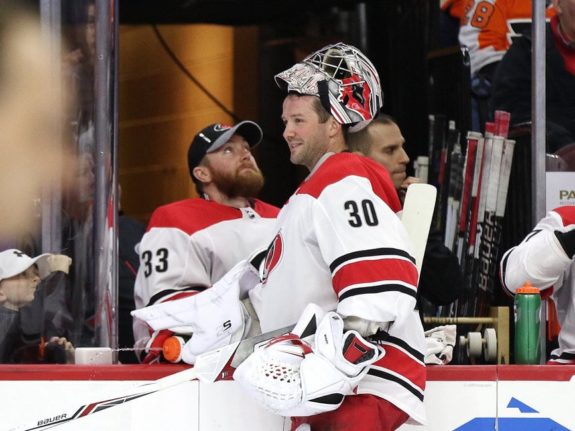 Interestingly, despite the contract only being for one year and Ward's assumed role as the Blackhawks' backup goaltender, Chicago gave him a full no-trade clause (NTC) according to TSN's Bob McKenzie. The Hawks are not tethered long-term to Ward, but the inclusion of a NTC for just one season is curious, to say the least. Perhaps it just comes down to Ward wanting to maintain complete control over where he plays, even if he is elsewhere by his own volition a year from now.
In any event, if Ward can rediscover some of his old ways in what figures to be an even more reduced role than the 43-game workload he got last year, then this will help stabilize the Blackhawks in net. That, however, is a big 'if.'
Blackhawks Sign Manning for Defensive Depth
Rounding out the Blackhawks' opening array of UFA signings was defenseman Brandon Manning, who agreed to a two-year contract worth $2.25 million per year. That might seem like a slight overpayment for a 28-year-old player who has never cracked the 70-game or 20-point plateaus in any NHL season, but Manning did post decent possession numbers (50.49 percent Corsi-for at 5-on-5, which translated to a relative CF% of plus-1.14) with the Philadelphia Flyers last season.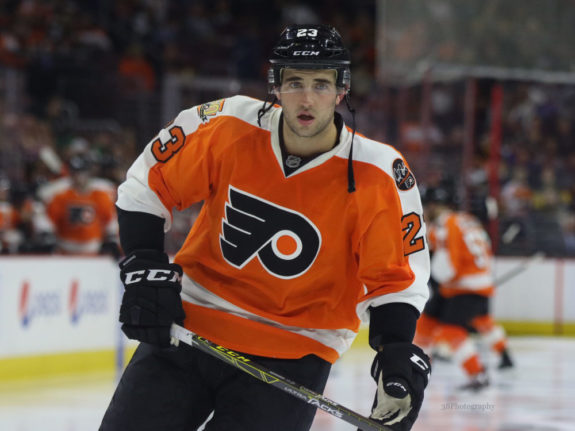 Manning, who had spent his whole career with the Flyers, first started getting meaningful NHL playing time in 2015-16, when he appeared in 56 regular-season games. He has played in 65 regular-season games in each of the past two seasons. Last year was a career-best for him in terms of offense; he scored seven goals and added 12 assists while playing mainly third-pairing minutes (he averaged about 18 minutes of ice time per game).
The Blackhawks hope Manning helps with their blue-line depth as they seek a return to the postseason in 2018-19.