Bill Peters is the new head coach of the Calgary Flames. He walked away from what was a tenuous situation with the Carolina Hurricanes. After four years of being "so close" to making the playoffs, Peters now has a team with the pieces he needs to make the postseason. The question is, can he coach them to that level? He has several quality players, some key signings and a few former Hurricanes. How will he do?
Bill Peters was a nice addition, as were Noah Hanafin and Elias Lindholm, but do the #Flames really need any more #CAR alumni (ex. Derek Ryan)? I mean, the Hurricanes didn't make the dance, either. 😬 pic.twitter.com/FLgQQ239Os

— Steve Baranowski (@StrayDog93) June 26, 2018
Peters Pedigree of Performance
Peters has been moderately successful on his journey as a head coach. In the 2007-08 season, he was at the helm of the Western Hockey League's Spokane Chiefs when they won the Ed Chynoweth Cup, awarded to the WHL's playoff champion. That was followed by the Chiefs winning the Memorial Cup.
During the following three seasons Peters was the head coach of the Rockford Ice Hogs, the American Hockey League affiliate of the Chicago Blackhawks. The Ice Hogs went to the playoffs two of those three years but they were knocked out each time in the first round.
On the international stage, Hockey Canada points out that Peters has done very well: "Peters helped Canada to the championship at the 2016 World Cup of Hockey while serving as an assistant coach. He captured a gold medal as head coach of Canada's National Men's Team at the 2016 IIHF World Championship and also won a gold medal as an assistant coach in 2015." Peters coached Team Canada to fourth place in the 2018 IIHF Men's World Championship.
Peters to the Big Time
In 2011, he made it to the NHL as an assistant coach under Mike Babcock with the Detroit Red Wings. He did well enough under Babcock to get a look from former Hurricanes general manager Ron Francis, who hired Peters as the team's head coach in 2014. What followed were four years of mediocrity, only some of which can be blamed on the coach.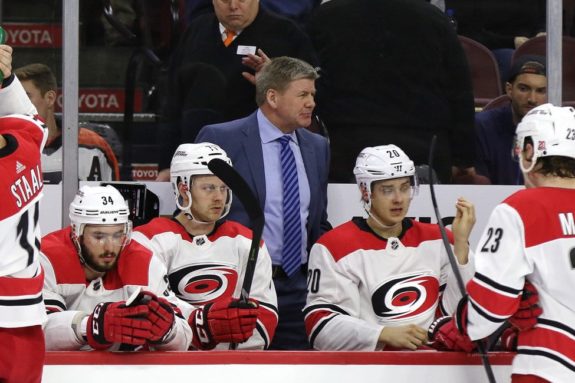 He was coaching a team whose owner was actively trying to sell the franchise and whose general manager would not pull the trigger and bring in the kind of players needed to bolster the offense – even when Peters publicly called on Francis for such help. Instead, Francis gave him two backup goaltenders in Eddie Lack and Scott Darling, who promptly had horrific seasons after signing nice contracts with the team.
Peters Owns These Problems
Peters can take the heat for an incessant desire to change lines, game after game. Whether he was looking for chemistry he was never going to find or he really believed there was a combination of players that he could put together that would win is not clear. He did roll with Andrej Nestrasil, Jordan Staal, and Joakim Nordstrom for a while from late 2015 to early 2016. That line was outstanding until Nestrasil injured his back and was never the same.
Last season it was the "TSA" line that Peters used consistently for a while. The line of Sebastian Aho, Staal, and Teuvo Teravainen was used in the early part of the 2016-17 season and also for part of last season. They were formidable when they were on, with Cory Lavalette of The North State Journal writing in November 2017: "The reunited TSA line of Teuvo Teravainen, Jordan Staal and Sebastian Aho had totaled 19 points in their last three games." Peters would split them up and put them back together throughout the season. The lack of consistency was the knock on Peters' time with the Hurricanes.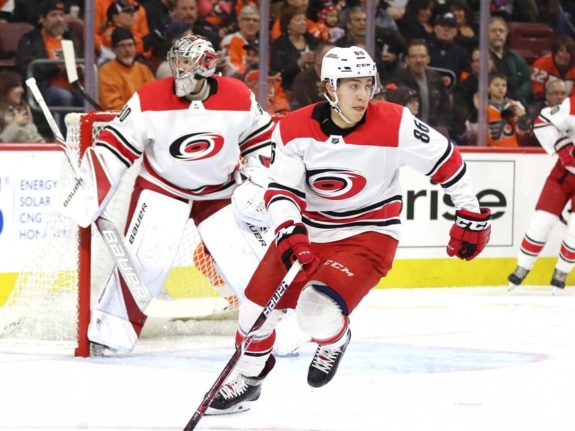 His handling of players had mixed results. When Alexander Semin grew apathetic enough to eventually drive him out of the NHL, Peters invited him to have a seat. When Lack could not stop a beach ball, Peters lambasted him publicly. And, when Jeff Skinner would not play defense last season, Peters put him on the third line as a form of punishment.
None of these tactics were particularly successful. Skinner is still not playing defense, although new Hurricanes head coach Rod BrindAmour said Skinner will be held accountable this season if he is still with the team. Lack has bounced between the NHL and AHL, and Semin was last known to be playing in Russia.
Does Peters Have the Roster He Needs?
Peters walked away from the Hurricanes, taking advantage of a clause in his contract that allowed him to leave early. He inherits a pretty sweet situation from former Flames head coach Glen Gulutzan who was fired a year after taking the team to the playoffs. While it is true that their home record and a drop in the second half of last season could explain why Gulutzan was axed, it's not really a fair assessment.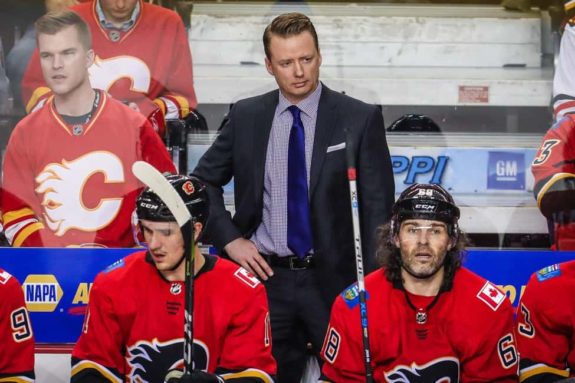 The Flames were having a good season, poised to return to the playoffs when injuries knocked them out of the running. Back in April, Emily Kaplan at ESPN acknowledged the negatives but also pointed out: "The team especially faltered down the stretch, losing 17 of its last 24 games. Key injuries during the season fell to goalie Mike Smith, defenseman TJ Brodie and forwards Sean Monahan and Matthew Tkachuk.
Some would speculate that Flames general manager Brad Treliving hired Peters because of his previous relationship with him from his time coaching Team Canada, who was set to do so again. Treliving knew that Peters could walk away from the Hurricanes and so, out went Gulutzan and in came Peters. Done deal, a new day for everyone.
Peters' Players
One of the first things that Treliving has done since bringing Peters on is to also bring some of the players that Peters wanted from the Hurricanes. Defenseman Noah Hanifin and forward Elias Lindholm were brought to the Flames while defenseman Dougie Hamilton, forward Micheal Ferland and the rights to defenseman Adam Fox were sent to the Hurricanes.
Peters believes that Lindholm is versatile and will look to put him on the right side with Johnny Gaudreau and Sean Monahan. He called Hanifin an "elite puck-moving guy and really good skater," who he will likely pair with Travis Hamonic. Peters said he looks forward to coaching them both again. He is already scheming and planning how to fit his former players into the Flames' roster most effectively.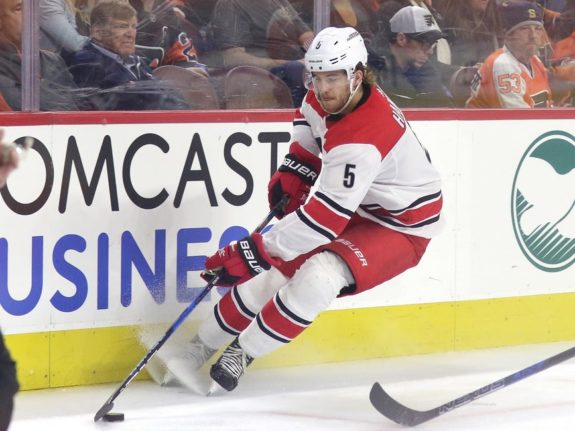 Adding to the assembled arsenal, the Flames have brought in another former Hurricanes player, 31-year-old forward Derek Fyan. With 15 goals last season, Ryan is not turning a lot of heads but apparently, he turned Peters' enough to convince Flames management to sign him to a three-year, $9.375 million deal. That works out to a little over $200,000 a goal.
The Flames also brought in forward Austin Czarnik from the Boston Bruins. Wes Gilbertson wrote in the Calgary Sun on July 2 that the 25-year-old has done well in the AHL, but not as well in the NHL. Gilbertson noted: "Listed at 5-foot-9 and 160 lb., the wee right-hander finished third in the AHL scoring race last winter, racking up 25 goals and 44 assists in 64 outings on behalf of the Providence Bruins. His minor-league stat-sheet included seven game-winners and a whopping 30 points on the power-play."
Gilbertson also wrote: "Czarnik had several auditions in Boston over the past pair of seasons but has so far not been nearly as productive at the NHL level, with just five lamp-lightings and a dozen helpers to show for his 59 appearances with the B's." For some reason, his production is worthy of a two-year contract with an annual cap hit of $1.25 million US.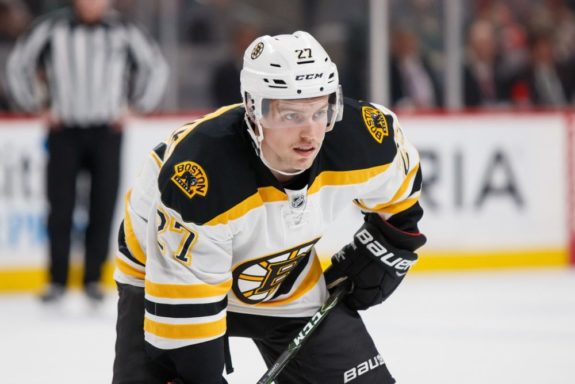 It's obvious that Treliving, who expressed great excitement over the Czarnik signing, is looking at his potential and not his past performance. Peters has plans to use him on the power play, again the coach putting together his plan.
The biggest news came on the same day, when the Flames announced that they had signed forward James Neal to a five-year, $28.75 million deal. Neal has 263 goals and 495 points in 703 career NHL games. Finally, Peters has a proven veteran scoring forward, the type of player he asked Francis to give him with the Hurricanes.
https://twitter.com/brettfinger/status/1014357550081478658
With names like Neal, Johnny Gaudreau, Monahan, Tkachuk teaming up with Hanifin, Lindholm, and Ryan, Peters has a group that he is excited to be leading. Now we will find out if he can really coach, or if his average record with the Hurricanes was him getting the best out of a bad situation. It will be fun to watch, no doubt.
Mark lives in the Raleigh, NC area and covers the Carolina Hurricanes.