The Carolina Hurricanes and the Calgary Flames dove right into the deep end of the NHL trade pool on Saturday and made a very big splash when they did. In fact, in diving verbiage, one might describe their trade as a giant "cannonball." For a team that has essentially been trade-starved for the past four years, Saturday's move by the Hurricanes definitely garnered a lot of attention. Fans of the Flames are divided as to how to react, and Hurricanes fans are excited.
Who won this trade that has been called a blockbuster and a big splash? It depends on one's perspective.
The Trade: Five Players, Two Teams
The Hurricanes sent last year's all-star defenseman Noah Hanifin and forward Elias Lindholm to the Flames. In return, the Flames sent defenseman Dougie Hamilton, forward Micheal Ferland and the rights to defenseman Adam Fox to the Hurricanes. A defenseman for a defenseman and a forward for a forward, plus the Hurricanes also get a defensive prospect in Fox who was drafted in 2016 in the third round by the Flames.
Scott Billeck of NBC Sports wrote Sunday that Don Waddell, general manager of the Hurricanes had this to say about the trade:
We've gone nine years missing the playoffs… we're going to try to change up the culture a little bit. We feel that all three pieces are going to make our hockey club better not just today but going into the future.
With his last tenure as a general manager not ending so well with the Atlanta Thrashers, Waddell is looking to make a positive statement as GM of the Hurricanes. It appears he has done just that with his drafting of Andrei Svechnikov Friday night, and with the big trade he made on Saturday.
Dougie Hamilton – the Big Splash
Hamilton is the big splash in this trade, the big name. According to the Hurricanes' press release, "Hamilton, 25, scored a career-high 17 goals in 2017-18, tied for the most in the NHL by a defenseman. He ranked second among NHL defensemen in shots last season (270) and posted a career-high in time on ice per game (21:32)." The team needs all the scoring it can get, so from that standpoint getting Hamilton is a positive.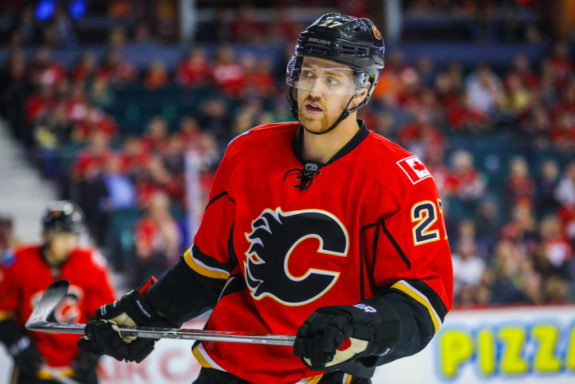 From the standpoint of his impact on the team financially, he did not come cheap. He is set to earn $5,75 million for the next three seasons.
Comparing Hamilton to Hanifin in this trade is revealing from a pure numbers standpoint. Hamilton has averaged 45.6 points per season over the past four years. Hanifin has averaged 27.66 per season over the past three years.
Some have questioned Hanifin of late and mistakes made that often left his goaltender hanging out to dry. He's still relatively young at 21, and inexperienced with only three years under his belt. But, he was recognized as an all-star last season and has a huge upside, and is growing more each season.
Good Riddance, Dougie?
Hamilton has been the subject of rumors related to his relationship with his teammates in the locker room. A Boston Bruins fan texted me that Hamilton did not get along well with his teammates in Boston. There are plenty of things to read online to lend some credence to that remark. But, more telling is what Flames general manager Brad Treliving said or did not say regarding the Hamilton departure.
Saturday evening, Eric Francis wrote at Sportsnet, "On paper, sure, Hamilton was a stud, with a league-leading 17 goals as a defenceman. However, the reality is, Hamilton was the player the Flames most wanted to part with, as he was the poster boy for a squad that had far too many players who seemed all too content with the shocking number of losses that mounted down the stretch. Despite having most of the tools and stats a player could possibly possess, the 6-foot-6, 210-pound offensive blueliner has now been traded twice in four seasons – a rarity for a player with his numbers and stature. A red flag for most teams, making him harder to trade than casual observers would think. Thus, the Flames had to sweeten the pot."
It will remain to be seen if getting Hamilton is a win for the Hurricanes. His production speaks well of him, but his attitude may negate the positives in that regard. The Hurricanes certainly do not need a player with a bad attitude with a new coach and a new general manager, etc. The team needs a culture change and hopefully, Hamilton will find what he was missing in Boston and Calgary during his tenure with the Hurricanes.
Hanifin told me this during his end of season interview last April, "I think the chemistry of the guys in the room. I think everyone, you know, loves each other in the room and want to play hard for each other." At that time and from his point of view, he and his teammates were good. From a chemistry standpoint, there were no problems with Hanifin and his teammates, although some have said he was not happy with the Hurricanes.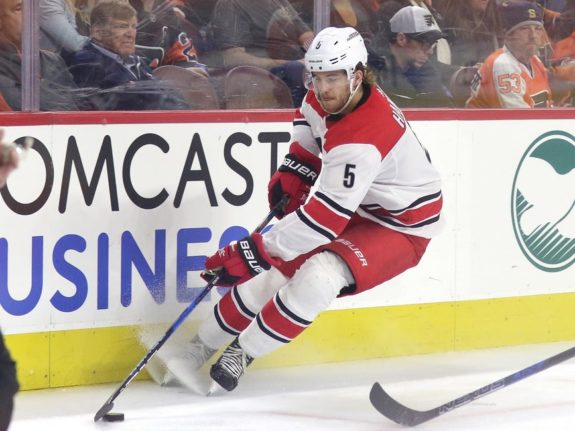 The bottom line is that Hamilton is a big upgrade for the Hurricanes on the ice, but it will be off the ice where this trade is judged in its benefit to the Hurricanes. The Flames are glad to be rid of Hamilton and believe Hanifin has the upside to make the on-ice part of this trade a winner for them, also.
Lindholm for Ferland a Wash?
A look at Ferland shows that he has made steady progress since he came into the league. The Hurricanes' release said of him, "Ferland, 26, posted career-highs in goals (21), assists (20) and points (41) in 77 games with the Flames in 2017-18." He has averaged 22.25 points per season, compared to  Lindholm's 41.75 over the same time frame. Lindholm has had spotty seasons recently, taking a while to get started in each of the last two. Ferland is growing, with his point totals increasing by 13 and then 17 in the last two seasons.
The biggest thing that makes this lean towards "advantage Hurricanes" is the physical play and toughness of Ferland. He is not afraid to play a physical brand of hockey, not afraid to make a hit. He's not a dirty player by any stretch, but simply brings to the 'Canes a bit of grit that they've been missing.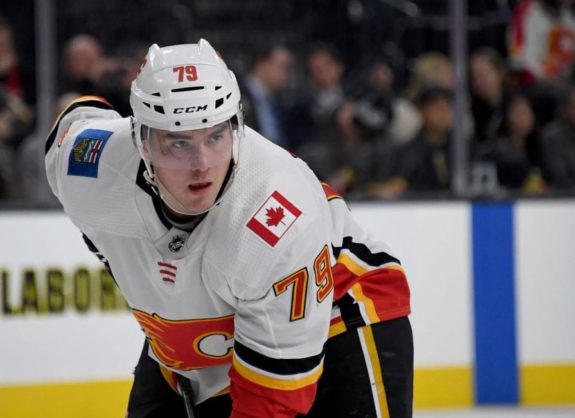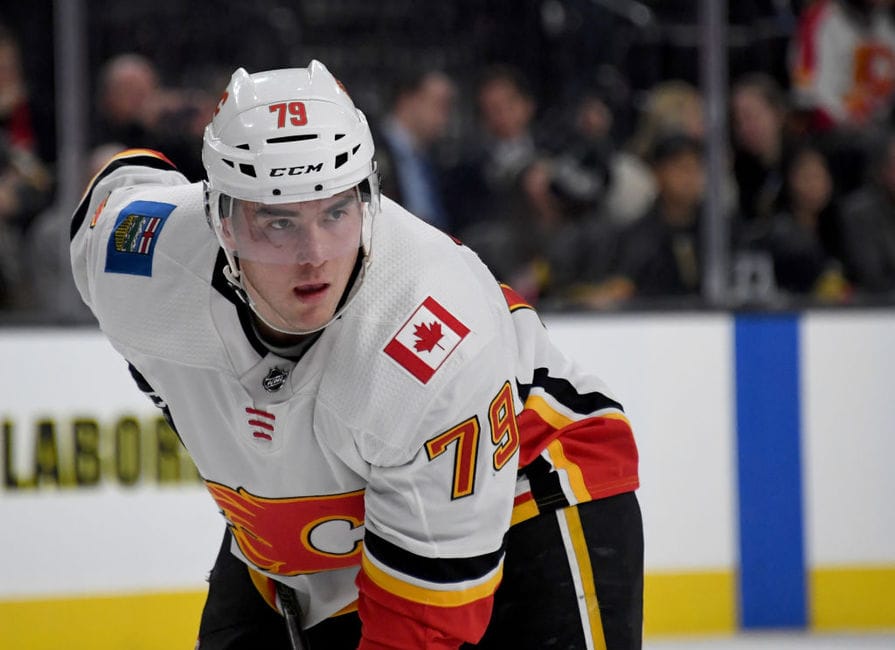 Numerically it looks like Lindholm blows Ferland out of the water, but, given his somewhat inconsistent play, the matter is up for grabs. Andrew Miller wrote at Cardiac Cane in April, "His vision and versatility in both zones make Lindholm a very unique talent that could end up very special for the Canes. We just haven't seen it on a consistent basis yet." Even though Lindholm has produced more than Ferland head-to-head thus far, Ferland looks to be a good choice for the 'Canes here, if he can continue to grow in his production.
From the Flames' perspective, Lindholm might be an upgrade. MGMacGillivray wrote Saturday at Matchsticks and Gasoline, "I think it goes without saying that Lindholm is a big upgrade over Micheal Ferland…At 23 years of age he still has lots of time to grow and with the Flames viewing him as a right winger he will likely slot right onto the top line."
The bottom line here is consistency. If Lindholm can find that he could explode and be a great addition for the Flames. If Ferland can be consistent in his growth in production, and be the physical force that he has been heretofore, he will be a great addition for the Hurricanes.
I love Elias Lindholm's game, but the truth of the matter is he will tease you with how good you think he's going to be. Has never been able to put the puck in the net consistently. Great playmaker, but he has trouble finding the back of the net.

— B.J. Davis (@BJ_Davis23) June 24, 2018
A Fox in the Pool
Again, from the Hurricanes announcement, Fox, 20, completed his sophomore season at Harvard in 2017-18, recording 28 points (6g, 22a), and was named a First Team All-American for the second consecutive year. As a freshman in 2016-17, he led all NCAA defensemen in scoring with 40 points (6g, 34a), and was named ECAC and Ivy League Rookie of the Year. Fox appeared in back-to-back IIHF World Junior Championships with Team USA, winning gold in 2017 and bronze in 2018."
It is widely known that the Flames have not been able to convince Fox to sign with them, and so Treliving added him as a sweetener to the deal. The Hurricanes will have a chance to see if they can sign him and if not, no harm no foul for them. He is a highly thought of defenseman but is more of an asset now than a serious candidate for the team. Time alone will tell how the Fox part of this trade will work out for the Hurricanes.
Playing Again for Peters
The "X" factor in all of this is former Hurricanes head coach, Bill Peters. Both Hanifin and Lindholm have spent their careers under Peters. He said that Lindholm is versatile and will look at putting him on the right side with Johnny Gaudreau and Sean Monahan. He called Hanifin "elite puck-moving guy and really good skater," who he will likely pair with Travis Hamonic. Peters said he looks forward to coaching them both again.
#Flames head coach Bill Peters explains what Elias Lindholm and Noah Hanifin can bring to the table. pic.twitter.com/UEnG7tS3PM

— Calgary Flames (@NHLFlames) June 24, 2018
Don't be fooled into thinking there was not a huge Peters imprint on this trade. He perpetually sang Lindholm's praises even through the struggles and was always very positive on Hanifin. He liked these guys and very likely was in Treliving's ear to push him toward making the trade.
The winner in this deal looks to be the Hurricanes, especially when Hamilton's production and Ferland's upside and physicality are considered. Lindholm and Hanifin have been a part of the Peters regime and will do nicely with him again for the Flames. But, the Hurricanes get two players from a losing culture out of the locker room.
If they are successful in bringing out a positive temperament in Hamilton then the Hurricanes will be deemed clear winners. If he sours their locker room, too then all bets are off, and the trade that is being glossed as a "big splash" may just leave the Hurricanes all wet.