Draft day came and went for the Toronto Maple Leafs and the rest of the NHL with a number of surprises and some questionable passes when it came to players like Filip Zadina. While the Maple Leafs did make a couple of smaller deals throughout the draft, they did land nine new prospects to add to their already deep pool of young players.
With that, here's a few thoughts on who the Leafs added at the 2018 NHL Draft.
Rasmus Sandin (Sault Ste. Marie Greyhounds, LD)
The Maple Leafs originally held the 25th overall selection in this year's draft, but were willing to move down four spots in order to pick up an extra pick. Therefore, the Leafs moved the 25th pick to the St. Louis Blues (who used it to take Dominik Bokk) in exchange for the 29th pick which originally belonged to Winnipeg and the 76th overall pick in the third round.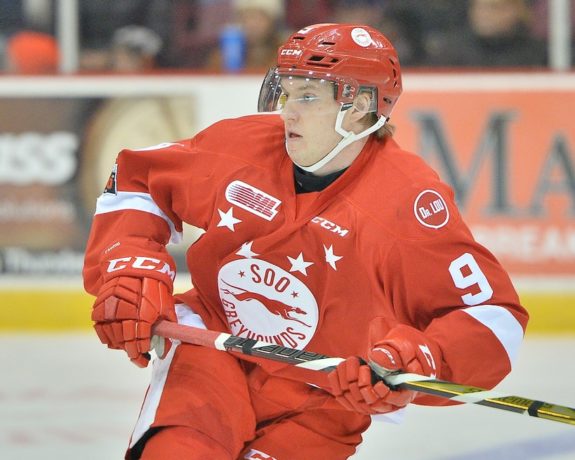 Even with moving down four spots, the Maple Leafs got their guy in Swedish defenceman Rasmus Sandin. The Leafs showed interest in the 18-year-old at the combine earlier in June and for good reason.
While he's small – at just under six-feet tall – he's proven that he doesn't lack in skill. He's fast. He's smart. And he learns quickly which should compliment how quickly he could develop in the Maple Leafs' system.
Add him to the growing list of Swedish defenceman the Leafs have – with Calle Rosen, Andreas Borgman and Timothy Liljegren – and expect him to show off his talent in the coming years.
Sean Durzi (Owen Sound Attack, RD)
The Maple Leafs second-round pick was one they acquired from the San Jose Sharks in the Raffi Torres-Roman Polak deal back in Feb. 2016 and it ended up being the 52nd overall selection.
With it, the team took a player eligible for his second NHL Draft after going undrafted in 2017.
A year ago today I sat through 7 rounds of the NHL draft waiting for my name to be called and left hanging… today, I'm officially apart of the @MapleLeafs . Don't let anything or anyone get in the way of your dreams. #LeafsNation pic.twitter.com/uX3npyfJ2d

— Sean Durzi (@seandurzi) June 24, 2018
Durzi went undrafted in his first year of eligibility after scoring 38 points in 60 games for the OHL's Owen Sound Attack in 2016-17. He took that, returned to Owen Sound, and put up 49 points in just 40 games in 2017-18 before adding another 16 points in 11 playoff games with his OHL club. That landed him as the second-round pick of his childhood team – the Maple Leafs.
Semyon Der-Arguchintsev (Peterborough Petes, C)
As part of moving down in the first round, the Maple Leafs also picked up the 76th overall pick in the third round, originally belonging to the Blues.
With it, the Leafs stuck with the OHL and took Semyon Der-Arguchintsev with their first third-round pick, from the Peterborough Petes. While he only scored four more goals in his sophomore campaign with the Petes than his rookie season, he tallied 12 more points on route to notching his first 50-point campaign in the OHL.
It's hard to argue that this kid is anything but a playmaker at this point with 60 assists in 131 regular season games in the OHL. But don't let that take away from what he could achieve. He knows how to put the puck in the net as well, but that could take more time to fully develop for the young Russian. After all he was tied as being the youngest player in the draft.
Riley Stotts (Swift Current Broncos/Calgary Hitmen, C)
The Maple Leafs had a second third-round pick that they grabbed from the San Jose Sharks in the James Reimer deal. The pick – which ended up as the 83rd overall selection – was used to take Calgary Hitmen forward Riley Stotts.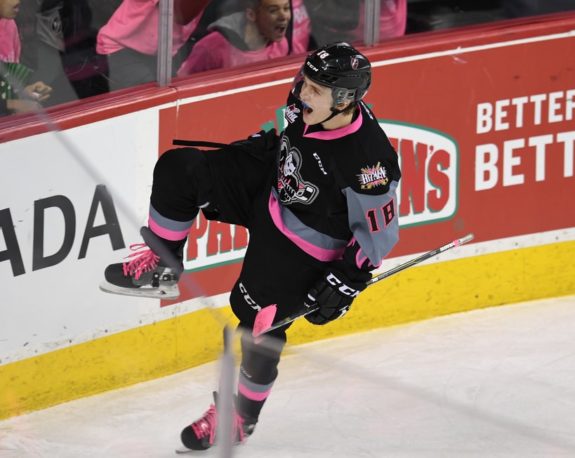 Now, forget the slow start he had with the Broncos, he simply wasn't getting the opportunities he needed to succeed. Flash forward to being traded to the Hitmen and Stotts seemed like a completely different player. He fired home 17 goals and 41 points in 47 games and earned himself the recognition that came with it.
While he's a relatively big kid, he doesn't use the size in a physical way. Even though he might not be considered a stand-out player in any given lineup, expect him to be a role player within the Maple Leafs system – a depth center of sorts.
Mac Hollowell (Sault Ste. Marie Greyhounds, D)
In the fourth round, the Maple Leafs were back after the Greyhounds and some of their talent. This time it was defenceman Mac Hollowell – an undersized and undervalued blueliner that Leafs Nation should keep an eye on.
After a few mediocre seasons with the Greyhounds, Hollowell capitalized on the incredible run his team had during the 2017-18 season and notched a career-high 56 points in 63 games. He added 16 more points in their 24 postseason games before being knocked out late.
As THW's Mark Scheig writes, Hollowell "makes up for his size by moving the puck and making good decisions."
Don't count this kid out when discussing NHL potential.
Filip Král (Spokane Chiefs, LD)
It was said that the Maple Leafs need to focus on defence and at the 2018 NHL Draft they did just that. They used their fifth-round, 149th overall pick, to grab another blueliner out of the WHL – Spokane Chiefs' Filip Král.
It's still far too early to determine what he'll do in North America with just 54 games under his belt with the Chiefs this season. But he did lead the WHL in scoring among rookie defensemen, tallying 35 points in 54 games which shouldn't be ignored.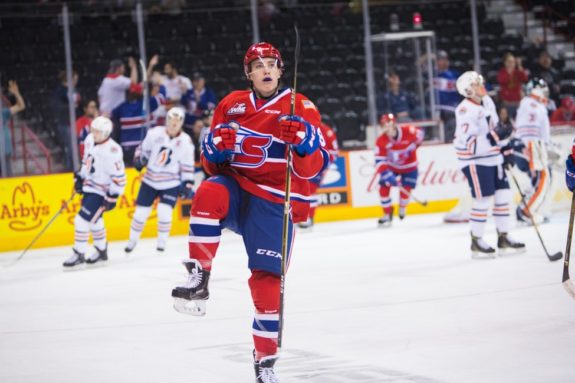 Assuming he can continue to develop that skill and add to his point totals, he could be an interesting late-round pick for the Maple Leafs. That said, worst case scenario is that he's an incredibly mobile defenceman that uses his skating and acceleration to open up the ice with and without the puck.
Pontus Holmberg (VIK Västerås HK, LW/C)
Wanting a sixth-rounder, the Maple Leafs moved a 2019 sixth-round pick for Buffalo's sixth in this year's draft. The Leafs used the 156th overall selection to pluck forward Pontus Holmberg out of Sweden.
Holmberg is virtually an unknown to most, but shouldn't go ignored. He's skilled, he's smart and he sees the game well. Another small forward at five-foot-ten and 175 pounds, he does a good job protecting the puck and plays the game at a high speed.
He played just two games at the SHL-level last season, spending most of the year in Division 1 over in Sweden.
Zachary Bouthillier (Chicoutimi Saguenéens, G)
If he didn't have eyes on him before, he certainly does now being a part of the Maple Leafs organization. Either way, Zachary Bouthillier will have to continue to develop and progress in an organization that now has a number of goaltending prospects.
He joins a list that already includes Calvin Pickard, Garret Sparks, Kasimir Kaskisuo, Joseph Woll and Ian Scott. That could play out in his favour as it will force him to compete at a different level.
That said, it's not a bad pick for the Leafs to gamble on the young goaltender in the seventh round of the draft. Especially with him coming off a playoffs where he put up a 2.76 goals against average and .931 save percentage in six games for the Saguenéens.
Semyon Kizimov (Ladia Togliatti, RW)
With their ninth and final pick in the 2018 NHL Draft, the Maple Leafs selected 18-year-old Russian Semyon Kizimov. Kizimov played 30 games for Ladia Togliatti of the MHL in 2017-18 where he tallied six goals and 18 points.
While he may be another relatively unknown to most fans, Kizimov is a talented winger that can create off the rush and turn seemingly impossible opportunities into chances. Some might still argue that there is still a risk in taking a Russian player with the potential of a KHL deal, but with the poise and high ceiling that Kizimov has for a seventh-round pick, the Maple Leafs might want to find a way to give him a shot at playing in North America.