While it might not be the news most expected out of St. Louis, the Blues have made some noise on Sunday. After getting David Perron on a four-year deal that looked far more reasonable than many expected, the Blues went and spent most of the money they saved by giving it to former Toronto Maple Leaf center Tyler Bozak who was given a three-year deal worth $5MM per season.
Tyler Bozak gets a three-year deal from St. Louis with a $5M AAV.

— Chris Johnston (@reporterchris) July 1, 2018
Some will consider this deal and overpay considering Bozak's declined numbers but there is a chance, if Bozak is given the opportunity to shine in St. Louis, this deal might be seen as fair with an increasing salary cap and with players signing for more and more money per year as the NHL changes toward being center and a defense-first league.
The Bozak Bidding War
Because Tyler Bozak was a legitimate NHL center, he was rumored to be a name that was going to get a lot of interest. Bozak wasn't destined to be back in Toronto thanks to salary cap issues that wouldn't permit the team the ability to afford what he was going to command on the open market and with players like Auston Matthews, Mitch Marner and Willam Nylander needing new contracts and the Leafs needing to make improvements on their blue line, Bozak, along with James van Riemsdyk knew they'd be searching for a new team on July 1.
Bozak is the second veteran signed by the Blues on July 1 and in a way, signified that the Blues were out on names like Ryan O'Reilly and Paul Stastny, who respectively had not been traded out of Buffalo and Stastny signed with Vegas.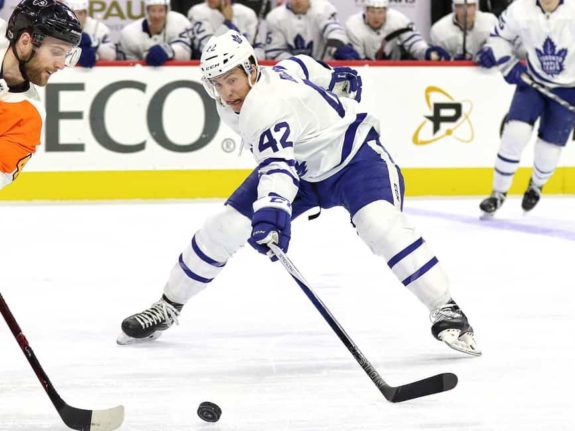 Bozak was likely the third-most coveted center on the market and the 32-year-old, despite coming off a less-than-stellar year in Toronto where he posted 11 goals and 32 assists, he was still viewed as the ideal third-line center who could play second-line minutes if needed.
Related: Tavares Signs With Maple Leafs
What Bozak Brings to Blues
Bozak will be a definite upgrade for the Blues who have now let Kyle Brodziak leave to the Edmonton Oilers and Bozak will slot in adding 20-plus more points to the roster. Undoubtedly, St. Louis will try to find more opportunities for Bozak to play more than he did last season and up those numbers potentially making the deal look like good value.
Bozak will also bring strong special teams play, offering strength on the man-advantage as well as strong faceoff percentages and an ability to make goaltenders look foolish in the shootout. Ultimately, outside of these details, he gives the Blues more flexibility than Brodziak would have.
Related: 2018 NHL Free Agent Signing Tracker
A Great Gamble for Toronto
There was some concern going into free agency this was a gamble by the Maple Leafs. Losing Bozak was taking out guaranteed offensive production. But, the cap space was needed to make a play for center John Tavares and it worked like a charm since Tavares signed with Toronto just over an hour after Bozak was announced as going to St. Louis.
It's not fair to compare Bozak to Tavares but that's what people in Toronto will do.