The Buffalo Sabres' offseason will likely be flooded with news regarding soon-to-be first overall draft pick Rasmus Dahlin, but there is another big story that has been overlooked thus far. Sam Reinhart's entry-level deal is expiring and the Sabres have a decision to make. His 2017-18 season was the tale of two halves; he started out extremely slowly but finished the season with career-highs in points and goals.
Sabres' Options
Realistically there are only two options for both Reinhart and the Sabres. Those options are a short-term bridge deal or a long-term deal.
I don't see a scenario where the Sabres would sign Reinhart to a mid-term (three or four years) because he would be a UFA at age 26, an age that would likely see him in the prime of his career.
Long-Term Deal
On his entry-level deal, Reinhart appeared in 240 games for the Sabres, scoring 65 goals and 75 assists for 140 points. The former second overall pick looked to be hitting his stride after the Winter Classic on Jan. 1, and after switching from center back to wing, Reinhart looked more like the player from the previous two seasons.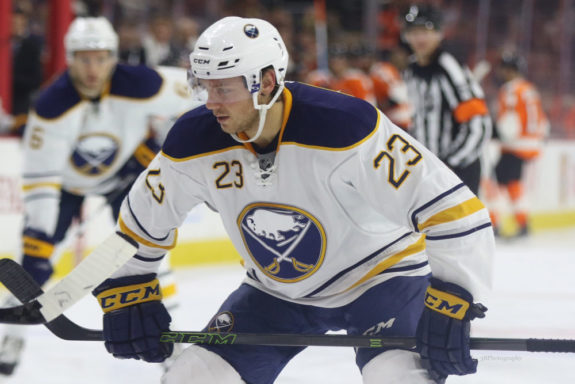 For a long-term deal, Reinhart's best comparison would be the Montreal Canadiens' Jonathan Drouin. The 23-year-old winger was drafted third overall one year before Reinhart was drafted.
If you look at Drouin's numbers, he has 141 points in 241 games and was signed to a long-term contract worth $5.5 million per year by the Canadiens. Drouin's numbers are very similar to Reinhart's, so I would imagine the Sabres would try to stay in that ballpark if a long-term deal is being negotiated.
Reinhart hasn't hit his full potential yet, but if he can continue to improve on the second half of his 2017-18 season, next year should be a breakout campaign for him.
The negotiations on a long-term deal between Reinhart and Buffalo could drag out and possibly go into training camp (much like Rasmus Ristolainen's negotiations a few years ago). It all depends on what the two sides want.
For a long-term contract, I wouldn't expect the Sabres to offer much more than $5.5 million per year at a max term of eight years. If Reinhart is willing to commit to Buffalo for eight years on a team-friendly deal, then this should be a quick process. But he may not want to sign a long-term deal without showing his full potential.
Short-Term Bridge Deal
This would be the ideal situation for Reinhart. He would have the chance to prove that he can be an elite player in the NHL. He has shown flashes, and if the team improves, Reinhart's numbers should improve, and he would set himself up for a big payday for his third NHL contract.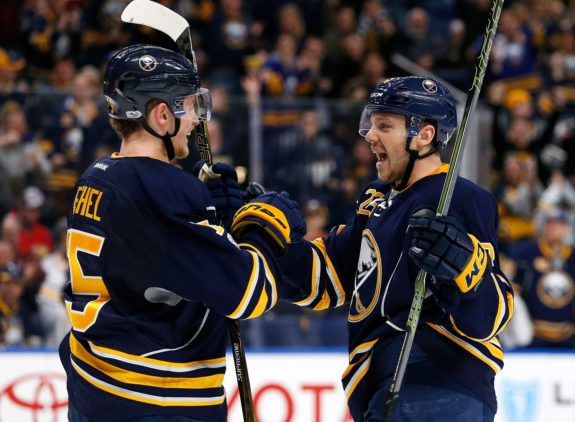 Bridge deals are are beneficial for organizations as well, as they can help relieve some financial stress and afford the team more control over a player. The Sabres have cap space, but they also have a lot of cap space tied up in three forwards (Jack Eichel, Kyle Okposo, and Ryan O'Reilly), so a bridge deal could help the Sabres.
Nikita Kucherov of the Tampa Bay Lightning is making just under $4.8 million on his current bridge deal that runs through 2018-19. Although Reinhart and Kucherov aren't on the same level, Kucherov's contract is a good comparable for a possible bridge deal.
The Sabres would probably look for a two- or three-year deal worth around $4.5-5 million dollars per season to see what he develops into. After a short-term deal, Reinhart would still have RFA status and the Sabres would have full control over his rights.
I think this route is the route that his agents will probably suggest to him before he begins negotiations with Buffalo. Reinhart seems to be scratching the surface, and if he is placed on Eichel's wing, he should develop into a top-tier scoring winger that could help Buffalo reach the next level.
What Should the Sabres Do?
As stated, a bridge deal is probably the most ideal option from a player perspective. But in this case, I think that a bridge deal is also the most ideal option for the Sabres.
Reinhart has improved his point totals each year, but in reality, he is only a 0.58 point-per-game player at this point in his career.
Signing Reinhart to a short-term deal will allow the Sabres full control of Reinhart longer. If the Sabres signed him to a three-year deal and things worked out, they could then sign him to a max-term deal and allow themselves 11 years of full control over him.
The negative of a bridge deal is that if Reinhart takes off while on a bridge he could set himself up for a big payday, but realistically it would take an Aleksander Barkov-type season (78 points in 79 games) for Reinhart to put himself in the "elite scorer" category.
Even if he becomes a point-per-game player over the next few seasons and can demand $7 million or more for his third contract, the O'Reilly trade rumors are heating up, and if O'Reilly is moved out, the team will have more cap space to throw around at players like Reinhart.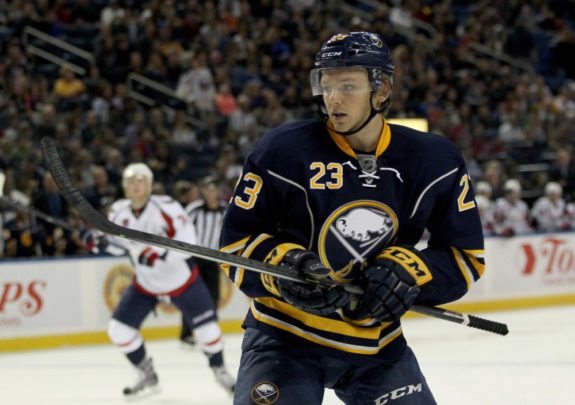 A bridge deal allows the Sabres more time to allow Reinhart to develop while keeping full control over his rights for a foreseeable future. It also allows the player to prove to the team that he can a key piece of their core going forward.
When weighing all of the options, a bridge deal makes the most sense on both sides, and I would be surprised if Reinhart's next contract with the Sabres is anything other than a short-term "prove it" deal.
Brock U Sport Management Grad
Niagara College Journalism Grad
Former intern at The Hockey News