It's hard to imagine there could be greater divide over a single player on the Buffalo Sabres roster more than Robin Lehner. But, times have changed. Move over Robin — it's Ryan O'Reilly's turn.
After O'Reilly's comments at locker room cleanout day that he'd "lost passion for the game at times this year," he's become a lightning rod for criticism. Some fans want to ship him out of Buffalo faster than water going over the Falls.
O'Reilly's honest-to-a-fault words were rare to hear from a professional athlete. And with Sabres' General Manager Jason Botterill talking about the need for change and the need to get more speed up front, O'Reilly's name has been swirling in trade rumors ever since.
After far too many games, the 2009, 33rd overall draft pick has been a broken record of excuses, lamenting the team needs to be better and that he needs to be better. He said that if he and others are going to stay in Buffalo, they have to show that they want to be here. "We have to prove to this organization and this city that we can change things here. I want to be a part of it," said O'Reilly.
Related: Sabres' O'Reilly Deserves Respect, Not Accusations
Changes Coming in Buffalo
According to Botterill's season-ending press conference, the sweeping winds of change are coming to Western New York. He was absolutely livid about the way the year went. That said, as badly as he wants to change the culture in Buffalo, he's not going just to give O'Reilly away. The second-year GM understands the value and impact O'Reilly can have on a team.
Some, including one of the Sabres beat reporters, see O'Reilly's end-of-season comments as a thinly-veiled volunteering act to be traded. Others think his time in Buffalo is over, not necessarily because of his talents, but because his admission of losing some love for the game is just flat-out not acceptable. They also believe that he's the scapegoat for a roster­ — a core, a measly defense and less-than-average goaltending — that desperately needs a shakeup and culture change.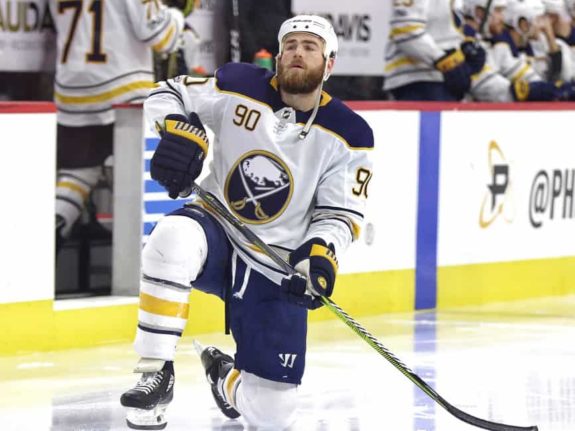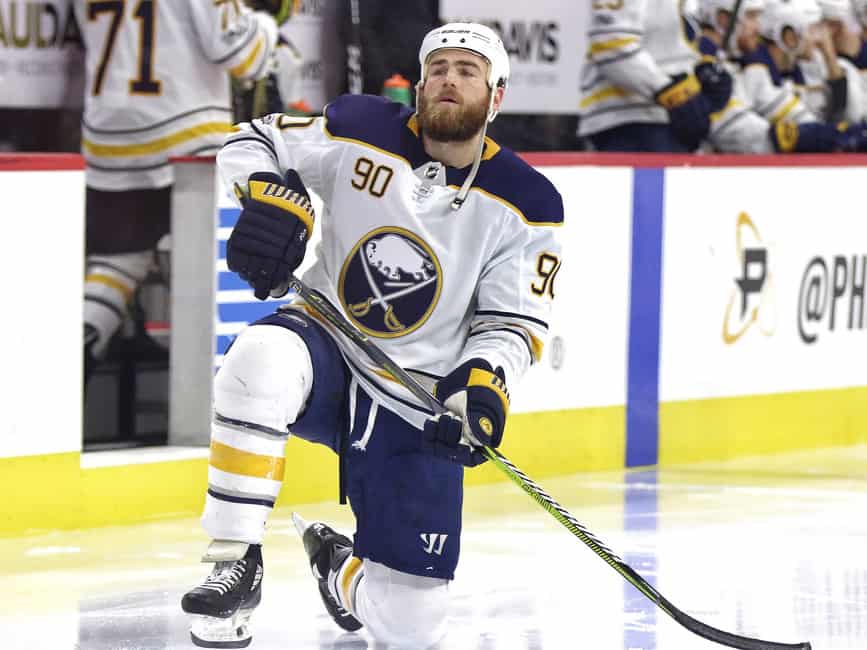 O'Reilly has stressed he wants to stick around with the Sabres and help them become a contender. The bottom line though is no matter how good the Sabres' one-two center punch is, there's no getting away from the fact they are, yet again, one of the worst teams in the league.
Losing Culture in Buffalo
Those around the hockey world know the Sabres need to mix things up. "They do have an unbelievable culture of losing in Buffalo and O'Reilly has been a part of that," said Ray Ferraro on TSN's Bob McKenzie segment on TSN 690. "But they are looking at making change. And in order to facilitate that change, I mean you can't just take guys that are no good or deep into your lineup and say, 'We're going to move those guys and that's going to change the culture.' The rationale for trading him would be to … shake things up, but not for a bag of magic beans just to say you made a move or that you moved a guy out."
O'Reilly's Strengths
O'Reilly was signed to a seven-year, $52.5 million contract extension by former Sabres GM Tim Murray. It runs through the 2022-23 season. The 27-year-old has five years remaining on his deal with a cap hit of $7.5 million per season. He does not have any trade protection written into the pact.
The contract is heavily front loaded and is laden with signing bonus money. His annual salary is $1 million, but the balance of it comes in massive signing bonuses. In fact, on July 1 he's due a $7.5 million signing bonus. That could factor into timing of a trade.
O'Reilly still has tremendous value. He's an elite shutdown center who regularly produces 55-to-60 points. In 2017-18, O'Reilly finished with the second-most points of his career. He's an elite penalty killer, effective on the power play and a faceoff specialist. This season, he led the NHL in faceoff win percentage at even strength (60%) and surpassed the record for most faceoff wins in a single season previously set by newly named Carolina Hurricanes Head Coach Rod Brind'Amour.
Sabres Should Trade O'Reilly
As a number two center or better on almost any team in the league, playing a reliable 200-foot game, there will always be a market for him. It'd likely take an absolute sweetheart of a deal to pry him away. That said, Botterill will always listen to trade offers. He has no allegiance to Ryan O'Reilly as he didn't trade for him or sign him.
Shipping him out removes a large contract with term. It opens the doors to other possibilities.
What Would He Fetch?
Per Bob McKenzie's "Bobcast," O'Reilly would likely fetch a massive haul of assets, similar to the Mike Richards deal that returned young forwards Wayne Simmonds, Brayden Schenn, and a second-round pick. It'd likely be a combination of pieces that could help them now and in the future.
McKenzie states that the two teams that seem to be the most interested at this point are the Montreal Canadiens and Hurricanes. Both teams are in desperate need for help at center, and more importantly, have some assets that could help the Sabres: Alex Galchenyuk, Victor Mete, Noah Hanifin and Justin Faulk.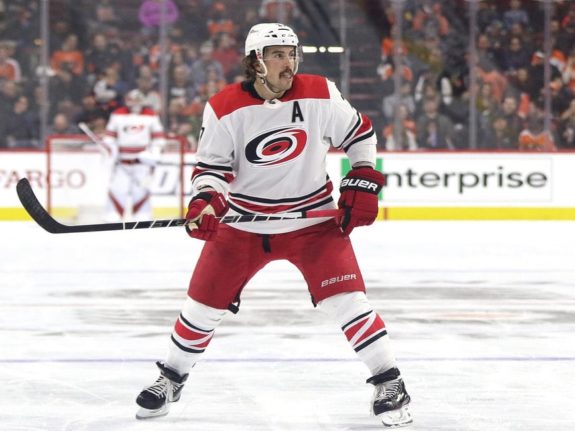 O'Reilly would fill a giant need for the Montreal Canadiens; a team that doesn't have a true No. 1, or even No. 2 centerman. That'd be an inter-division trade, and those typically don't happen.
Sabres Should Keep O'Reilly
If the Sabres ever hope to turn around their fortunes and escape a constant rebuild mode, they need quality players. O'Reilly is that and more. He led the team in scoring his first year, finished only two points behind Eichel last year and was second on the team again this season. And he has an unquestionable work ethic.
O'Reilly is not exactly a grizzled, old man. He's 27 and has five years left on his deal. There's still plenty of time to move him in the future, if Botterill decides that's what's best for the franchise.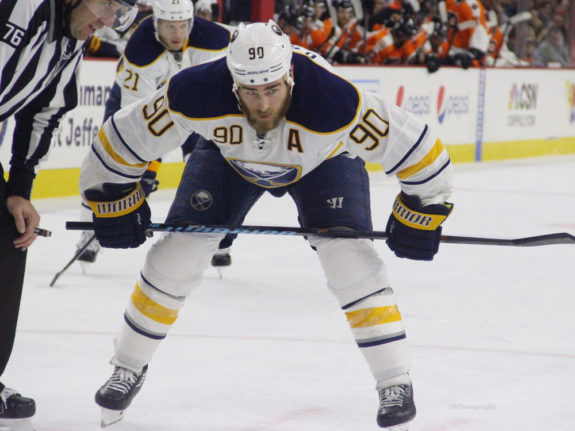 Dealing him now would leave a gaping hole on the roster. There's no one on the roster who can be relied on to play significant defensive minutes or win important face offs. He's a solid a two-way player who provides leadership.
Rather than deal him, Botterill needs to get some complementary forwards on O'Reilly's line who can take advantage of his skills and leadership. They should also consider getting him a sports psychologist to help clean up his mind.
Sabres' Centerman
The Sabres 1-2 combo of Jack Eichel and Ryan O'Reilly is one of the better top-six pairings in the NHL. With the addition of highly-touted rookie Casey Mittelstadt who is expected to join the team for 2018-19, they'll suddenly have three pretty solid top centers.
It could take time for Mittelstadt to adjust to the rigors of the NHL as a 19-year-old. That's another reason Botterill may see O'Reilly's upside, as he could help mentor him along with Eichel.
Ryan O'Reilly Getting a Taste of Winning Again
O'Reilly is getting an instant IV of the winning feeling he yearns for while playing at the World Championship for Team Canada in Denmark. On Thursday he scored the overtime winner, lifting Canada to a 5-4 win over Russia during a quarterfinal match. "It feels good," O'Reilly said of the game-winning goal. "I hope I've got a few more in me for sure."
The goal, his fourth goal of the tournament, was scored after winning a faceoff in Russia's zone and working his way to the net. Edmonton Oiler's star Connor McDavid sent a puck with eyes through a defender's legs and under a stick to O'Reilly who simply redirected it into the net from the top of the crease. "It was unbelievable," said O'Reilly. "I don't know how he got it through. Honestly, I didn't do too much on the play. I just stood there with my stick."
#RUSvsCAN ICYMI: Ryan O'Reilly and @HC_men take advantage of the PP in overtime and pick up the win over @russiahockey! CANADA is going to the semifinals! #IIHFWorlds pic.twitter.com/FiMNZ4jgsz

— IIHF (@IIHFHockey) May 17, 2018
This is O'Reilly sixth World Championship. He's won two gold medals and a silver and will likely add to his collection after Canada plays Finland or Switzerland in Saturday's semifinal.
Related: Sabres Roster Won't Be Easy to Overhaul
Botterill's Interesting Offseason Ahead
Leading up to the trade deadline this year, the belief was any player not named Jack Eichel was available to be moved by the Sabres. Though he wasn't traded, teams did kick the tires for O'Reilly. Botterill just didn't like what teams were offering.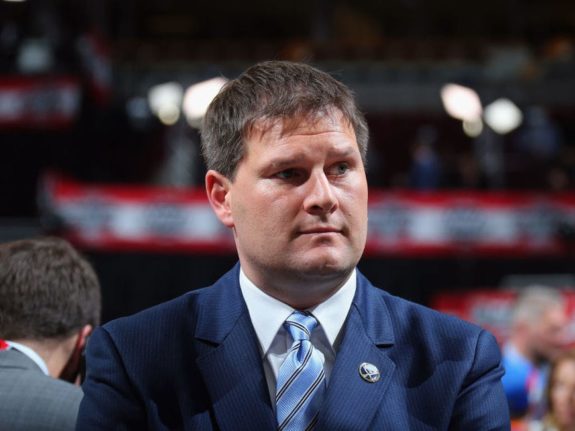 Trade talk will likely really pick up after the Stanley Cup Playoffs and leading up to the NHL Draft on June 22. O'Reilly knows he could be moved. "If something happens, it happens. And that's hockey and you move on. But I'm preparing to be in Buffalo." said O'Reilly to Canadian sportscaster Darren Dreger. "I want to be in Buffalo. I love it there. It's a great city and I want to be there and want to win."
While everyone hoped O'Reilly would be part of a rebuilding plan, along with Eichel, the Sabres became the NHL's first team to finish 31st and are back at square one. "When you finish where we were, you have to look at everything. That means looking at even changing up some of our core players," said Botterill.
Jeff has been covering the NHL for over a decade for various sites. He's been with The Hockey Writers as a lead Sabres writer three years, while also writing a satire column called "Off the Crossbar."