Change. It's something with which fans of the Buffalo Sabres have become all too familiar over the past few seasons. Year in and year out, new faces have come and gone, whether it be on the roster, behind the bench, or in the front office. Since Terry Pegula purchased the team in 2010, the franchise has remained mired in obscurity.
Despite the constant state of flux in which the organization seems to be stuck, Jason Botterill knows that more changes are needed. In his end-of-season press conference yesterday, a clearly frustrated general manager took to the podium, refusing to pull punches regarding his dissatisfaction with the state of the team and their performance this season.
Sabres' Leadership
One of the more interesting and perhaps telling pieces of Botterill's critiques pertained to the Sabres' leadership core. Throughout the season, fans have speculated as to whether or not the team's problems stemmed from a toxic locker room. With the organization in a state of perpetual mediocrity, it's fair to wonder what type of effect it has had on his team's mindset.
Though he did specifically acknowledge Jack Eichel as a key part of the solution to this problem, Botterill also expressed a need for other members of the roster to do their part to help carry the load from a leadership standpoint.
Sabres' GM Jason Botterill said Jack Eichel matured a lot this year and they view him as a big leader for this team.

Botterill also says more players have to step up from that standpoint and "can't sit in the background anymore." @WGRZ pic.twitter.com/Ufcq2QWr9o

— Heather Prusak (@haprusak) April 11, 2018
The team did attempt a group-leadership approach this season in the form of four alternate captains, but that strategy clearly failed as several Sabres players, including Eichel, expressed a need for team veterans to step up. His maturity and growth were evident this week during his locker room cleanout interview, calling upon himself to be a catalyst for change.
"It starts with the guys that are our leaders," he said. "It's been a tough three years, but I'm fully invested in this team, this organization, this city. I'm here for a while. I'm excited about it. I'm excited about the future. I think things will get better, and it starts with me."
This time last season, Eichel was widely criticized for saying that there were players on the roster who were satisfied with just being in the NHL. Though his wording could have been more eloquent at the time, fans now realize that he was absolutely right. This time around, instead of calling out teammates (accurately or not), he is calling upon himself. He sounds poised, focused and determined. He sounds like a captain.
It remains to be seen whether or not his fellow core players share his vision, but his message is a step in the right direction. With several youngsters set to join the Sabres' roster in the near future, it is imperative that a strong leadership core is established in short order.
Related: Sabres Find Their Captain on Clean Out Day
Imminent Roster Changes
Another interesting tidbit from yesterday's press conference was Botterill's openness regarding much-needed alterations to the complexion of the Sabres roster. It's been apparent for some time that changes to the current crop of players were on the horizon, but there was always some semblance of doubt as to whether the team would look to shake up the existing core.
Botterill- There certainly has to be change and there will be change. You saw the players that came up from Rochester at the end of the year will be battling for positions next year. We have to look at everything, and that means even looking at changing up our core players.

— WGR 550 (@WGR550) April 11, 2018
This development could inspire the Sabres' brass to actively shop veteran players like Ryan O'Reilly, whose leadership ability has been called into question given his routinely melancholy demeanor throughout the season. His attitude toward his team's abysmal campaign remained the same during his interview earlier in the week.
"I feel throughout the year I've lost the love of the game multiple times and just need to get back to it because it's eating myself up and eats the other guys up too," said O'Reilly.
Not exactly what you want to hear from a player who was brought in not only to produce offense, but to lead the team out of the rebuild. All season long, the veteran group in Buffalo has called upon themselves to inspire change. However, their words grew increasingly hollow as the team continued to nosedive en route to another last-place finish.
Roster moves will come in many varieties this offseason. Players will graduate from the AHL ranks, veterans will be pursued in free agency, and current contracts could be moved via trade. One way or another, fans can expect a crop of new faces next season, both in the form of minor-league and junior players ready to make the jump, and veteran acquisitions.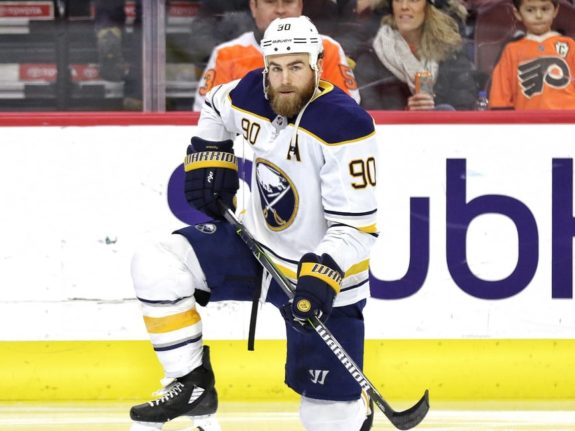 Botterill and Housley need to figure out which players are part of the problem, and which will be part of the solution. They get a pass this season since much of the current core was hastily assembled in a failed rebuild attempt by former general manager Tim Murray. If they do not rid the roster of players who continue to exacerbate the team's general complacency, their time in Buffalo will be short-lived.
Shifting the Culture
"Culture" seems to be a popular buzzword amongst fans and media members alike when addressing what ails the Sabres. Botterill directly addressed the culture in Buffalo when cataloging the work ahead of the front office as they try to right the ship.
"Right now, we have a losing culture. We haven't won here and it's up to Phil and I to work with our players to make sure we change our culture."
That shift actually started early in the season with the team's AHL affiliate in Rochester. Given their success this season, the Amerks have played a significant role in altering organizational culture from the ground up. As young players like Casey Nelson, Brendan Guhle and Evan Rodrigues were called into action for the blue-and-gold, they left Botterill no choice but to keep them up with the big club. From the moment they arrived at KeyBank Center, they provided a level of effort and drive that the team was sorely missing.
In just one season, Botterill, along with Amerks head coach Chris Taylor, was able to instill a winning mindset in the minor leagues. A competent coaching staff with a clear and unified direction will be crucial to the Sabres' long-term success.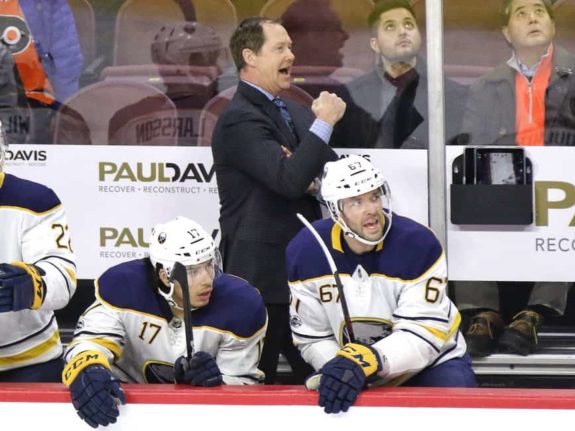 Though Botterill did say that Housley will remain in place as head coach, he confirmed that certain assistant coaches could be shown the door in the coming weeks. It's refreshing to see that the organization realizes the need for change; however, attitude and effort aren't the only problems.
Regardless of how many high-priced players they have on the books, the Sabres suffer from a lack of depth across the roster. Oftentimes, fans of the team get caught in a "culture versus talent" debate, but the two aren't mutually exclusive. Fortunately, Botterill addressed both culture and talent in his press conference, showing that he has a very clear picture of just how bad of shape his team is in.
Despite Botterill's seemingly thorough task list for what it will take to bring the franchise back to the playoffs, the process will take time. Fans have become impatient, and that is understandable after missing the playoffs for the seventh consecutive season.
They have seen first-hand what happens when a rebuild is expedited and should be encouraged that Botterill seems to have learned from the mistakes of his predecessor.